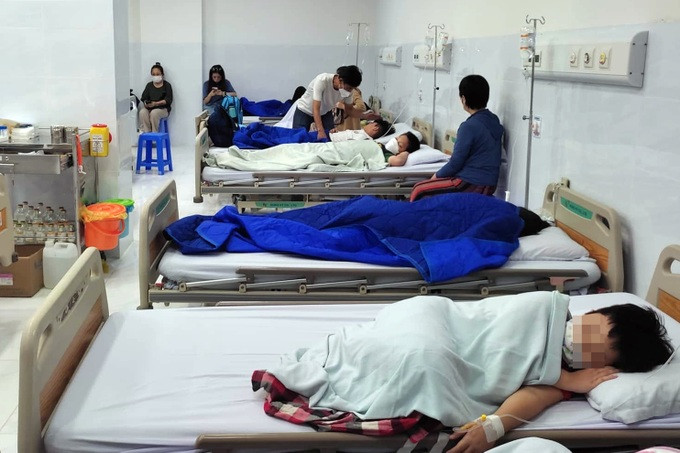 The children are being treated at a hospital in Nha Trang City
Speaking to the Vietnamnet Newspaper on Monday, head of the ministry's Department of Physical Education, Nguyen Thanh De, said that they had immediately requested the Khanh Hoa Provincial Department of Education and Training to conduct an urgent investigation right after hearing about the food poisoning case at the Ischool.
"We had earlier sent instructions and organised training on food safety at schools' kitchens nationwide at the beginning of the 2022-2023 school year," De said. "Regarding the case at Ischool Nha Trang, we're waiting for the investigation results from the Ministry of Health and the police."

The official said that at a meeting with parents on Sunday, the school headmaster had sent his apology, admitting their shortcomings and responsibilities.

On November 17, hundreds of pupils at the international school had been hospitalised for food poisoning treatment after lunch, and one died due to serious illness

Initial investigations showed that 930 students were given a meal of chicken rice, egg sauce, chicken salad, fried chicken wings, soup and cakes.

Several hours after the meal, many children showed clinical symptoms of food poisoning infections such as abdominal pain, diarrhoea, fever, vomiting, and nausea, and they were immediately taken to local hospitals.

The Nha Trang Department of Health reported on November 21 that local hospitals had received 600 ISchool pupils for treatment. Of the total, 240 were allowed to stay at home for health monitoring, 148 were discharged from hospital, and 211 others are currently receiving treatment at hospital.

Unfortunately a grade 1 pupil died on the way to a hospital in Ho Chi Minh City after showing serious symptoms.

On November 20 ISchool Nha Trang held a meeting with hundreds of parents whose children caught food poisoning infections.

Pham Huu Binh, head of the school, admitted responsibility for the incident and requested relevant agencies launch an investigation into the cause of the case.

ISchool Nha Trang is part of the ISchool chain of international schools. Besides Nha Trang, the chain has also developed schools in many other localities nationwide.
Source: Dtinews