Transport Ministry urges new ship channel for large vessels in Mekong Delta
The Ministry of Transport has urged Tra Vinh Province to implement compensation payment for site clearance and resettlement support to build a new ship channel for large vessels in the Hau River.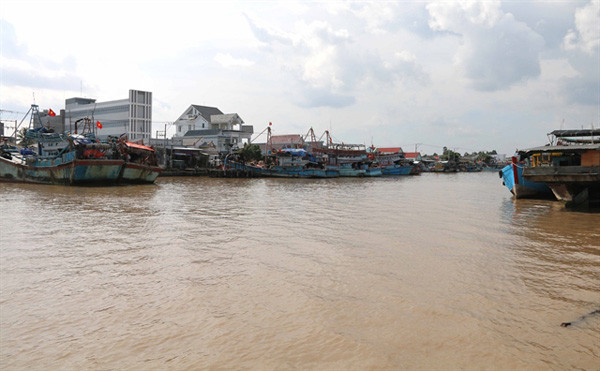 Construction of the project lags behind schedule due to slow site clearance.
In the project's first phase which costs VND6.1 trillion (US$248 million), 46.5km of channels was renovated and dredged.
It was completed in 2016, allowing ships of 10,000 tonnes at full load and 20,000 tonnes to offload at ports on the Hau River.
The ministry has required the province to speed up the progress of the project's second phase to soon have a new ship channel for ships of up to 20,000 deadweight tonnage (DWT) into the Hau River in Tra Vinh Province's Duyen Hai District.
With a total investment of nearly VND2.3 trillion ($93.5 million), the construction in the second phase is scheduled to be completed in the third quarter of 2023.
The throughput of goods through the new channel is expected to reach 21-22 million tonnes per year, and container cargo to reach 450,000-500,000 TEUs per year.
The ministry has also asked local authorities to call on local people to hand over the required site area for construction.
The project's management board has been asked to have appropriate solutions to ensure water supply for agriculture and aquaculture production.
The Cuu Long (Mekong) Delta is considered as the country's main rice bowl and the source of seafood and fruits.
With a river system about 28,000km long, the waterway transport plays a key role in the delta.
However, the region's inland waterway transport has not yet fully exploited its potential because of the current poor transportation infrastructure and the lack of investment in inland waterways.
Many localities in the region and seaport companies have complained that the main ship channels such as Quan Chanh Bo Canal are showing signs of serious deterioration.
Container ships have an average deadweight tonnage of 20,000 tonnes or more, but the Quan Chanh Bo Canal can only serve ships of 5,000 tonnes due to sedimentation.
In addition, many main roads in the region are often congested.
Experts said the biggest challenge for the delta's waterway systems is that the channel for large vessels into the Hau River has not been completed.
Goods must be shipped from ports in HCM City or Ba Ria-Vung Tau Province to the delta.
This reduces the competitive edge of local businesses and attractiveness of the region for foreign investors.
Source: Vietnam News