Molded rice cakes make for a sweet Tet in central Vietnam
Days before the Lunar New Year, batches of traditional rice cakes are popping from the mold in non-stop thuds echoing across An Lac Village of Quang Nam Province.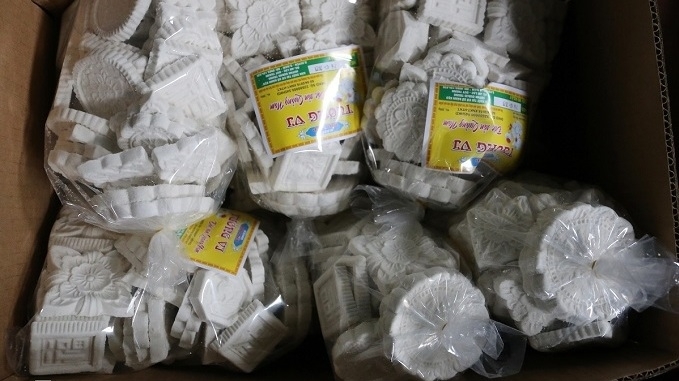 Packaged cakes are put in a carton box to be distributed to wholesalers.
An Lac Village households in Duy Thanh Ward of Duy Xuyen District typically make a local specialty called banh in (molded rice cakes) during last days of the lunar year to prepare for Tet, the country's biggest holiday that peaks on Feb. 12.
One can catch the smell of fragrant glutinous rice and mung bean flour from cake houses dotted around the neighborhood.
Ingredients include sugar, mung bean and glutinous rice flour, with melted sugar and mixed flour at a 50/50 percent ratio.
Molds with various floral and character designs are made from a type of light wood so cakes would not crack under pressure.
Banh in, stamped with festive mold carvings, pops out when lightly tapped with a wooden stick.
Cakes are baked in seven minutes at 200 degrees Celsius.
Banh in originated in Thua Thien-Hue Province under Nguyen Dynasty (1802-1945), Vietnam's last royal family, and has become a specialty of Quang Nam Province and Da Nang City during Tet. The cake tastes better with green tea.
Nhan Dan

Hanoi's cold weather tends to make everyone crave hot snacks in the afternoon, and one of the most popular is fried banana pancakes.