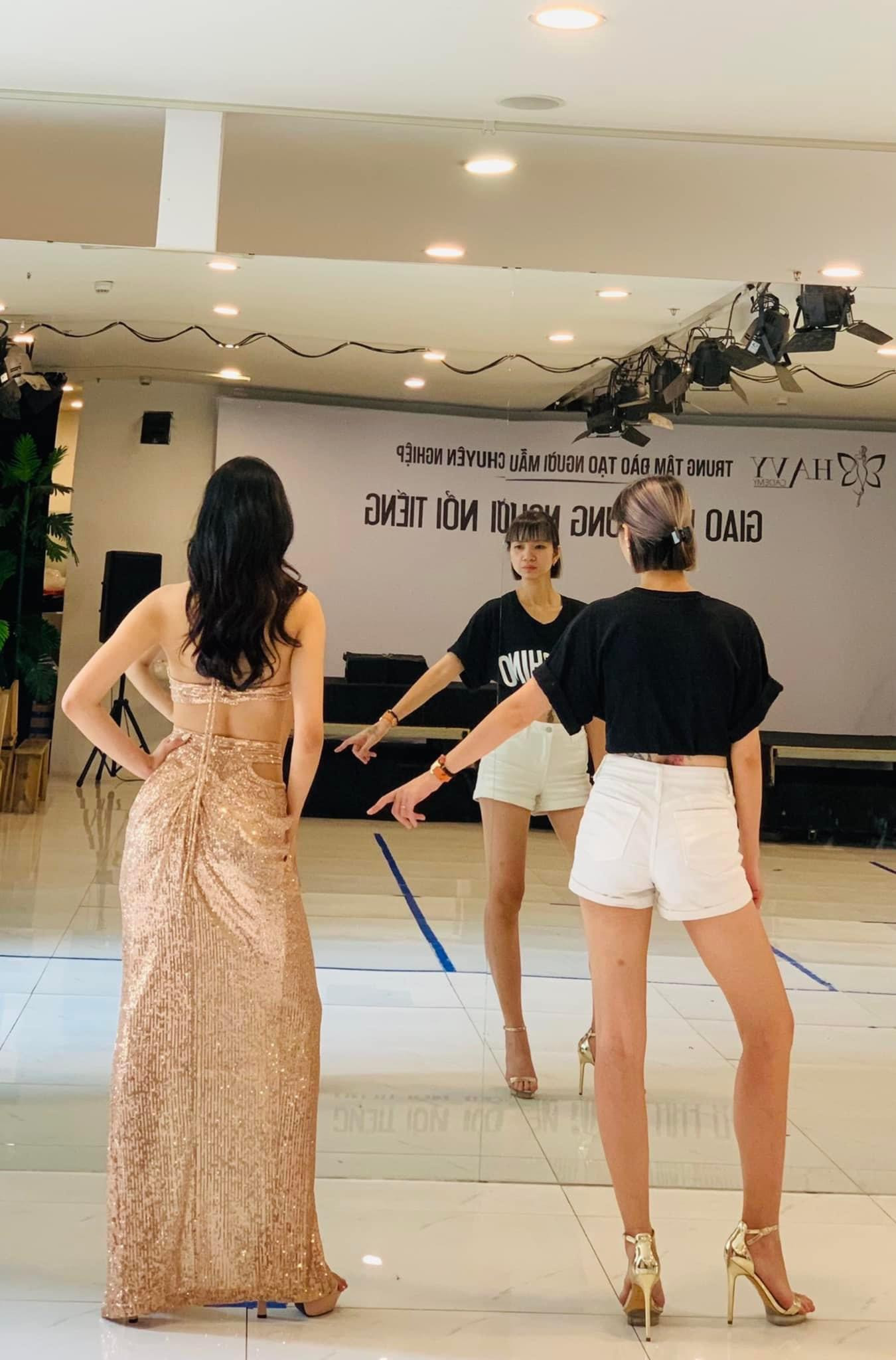 Analysts say the beauty industry is taking shape with the rapid development of an ecosystem comprising cosmetics, personal care, beauty contests, model training, and tutoring classes. Many beauty pageants have been organized in recent years, which has led to more training.
Large beauty training centers are mostly located in Hanoi and HCM City. In Hanoi, BYB Academy, Ha Vy Academy and Onasa Academy are the three best known brands. In HCM City, John Robert Powers Vietnam School, established in 2006, is believed to be the most experienced in training soft skills for candidates attending beauty pageants in Vietnam and overseas.
The establishments owned by supermodels Vo Hoang Yen and Duc Hien are also well known.
In 2022, Hoang Thuy, who came in second place at a beauty pageant, and Khanh Van, who was Miss of Universe, established their own training centers – Mia's Academy and Khanh Van Academy.
UniMedia, the organizer of 'Hoa hau hoan vu Vietnam' (Miss Universe Vietnam), established UniForce Academy, a training center that develops skills and talents for people of different ages.
In the central region, Rong Tien Sa Media is well known for training and sending talented girls to beauty pageants at the national level. Kieu Loan (who won the runner-up title at a beauty contest) and Minh Thu, the runner-up of the 2022 Miss Grand Vietnam, were trained at Rong Tien Sa.
There are also numerous small centers established by celebrities in show business.
Nearly all contestants attend training courses before attending pageants, where they learn performance skills, soft skills, makeup and behavior. There are many courses designed specifically for candidates, depending on their financial capability and purpose for attending contests.
Both inexperienced and experienced candidates attend training courses. Che Nguyen Quynh Chau and Bui Ly Thien Huong, for example, who attended beauty contests 5-6 years ago, learned to catwalk before attending Miss Grand Vietnam 2022.
Le Phuong Thao, who attended two contests last year (Miss Universe Vietnam and Miss Fitness Vietnam), told VietNamNet that the costs for soft skills, catwalk and makeup skills for two contests was over VND300 million. Thao said the skills she learned from the courses are useful for life.
Meanwhile, Nguyen Thuy Linh, top 5 Miss World Vietnam 2022, said she attended only a short-term catwalk training course on how to perform with stilettos. "You just need to learn the skills you still don't have," she said.
The organizing board had an instructor who gave basic training and contestants who must master the skills within a short time.
"So, you'd better learn beforehand. I know many contestants even begin practicing the skills 1-2 years before the contests," Linh said.
Hoang Thi Hai Ha, a contestant at the 2022 Miss Universe and the runner-up at Miss Elegance Vietnam 2022, said she practiced catwalking and communicating to save money, while she spent VND70 million on learning English and practicing the skills of speaking before the public, makeup and how to dress.
Her business has become better after the two contests. She now receives many invitations for advertisements, photo shoots, and fashion shows with a higher honorarium.
Le Minh Anh, top 20 Miss Vietnam 2022, said she attended six training courses within two months before the contest. The RMIT student had three catwalk classes and one makeup course. She learned communications and soft skills at John Robert Powers Vietnam.
Nguyen Thanh Huyen, CEO of BYB Academy, said after the pandemic, the number of trainees 'boomed'. Her classes are scheduled at all hours.
Last year, BYB Academy had some learners attending big beauty contests and obtained outstanding achievements, such as Nguyen Thuy Linh (top 5 Miss World Vietnam 2022), and Trinh Thuy Linh (first runner up Miss Vietnam 2022). She plans to cooperate with partners from South Korea, Italy and Malaysia this year.
Khuat Anh Tuyet, who was invited to prepare contestants for the final round of three contests in 2022, said demand is high, so she has opened academy branches in northern, central and southern regions.
Analysts, however, say that Vietnam doesn't have real beauty contest preparation centers. The existing centers are not standardized and accept learners of all ages. They don't fully specialize in training learners for beauty contests. Some centers focus on training performance skills, while others focus on practicing communication skills.
Duc Thang - The Bang