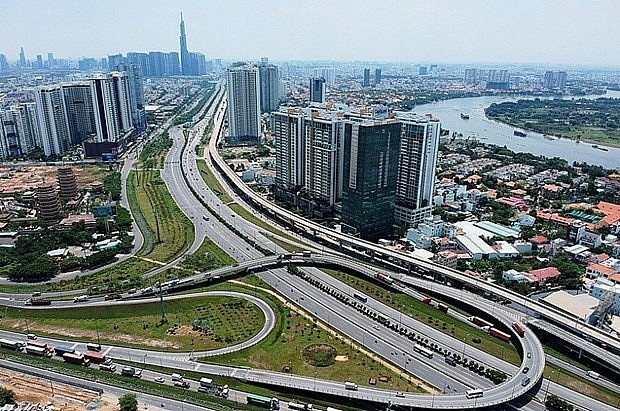 A corner of Ho Chi Minh City (Photo: VNA)
The Ministry of Planning and Investment (MPI) shall coordinate with relevant agencies to summarise projects that have completed investment procedures and are eligible for assignment of medium-term public capital plans for the 2021-2025 period, and report to the prime minister. The MPI will also instruct relevant authorities to carry out assessment of the medium-term public investment plan for the same time period in April.
The MPI will coordinate with the Ministry of Finance to guide implementation of capital between the socioeconomic recovery and development programme and the medium-term public investment plan for the 2021-2025 period, ensuring the disbursement of all capital in 2023.
The MPI is also assigned to monitor the disbursement progress of authorities at all levels and promptly report to the prime minister for the promulgation of flexible and adaptive management solutions.
One of the key reasons behind Directive 08 is that public investment disbursement in some localities is facing difficulties, hindering economic development.
For example, disbursement in Ho Chi Minh City in the first two months of this year was equivalent to only 1 per cent of the total allocated funding (at about $3 billion), despite documents already being issued to speed it up.
Most of Ho Chi Minh City's public investment is spent on key infrastructure projects or regional links such as Ring Road 3, National Highway No.50, An Phu Intersection, and a connecting road from Tran Quoc Hoan to Cong Hoa streets.
However, in an inspection in March, Ho Chi Minh City Department of Transport and Communications found that the three latter projects were being built too slowly, even though they have been arranged with sufficient capital.
In order to solve the problem, Ho Chi Minh City People's Committee issued an action plan on promoting disbursement of public investment in 2023, highlighting some new solutions and strict sanctions for poor-performing units, including strictly penalising agencies that do not fully report on disbursement.
In the central province of Nghe An, as of March 20, the province has disbursed more than VND282 billion ($12.26 million) of public investment, equalling 5.06 per cent of the yearly plan. However six districts and 34 units, authorities, or investors have not yet disbursed. In 2023, this province was allocated more than VND9 trillion ($392.7 million) from the state budget.
However, in contrast to these localities, many others are doing a good job in boosting public capital disbursement.
For example, the A Lu Bridge project in the centre of the northern city of Bac Giang, crossing the Thuong River, is expected to awaken the economy of the city's western area, connecting traffic to Highway 17 and heading past Viet Yen industrial park, with capital of about $15 million. The project started in 2022 and is being urgently constructed across three shifts, and is expected to be completed one month earlier than scheduled, before the end of June.
Nong Bang Son, deputy director of Bac Giang's Project Management Unit for construction, said that nearly 80 per cent of the bridge has been built. "To speed up disbursement, the project management board often checks performance and progress every week, then we carry out payment procedures immediately without leaving any residuals," said Son.
In nearby Phu Tho province, it allocated all of 2023's public funding plans in the last month of 2022, with a total amount of almost $176 million. The province has already disbursed more than 17 per cent of the yearly public allocation, higher than the country's average.
Do Anh Tuan, head of the Project Management Unit for agricultural and rural development projects, said that they urge contractors to overcome difficulties to speed up progress and regularly meet to review progress at the construction site.
"We always monitor and seek updates, measures, and calculations to support contractors at every stage. This minimises the time to complete legal procedures, the contractor can access capital rapidly, and disbursement of public investment capital is regular and continuous," said Tuan.
Source: VIR