The resolution on state budget estimates for 2023 was approved at the fourth session of the 15th National Assembly. Accordingly, as much as $30.8 billion will be spent on development investment, equal to 35 per cent of the total state budget expenditure projected for 2023. It constitutes a rise of 38 per cent from the 2022 projection.
The combined capital estimated by ministries, businesses, and localities for 2023 amounts to $33 billion. If the anticipated developments are approved, the majority of capital demand will be satisfied.
One of the top priorities of 2022's public investment budget involved projects as part of the country's socioeconomic development and recovery programmes, followed by other goals that include making payments on outstanding capital construction debts and allocating adequate funding for projects to be finalised in 2023.
Investments will also be centred on projects under the national target programmes, key national projects, and those having a ripple effect on local, regional, and inter-regional development.
Numerous important projects can be found on the government's list of key transportation infrastructure projects to be promoted in 2023, including the National Highway No.45 to Nghi Son, My Thuan 2 Bridge, Ring Road 3 of Ho Chi Minh City and Ring Road 4 of Hanoi, and the construction of various expressway sections.
Priorities would also be given to several urban railway projects, the upgrade and exploitation of joint-use airports in Phan Thiet, Thanh Son, Chu Lai, Lao Cai, Na San, and Vinh, and upgrading and expanding the joint-use airports of Bien Hoa and Gia Lam.
Analysts assert that the development of new airports and expressway sections would open up bright prospects for developers in the Central Highlands and central coastal localities. Once put into service, the expressway sections connected to key infrastructure projects are expected to create real estate breakthroughs in beneficiary localities and neighbouring areas.
The execution of many large projects are being quickened in the southeast and central regions. For instance, the $5 billion NovaWorld Phan Thiet "super sea city" project in Binh Thuan province is about to hand over products to customers. In Binh Dinh province, the Hai Giang Merry Land project from Hung Thinh Group has seen thousands of products officially launched, while Danh Khoi Group continues to speed up the implementation of ventures in Quy Nhon city.
In Hanoi, several important schemes, such the second phase of the Vinh Tuy Bridge and the elevated sections of Ring Road 2, have been constructed urgently while additional efforts have been increased to gather resources so that the projects may be finished on time.
Notably, the western part of the city is connected to the seven belt highways that Hanoi has pushed up the construction of. This creates a solid foundation for linking Hanoi's central business districts with recently built neighbourhoods, particularly the three satellite towns of Hoa Lac, Son Tay, and Xuan Mai.
As a result, surrounding real estate markets, including land plot segments, have seen their values jump up. Additionally, the execution of some large projects cited as new components of the Vinhomes Smart City and Mailand Hanoi City (formerly Splendora) have been expedited.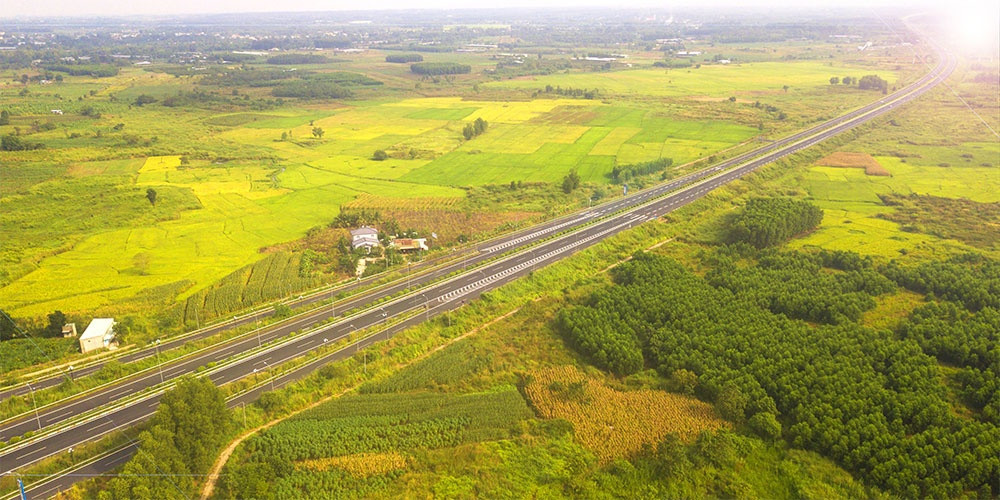 Resources used to The fullest
During an inspection trip in November 2022, Minister of Transport Nguyen Van Thang asked Hoang Long Corporation to leave the Mai Son-National Highway No.45 section construction, which covers over 63km and passes through the provinces of Thanh Hoa and Ninh Binh.
The decision was made after accusations of poor quality and delayed building progress. The minister simultaneously asked DeoCa Group, the head of the contractor consortium, to take on and cover the remaining volume.
This is one of the bold moves aimed to tackle the slow progress of key transport infrastructure projects and their components, which has been pointed out as one of the primary reasons for delaying the progress of public investment disbursement.
The previous month, Directive No.19/CT-TTg on expediting public investment disbursement and the implementation of three national target programmes in the remaining months of 2022 was issued, which also aims to enhance the quality of public investment planning in 2023.
The moves are encouraged as the disbursement of public investment has been delayed significantly due to the impacts caused by the pandemic over recent years.
Key infrastructure projects will back up the formation of urban areas and economic-entertainment-tourism centres in coastal areas, according to a representative of the real estate service company DKRA Vietnam. The demand for real estate products in neighbouring areas will go up once connections to transport infrastructure projects are developed.
"Likewise, it is anticipated that billions of VND flowing into public investment projects is expected to leverage the local real estate demand and attract additional capital from a variety of sources, particularly overseas investors," the representative said.
BIDV Securities meanwhile estimates that the supply of real estate would expand significantly into 2023. Pre-sales of top Vietnamese real estate firms including Vinhomes, Novaland, Nam Long Investment, Dat Xanh Group, Phat Dat Real Estate Development, An Gia Real Estate Investment and Development, and Van Phu Invest will reach a peak soon.
"Developers with large land funds in suburban areas are more likely to build mega-urban projects linked to concurrently constructed road infrastructure," BIDV Securities said.
Nguyen The Minh, analysis director at Yuanta Securities, expressed his hopes that the growing amount of public investment will directly benefit the companies taking part in projects.
"The implementation of real estate projects, particularly small-scale ones and sub-projects, will be impacted in part by the tighter control of credit flows into real estate and corporate bond issues," Minh said.
Source: VIR