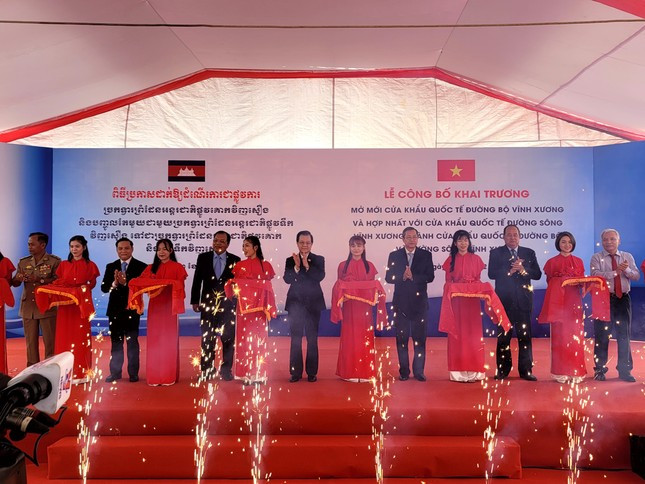 At the event
The Vinh Xuong-Kaorm Samnor International Land and Waterway Border Gate was officially opened in Vinh Xuong Commune in Tan Chau Town.

The gate is expected to facilitate cross-border economic activities, transport, and tourism, contributing to socio-economic development in An Giang and Kandal, as well as other border localities of Vietnam and Cambodia.

According to a report from Tan Chau Town People's Committee, total trade value through the Vinh Xuong - Kaorm Samnor Border Gates reached USD 774 million USD in 2022, up 11.31 percent on-year. Over seven million tonnes of goods were traded through the border last year, up 110.78 percent from 2021.

The number of people crossing the border gate, including tourists from other countries, has also increased year-on-year and reached nearly 300,000 in 2022. A number of tourist vessels and major cargo ships have also gone through the port.

Speaking at the opening ceremony, the chairman of An Giang Provincial People's Committee, Nguyen Thanh Binh, said that the new border gate will help boost trade, tourism and attract more investment in the two countries.

"The opening of this new border gate is a significant event marking a new start in the friendship and cooperation for common development between the two countries, including the two provinces," he noted.

Vinh Xuong and Kaorm Samnor were recognised as international waterway border gates by Vietnam in 1995 and international border gates by Cambodia in 2001.
Source: Dtinews