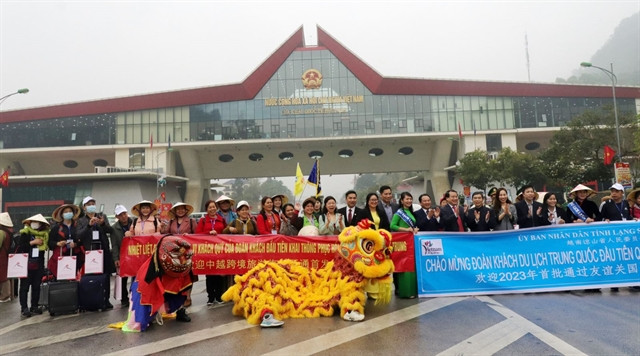 Chinese tour groups to Việt Nam after reopening at Lạng Sơn Province. — VNA/VNS Photo
Representatives from tourism associations in the northern provinces of Lào Cai, Quảng Ninh, Lạng Sơn, as well as a few others across the country, have reported that since March 15, there have been a number of delegations from China visiting Việt Nam and vice versa, to survey destinations and discuss ways to attract tourists.
Kong Xiang Hui, CEO of a travel company based in China, stated that there is real, strong demand for tours to Việt Nam at the moment.
The number of Chinese tourists visiting Việt Nam has not yet matched the pre-pandemic levels, but it is expected to increase in the near future, he said, adding: "We hope to introduce new products to Chinese tourists."
The favourite destination of Chinese tourists is the UNESCO-recognised Hạ Long Bay (Quảng Ninh Province) and the capital city of Hà Nội is also a cultural destination that tourists want to explore.
Currently, the company has received registration for about 1,000 groups expressing interest in visiting Việt Nam, according to the CEO.
Lê Hồng Thái, director of Hanoitourist, believes that to attract Chinese tourists, businesses need to "renovate" their existing products by adding value to them.
This will help tourists experience a new image of Vietnamese tourism that is just a one-time destination.
To achieve this, businesses need to sit down and discuss ways to create tourism products that focus on experiences that are worth the amount of money that tourists spend, Thái commented.
Before the pandemic, most package tours for Chinese tourists lasted about three to four days, but now, the duration of stay could be extended to five to six days and travel agencies and tourism authorities should create more diverse offerings of products and services that encourage spending.
Nguyễn Tiến Đạt, director of the Hà Nội-based AZA Travel, said that current offerings to Chinese tourists in Việt Nam are still mostly traditional destinations like Lào Cai, Lạng Sơn, Quảng Ninh, Hà Nội, Đà Nẵng, Khánh Hòa, and HCM City.
The most popular route of Chinese destinations for Vietnamese tourists is Kunming - Lijiang - Shangri-la and Zhangjiajie - Fenghuang county tours which are also affordable.
To attract Chinese tourists, the "alliance" of four provinces and cities in northern Việt Nam has restarted a pilot tourism route including Kunming - Honghe (China) and Lào Cai, Hà Nội, Hải Phòng, Quảng Ninh (Việt Nam).
The pilot tourism route was launched at the beginning of 2020 but had to postpone soon after due to COVID-19.
Kong Xiang Hui said that Việt Nam's destinations always attract tourists from the southern provinces of China, by its unique natural resources.
Chinese tourism businesses are also expecting to create a golden tourism route linking the two countries, especially introducing the unique features of Honghe, an attractive destination in Yunnan Province, China.
Đặng Hương Giang, director of Hà Nội's Department of Tourism, said that Hà Nội always identifies China as the top priority international tourist market.
Hà Nội welcomed more than 800,000 Chinese visitors in 2019 and expects the number to recover in the near future.
In addition to exploring nature, Chinese tourists also enjoy visiting cultural and unique tourist sites, as well as MICE tourism, culinary tourism and golf tourism.
Restarting the pilot tourism route would certainly help towards the travel recovery of the capital city, she noted.
An official from Honghe's tourism department said: "Given its adjacent location to Lào Cai of Việt Nam and unique and distinctive tourism resources, we expect to create an attractive tourism product for tourists from both countries, with Hà Nội at the centre of the journey, along with unique destinations in the North of Việt Nam."
"The reopening of Chinese tourism will bring about great opportunities for this tour," he said.
China is always the top tourist market for Việt Nam, accounting for about 30 per cent of the total international visitors to Việt Nam prior to the pandemic. In 2019, 5.8 million Chinese visitors arrived in Việt Nam out of a total of 18 million foreign arrivals to the country.
Source: VNS