Nielsen: Health becomes top concern among Vietnamese in Q2

Vietnam remains among Top 4 most optimistic countries globally, according to latest "Global Consumer Confidence" Survey.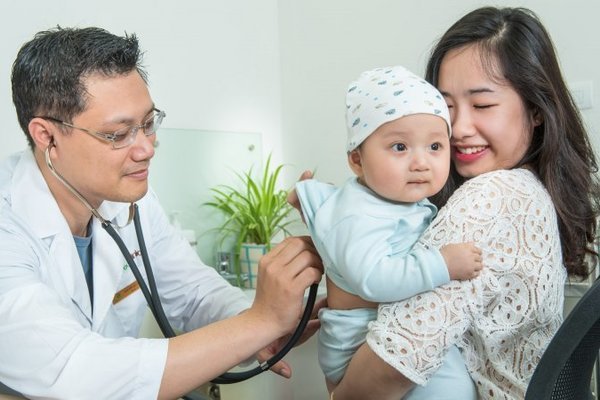 Consumer confidence in Vietnam remained stable in the second quarter of 2019, ranking fourth globally, despite its index score of 123 percentage points (pp) being down six points compared to the previous quarter, according to the latest The Conference Board® Global Consumer Confidence™ Survey from global measurement company Nielsen.
Its Consumer Confidence Index (CCI) fell from 129 to 123 pp compared to the previous quarter, with the main reasons being a downtrend in positivity about job prospects, financial security, and perceptions on the right time to buy. Globally and regionally, many countries also experienced a slipping CCI because of rising costs and political challenges.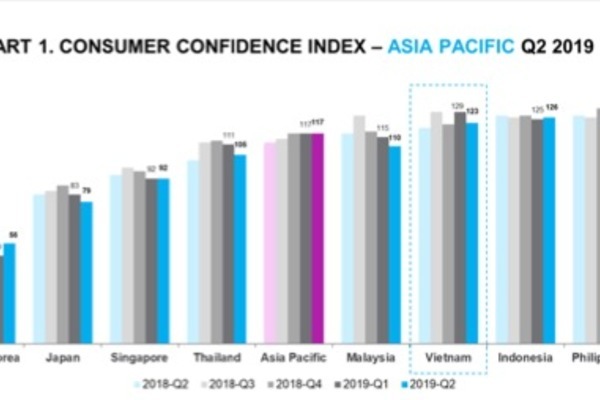 Compared to the second quarter of 2018, Vietnam's CCI rose 3 points, from 120 to 123 pp, with increases in two of three key drivers: job prospects and spending readiness (5pp and 4pp, respectively). Security about finances remained stable versus the second quarter of last year, down just 1pp.
Health surpasses job security as top concern
In the second quarter, Vietnamese consumers continued to rank health (44 per cent) and job security (42 per cent) as their top two key concerns while 22 per cent pointed to work-life-balance as the third most important aspect.
Health passing job security to become the top concern among Vietnamese consumers was something of a surprise but was largely predictable, according to Ms. Louise Hawley, Managing Director of Nielsen Vietnam.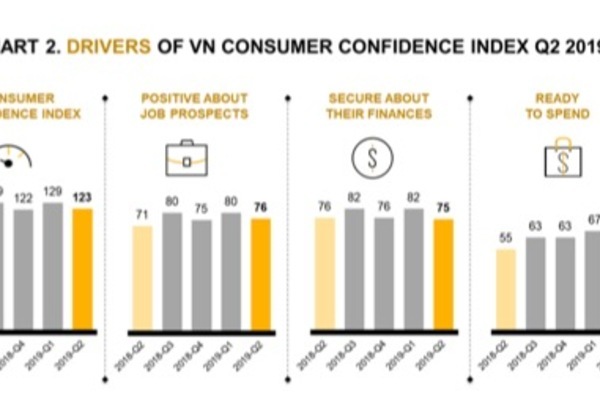 "Vietnamese consumers care about their health more than ever," she said. "Pollution in the air and in the environment are hot topics that are increasingly top of mind for people. With the current situation relating to pollution and increased consumer awareness, health is expected to continue to be a top concern in the third quarter."
There was also a jump seen in those concerned about increasing utility bills, from 6 per cent to 13 per cent. "At the end of the first quarter, electricity prices in Vietnam went up by over 8 per cent, which brought this cost into sharp focus and attracted more attention to utility bills," said Ms. Hawley.
Work-life balance moved up one spot on the key concern list, with 21 per cent of respondents indicating it as a worry. Other key areas of concern for Vietnamese consumers were the economy (21 per cent) and children's education and/or welfare (9 per cent).
Spare cash for medical insurance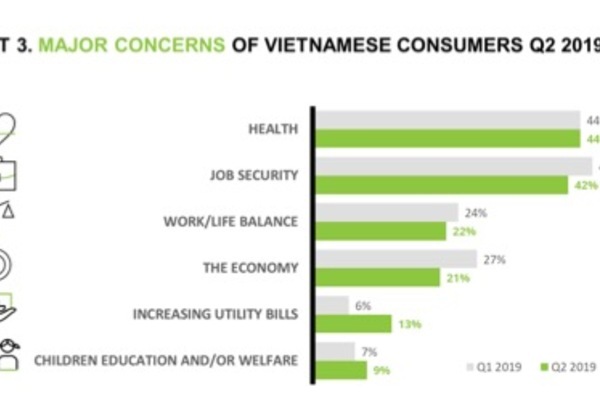 Globally, Southeast Asia consumers are leading the way when it comes to saving intentions. In the second quarter, despite a slight fall (from 75 per cent to 69 per cent), Vietnam continued to place in the Top 2 in Asia-Pacific in terms of avid savers, just behind Hong Kong (70 per cent).
Following the trend in the previous quarter, Vietnamese consumers were still likely to spend on medical insurance premiums (38 per cent). Vietnam became the country with the highest proportion of people saying that their spare money will go to medical insurance premiums, followed by Switzerland (35 per cent), Indonesia (35 per cent), and China (33 per cent). VN Economic Times
Khanh Chi

Each Vietnamese citizen will be issued with a unique health ID card, which they will be able to use throughout their lives, according to the Ministry of Health.

Government inspectors will review the use of health insurance fund, the procurement of medical equipment and consumables and bidding for supplying medicines.