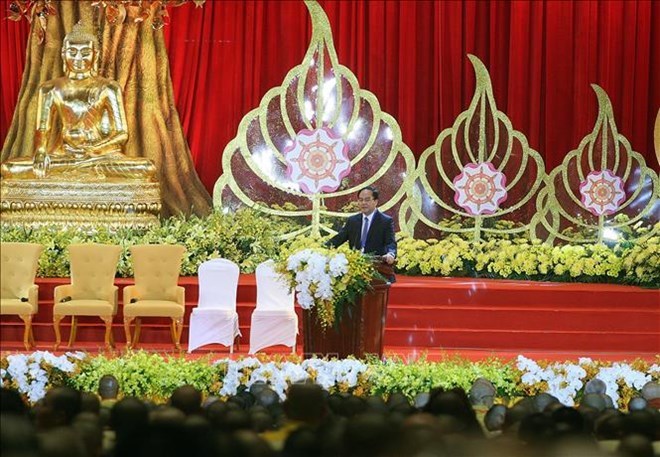 Head of the Government Committee for Religious Affairs Vu Chien Thang speaks at the reception for Buddhism delegations from China, Laos, Cambodia and Thailand
During the reception, Thang highlighted the sound relations between Vietnam, China, Laos, Cambodia and Thailand.
The countries have joined hands to build peace in the region and nurture the humanitarian spirit of Buddhism, he added.
While underlining the development of Vietnam and Vietnamese Buddhism, Thang called on the countries to forge ahead with cooperation and mutual assistance in various aspects.
The guests highly appreciated Vietnam's hosting of Vesak 2019 and expressed their appreciation for the country's beauty and hospitability.
The celebration shows the participation of the Vietnamese Government and Buddhism in the implementation of the UN Millennium Development Goals, and is an opportunity for Buddhism countries to increase exchanges and contribute to their common cooperation, they agreed.
Heads of the foreign delegation said hosting Vesak 2019 in Vietnam not only contributes to peace for one country but also brings peace and solidarity for all of humanity.-VNA