HCM City: Kylin-Lion-Dragon Dance champs to thrill audiences
Kylin dance skills passed down generations
The first festival of kylin, lion and dragon dances in Saigon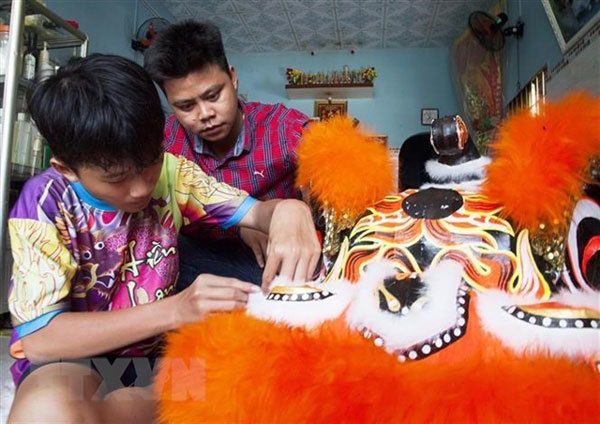 Hien (behind) supervises the final step in the making of a kylin head. 
When he was six, Hien watched the kylin dance troupe at Thien Hau Pagoda in Vinh Thanh Van Ward, Rach Gia City. Now, he is a frequent performer at the pagoda.
After watching the kylin dance as a little boy, his love for the art form grew as he moved through life. He tried to learn all the moves from his predecessors and studied how to make the dragon and kylin (Chinese mythical animal) heads that serve as props in the performances.
In 2008, Hien opened a solo studio at home to help other young people learn the art. He has continued his own study and passes on everything he learns to his fellows.
In 2011, he teamed up with some friends to start Hien Long Duong Kylin Dance Club to realise his childhood dream of making dragon and kylin heads for the dance. It has become a place to work, play and exercise for local young people.
"When it was first established, our club only had six members but now the number has risen to 28," said Hien. "Among those, about 10 to 12 people practise, perform and are also workers in the studio. Members are paid VND100,000-300,000 for each product they help make."
He says the price for a kylin head is VND10 million (US$430) and a dragon head costs VND6 million ($258). Each year, Hien's studio exports 40-50 kylin heads and 30 dragon heads to Vietnamese provinces and cities as well as countries all over the world, including Malaysia, Singapore and the US.
With the profit left over after paying the members of the club, Hien funds the club's activities and purchases furniture and performance tools for his co-workers to use.
MANE EVENT: Members of Hien Long Duong Kylin Dance Club practise for their next show. 
With his deep attachment to the art, he spends his days making the heads, even when he has not received any orders from customers.

He takes pictures of his products and posts them on social media so people can learn about his work and buy them.
"Over the past 10 years, more and more fellow artists have learned about me," he said. "Many artists who perform abroad usually order online, and there has been a significant rise in the number of customers. The higher income has helped my co-workers and me keep doing the work we love."
The club practises every day, except when it is raining. At first, practising was challenging. The dances require complex and demanding techniques, so the team struggled to get them right.
Hien said: "Sometimes we had to practise under the scorching sun. We would be so sweaty but none of us gave up. Thanks to their enthusiasm, the dance began to fall into place."
Mai Quoc Khanh, a member of the club, said running the operation was difficult at first.
"When we first opened the club, we did not have any income, so it was tough to maintain its activities," Khanh said. "However, the members did not let the hardship bring them down. We got enthusiastic support from the local authority and Vinh Thanh Youth Union to help us find places to perform. That helped us gain experience and grow our income so we could keep going."
Chairman of Vinh Thanh Youth Union Tran Hoang Han said: "The club has played an important role in gathering local young people from its opening in 2011 until today. The success is thanks to their passionate, skilful and experienced leader Hien.
"The club is not only a place for young people to share their passion but also to engage in a labour of love."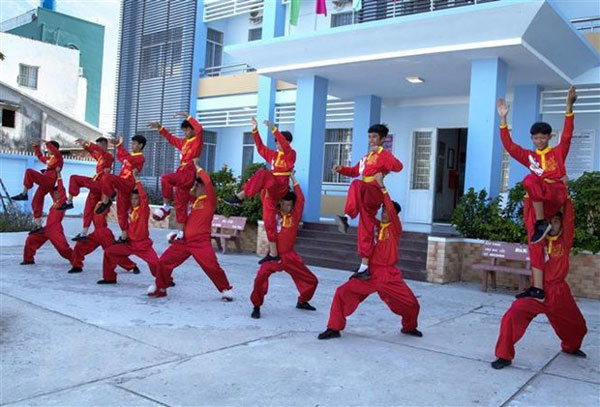 Club members train for a performance. 
The club performs far and wide, helping make events more formal and festive. For each opening or groundbreaking ceremony inside the province, they receive between US$128 and $300. For performances in other provinces, they charge $430.
Last year, the club won third prize in traditional kylin dance at the Mekong Delta dragon dance contest, held in Can Tho Province.
VNS