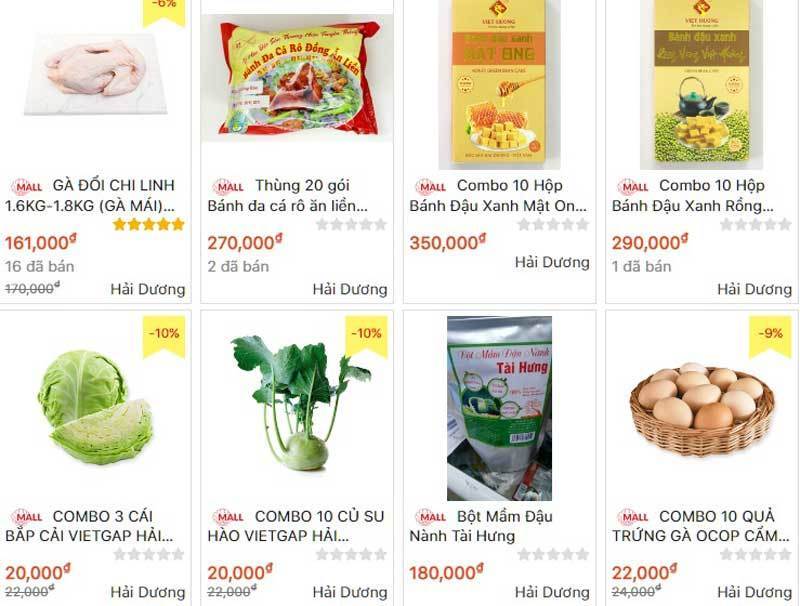 Hundreds of farm produce have been stuck in Hai Duong, a Covid hotspot. Tens of thousands of tons of oranges in Ha Giang cannot be sold. In Me Linh district in Hanoi, farmers threw turnips into river, while Nam Dinh's farmers can only get VND1,000 only for three kilograms of tomatoes.
In Hai Duong province, because of the lockdown commencing on February 16, nearly 90,000 tons of farm produce could not be sold. The provincial authorities then had to ask for help, calling on people to buy Hai Duong's produce.
Within half a month, 27,000 tons of farm produce were 'rescued' with selling prices of VND4,000-7,000 per kilogram and 1 million chickens were sold, while 100,000 eggs were sold each day.
However, there are problems in the way the produce are sold: tons of vegetables and eggs are displayed on pavement, sold dirt cheap, and the rate of broken and rotten produce is high.
Orange growers in Ha Giang have seen prices fall dramatically to VND3,000 per kilogram. The provincial agriculture department estimates that the total orange output is 70,000 tons this crop, but only 20,000 tons have been sold.
The same thing is happening in Tuyen Quang province. This is the second year the orange prices have dropped so sharply.
The local authorities reported that there are 8,600 hectares of orange growing area that produces 90,000 tons a year. In previous years, farmers could earn VND100-150 million per hectare selling oranges at VND8,000-10,000 per kilogram.

Hai Duong's first farm produce, including cabbage and chicken eggs, are being sold on voso.vn, an e-commerce website, while an online stall distributing Hai Duong's produce has been set up.
In late February, 600 tons of turnips were due to be harvested, but they remained unsold and were thrown away. In the Tay Tuu flower village in Hanoi, farmers were upset when they had to chop down daisy plants and sell lilies cheaply.
Farmers in Rang Dong Town in Nam Dinh do not want to harvest tomatoes at this time, leaving them rotting in the fields, because they cannot carry them away because oflockdown in many localities.
In Dien Chau and Hung Yen districts of Nghe An province, cabbage grown on hundreds of hectares could not find buyers, though the price has fallen to VND2,000 per kilogram.
E-commerce sites
With the support of local authorities and people throughout the country, some of the farm produce has been sold. However, experts point out that over the long term, farmers need radical solutions to sell produce, rather than rely on support from consumers.
Pham Tat Thang, a market expert, said it is necessary to put farm produce for sale on e-commerce platforms, which can reach a wide market.
Thang believes that this is a feasible solution as nearly all Vietnamese people have smartphones, including farmers. However, he stressed that there should be a good logistics system to support farmers in preservation and transportation.
In fact, the solution has already been applied by many individuals. Pham Van Khang and his wife in Tuy Duc, Dak Nong province sold out their macadamia and bananas by putting produce online.

In order to help farmers, Viettel Post has introduced a digital technology solution to allow farmers to sell produce on Vo So e-commerce website via a smart logistics system.
With Vo So, farmers can sell produce at good prices, while consumers can be sure that they are buying high-quality produce.
Viettel Post Hai Duong has sent officers to the fields to show farmers how to create online stalls and put produce on Vo So. They also show farmers how to use the e-commerce site, and help farmers take pictures and write about produce.
The first stalls became operational on March 4.
Now people can buy Cam Dong chicken eggs, Chi Linh hill chickens, Thanh Ha guava and other specialties just with clicks. This farm produce has been certified as meeting OCOP (one commune one product) or VietGap standards.
Following voso.vn, many other e-commerce websites have been cooperating with local authorities and farmers to distribute fresh produce directly to consumers. Not only produce from Hai Duong, but specialties from other localities will be available on online markets.
Tam An

People in the northern province of Hai Duong are calling for help as their farm produce distribution networks have been disrupted since social distancing was imposed in the locality.

After Hai Duong, the country's Covid-19 epicenter, imposed social distancing beginning at midnight on February 16, distribution of nearly 100,000 tons of farm produce was disrupted.