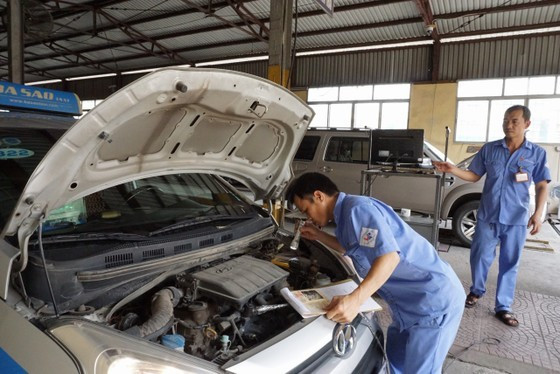 Over 260,000 vehicles are unable to have vehicle registration renewed
Specifically, in Hanoi, March and April, respectively, 91,647 and 100,928 cars were due for inspection whereas inspectors in automobile registration centers can check roughly 19,500 vehicles a month; thus, vehicle-owners of 153,575 vehicles in Hanoi can't have their vehicle registration renewed this month and next month.
Similarly, in Ho Chi Minh City, 58,548 and 99,315 cars were due for registration this month and in April respectively. Automobile registration centers Ho Chi Minh City has a maximum inspection capacity of only 28,600 vehicles per month; thus, around 29,948 and 79,715 cars in two months respectively are at risk of not being inspected in time.
Both large cities have up to 263,238 vehicles at risk of not being able to register when due. This figure does not include the number of new cars sold every month.
Therefore, the Ministry of Transport urged the Ministry of Justice to speed up the promulgation of the Circular amending and supplementing Circular 16/2021/TT-BGTVT on motor vehicle inspection, with simplified order and procedures for solving the existing problems following the closure of automobile registration centers' operation in the country owing to violations.
The main amendment of the Circular 16 is to supplement the regulations on first-time inspection exemption for new and unused motor vehicles whose production year does not exceed one year, counting from the year of manufacture to the year of application submission for an inspection certificate.
According to a leader of the Vietnam Register, the Circular 16 is currently in the process of being completed, and it is expected that the first-time registration exemption for new vehicles may take effect from July 1.
Source: SGGP