More than 85% of Vietnam's 500 fastest-growing companies (FAST 500) have committed or plan to comply with environmental, social, and governance (ESG) standards, according to a survey conducted by the Vietnam Report Company (Vietnam Report).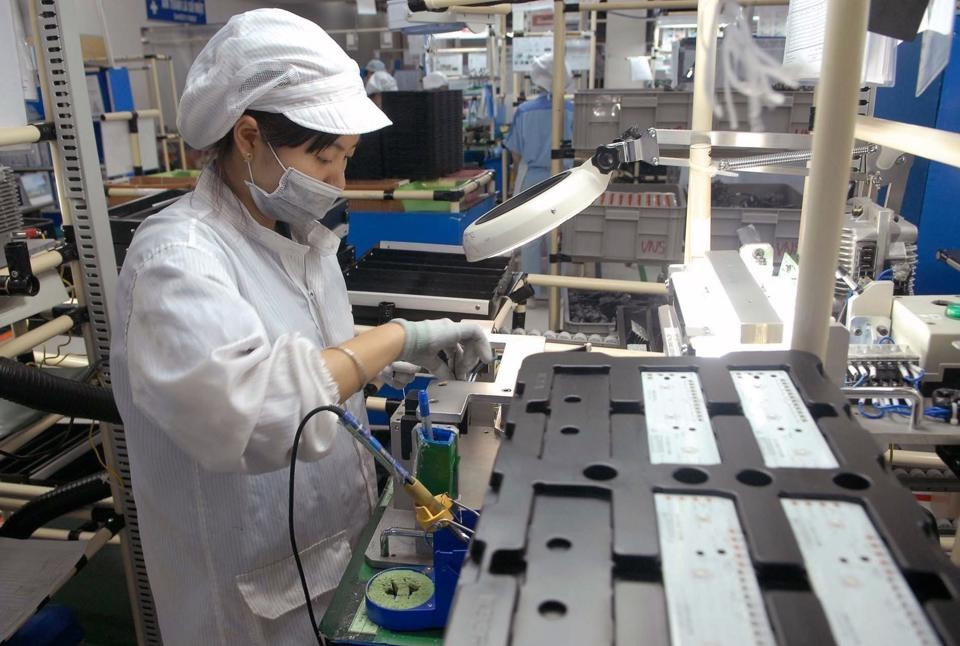 Electronics production at SGK Company (Chuong My Industrial Park), a component supplier for Samsung. Photo: The Hanoi Times
As the global community continues to prioritize environmentally friendly and sustainable practices, Vietnam is also placing a great deal of emphasis on achieving carbon neutrality by the year 2050. FAST500 companies are aware of the importance of ESG standards and are in the process of adopting this strategy, the report states.
Specifically, 14.8% of companies surveyed had initiated and implemented some of their ESG obligations, while 37% had fully planned and implemented their commitments. In addition, only 14.8% of companies have no ESG commitments or have yet to develop a concrete implementation plan, while 33.3% are in the planning stage.
General Director of Vietnam Report Vu Dang Vinh noted the increasing number of businesses acknowledging and committing to ESG standards is a positive indication of the business community's heightened awareness of social issues.
However, Vinh noted that with a third of companies acknowledging that their ESG commitments are still in the planning stage, there is still a long way to go from awareness to action.
The path to ESG implementation also poses various challenges for businesses, with 83.3% of companies admitting that lack of adequate information is the biggest difficulty they face.
"The lack of sufficient data and insight can hinder a business's ability to identify and prioritize ESG issues, set meaningful goals and metrics, effectively measure and report progress, engage with stakeholders, build trust, and manage ESG-related risks and opportunities," said Vinh.
Therefore, access to reliable and relevant information is critical for businesses to make informed ESG decisions and actions. In addition, companies face other challenges in implementing ESG, such as employees lacking the necessary knowledge and expertise on ESG, senior executives needing to improve their understanding of ESG implementation, and unclear and opaque regulatory frameworks for enforcing ESG standards, he continued.
Integrating ESG standards into business operations is about more than adding product features, improving productivity, increasing revenue, or redefining brand identity. The process requires companies to address more macro issues such as vision, core values, and human interests (including employees and customers).
ESG implementation can help businesses use resources efficiently, ensure a stable supply of raw materials, optimize customer relationships and supply chains, and increase integration into global value chains, Vinh said.
In addition, a carbon emissions tax under the Carbon Border Adjustment Mechanism (CBAM) will be implemented in the EU, one of Vietnam's key markets, starting in 2023. Businesses that want to continue participation in this market will have to comply with these standards. Therefore, ESG will be critical to creating long-term value for companies. It will become a key factor in their success in the international marketplace.
Anticipation of difficult times ahead
The year 2023 is expected to bring high levels of competition and rapid market changes. As a result, FAST500 companies recognize the importance of having a clear and effective business vision and strategy that can significantly impact their development.
According to Vinh, FAST500 businesses indicate that they are prioritizing five key strategies to overcome challenges in the coming period. These strategies include increasing training and improving the quality of human resources, implementing risk management systems, developing new products and services, prioritizing digital transformation in production and business, and restructuring the operational apparatus.
Specifically, 78.1% of enterprises aim to improve human resource capabilities, while some focus on digital transformation and others on streamlining operations.
When it comes to restructuring, it is expected that many businesses will reallocate resources and downsize their operations if they do not prove to be efficient. Conversely, exploring new businesses can help streamline operations, eliminate redundancies, cut costs, reduce debt, improve cash flow, and ultimately increase profitability. This approach also allows companies to adapt to changing market and economic conditions.
Source: Hanoitimes