VietNamNet Bridge – A lot of swindle cases in which foreign travelers were the victims were discovered in Hanoi and some tourist sites just within a short time. Vietnamese, who feel ashamed of the behaviors of the fellow citizens, have called on to boycott the unprincipled taxi drivers.
Hanoi moves to tackle increasing tourist scams
"I was also cheated by taxi drivers," says tourism official
Long holidays bring the opportunities to overcharge tourists
Taxi driver fined VND20 million for overcharging foreign tourists
Tourism official offers an apology to Australian tourist
Australian tourist has to pay VND1.3 million for 5km on cyclo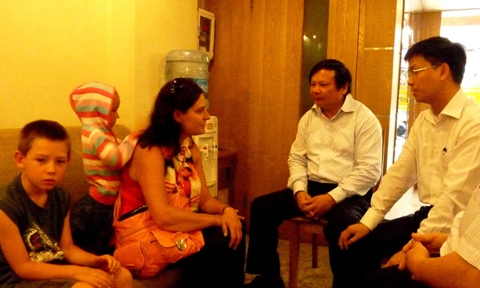 Nguyen Van Tuan, the Head of the administration said he regretted the actions of the pedicab driver and promised to handle the case in accordance with the laws.

Overcharged by taxi drivers – the obsession of travelers

The Cau Giay district's police in Hanoi has imposed a heavy punishment on a Trung Viet's taxi driver after they found out that the taxi driver charge the Australian travelers more than he could demand for the service. He was fined VND20 million for the behavior, the highest fine level stipulated by the law for such deed.

On April 28, the Australian couple, who spent their honeymoon in Vietnam, were forced to pay VND980,000 for the stretch of road from the Military History Museum to the Ethnology Museum.

Trung Viet taxi firm's representative came to apologize to the travelers, paid the money back, and then decided to dismiss the taxi driver.

Just some days before, three French travelers complained they were swindled by the taxi driver and the receptionist of a hotel in Hanoi. After the police investigated the case, the hotel's receptionist admitted his mistake, accepting to pay VND10 million to compensate the travelers.

A Japanese traveler was told to pay VND650,000 for the taxi service, though the taxi meter showed that the fee of VND65,000 only. When the traveler got out of the taxi, he got a punch in the face because he refused to pay the sum of money.

Two Spanish travelers were told to pay VND394,500 for a short distance of one kilometer, instead of VND20,000. They had to pay the sum of money required, but later asked the local authorities to investigate the case.

A Japanese woman complained that she was overcharged when using the taxi service and had luggage taken away by the taxi driver.

Phuong, a Viet Kieu (overseas Vietnamese), and his relative from Long An province were charged VND300,000 for a distance of one kilometer in HCM City.

Thomas Kenger, a Swedish environment expert, said that he was told to pay $150 when taking a Vinasum's taxi. The foreigner, by searching on Google Map, knew that the stretch of road lasts 2 kilometers only, and he found that the taxi meter showed the sum of money he had to pay was VND150,000.

Foreign travelers in Hanoi like going around the ancient streets in the center of the city on pedicabs. However, they have been warned that they may have to pay a heavy price for the hobby. Ilona Schultz, an Australian traveler, said she was asked to pay VND1.3 million just for the pedicab service from Ong Bich Khiem to Hang Trong Street.

Vietnam vows to stop overcharging

Right after the case was clarified, a representative of the Vietnam National Tourism Administration came to see the Australian traveler, who was charged VND1.3 million and apologized to her.

Nguyen Van Tuan, the Head of the administration said he regretted the actions of the pedicab driver and promised to handle the case in accordance with the laws.

The Hanoi Department of Culture, Sports and Tourism has announced that it will impose heavy punishment on the hotels, taxi firms which work with each other to swindle travelers. It is planning to inspect all the hotels with signs of unhealthy competition.

Duy Anh