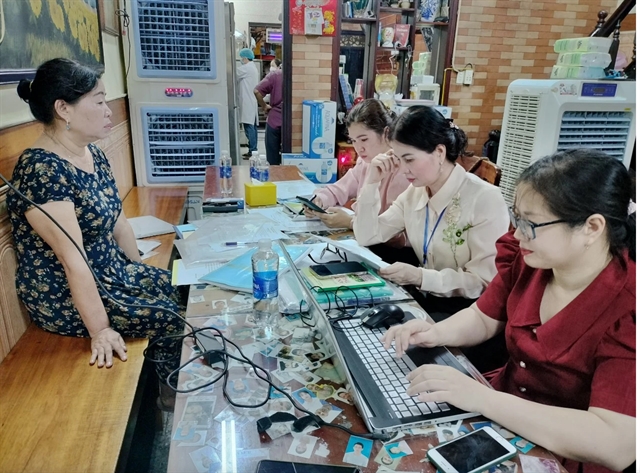 Truong Thi Phuong (left), owner of Banh My Phuong Shop in Hoi An Township is working with the local authorities after the food poisoning incident. — Photo cafef.vn
In the letter, Truong Thi Phuong, the owner of the banh mi shop that is well known to both domestic and international visitors, said: "For the last few days, the food poisoning incident related to Banh Mi Phuong shop has affected the health, spirit and daily life of customers."
"We are very sad and regretful for the unexpected incident in the food and beverage business in general and our shop in particular. This is our mistake in the process of controlling input materials and finished product quality before selling to customers."
"Our family representatives also came to visit, encourage, and ease the pain that customers have been receiving treatment at the hospital. We also continue to receive customers' feedback regarding this incident via our hotline."
"Once again, we sincerely apologize to our customers. We hope this apology will be accepted by our customers."
Phuong said that she is currently waiting for test results and has closely worked with the local authorities, the departments of Health, and Food Safety to determine the specific cause of the food poisoning and implement corrective measures.
Phuong also promised the best quality of her bread if the shop is allowed to re-open after overcoming the consequences of the incident.
Previously, 150 people were hospitalized after eating banh mi at Phuong bread shop in Hoi An Township on September 12.
Most patients had symptoms of high fever, mild vomiting, abdominal pain and diarrhoea.
The time of eating by the patients was from 8am to 8pm on September 11.
The interval between the appearance of symptoms and the time of eating was at least two hours, at most 16 hours (duration of illness ranged from 2-16 hours).
The inspection team of the Food Safety Department collected food samples for testing and conducted an investigation to determine the cause of the incident.
The shop was requested to temporarily close while the cause of the incident was investigated.
So far, all patients have been stabilized and discharged from the hospital. — VNS