VietNamNet Bridge – Hanoi police on Monday afternoon, October 22, arrested Doctor Nguyen Manh Tuong, 40, the owner of Cat Tuong beauty salon and a guard named Dao Quang Khanh, for investigating the acts of murder. Ten employees were also summoned for investigation.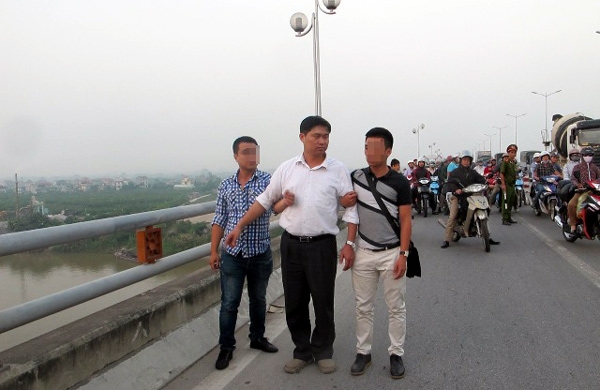 Dr. Nguyen Manh Tuong at the place where he threw the body into the river.
Tuong is a surgeon of the country's biggest hospital Bach Mai in Hanoi. Six months ago, he opened Cat Tuong beauty salon at No. 45 of Giai Phong Road, Hanoi, which is very near Bach Mai Hospital, without the Hanoi Department of Health's license.
According to testimonies, in mid-October, Ms. Le Thi Thanh Huyen deposited VND50 million ($2,500) for an abdominal liposuction and breast augmentation operation at Cat Tuong beauty salon. At 10am on October 19, Tuong anaesthetize the patient and sucked 11 pipes of abdominal fat to inject into the woman's breast.
The surgery lasted until 4pm. Some 30 minutes later, Huyen foamed and felt dizzy. Dr. Tuong gave first aid and left. A short time later, Tuong was informed by his staff that Huyen turned pale and foamed. Tuong returned but Huyen was dead.
Tuong immediately allowed his staff to leave the beauty salon. He and a guard named Khanh carried the body to Tuong's car. Tuong drove the car, followed by Khanh, who drove Huyen's motorcycle.
The two carried the body to Co Linh Road in Linh Thach Ban Ward, Long Bien District, where Khanh left the motorcycle along the street and got into Tuong's car. After running for a while, until 11pm, the car ran to the middle of Thanh Tri Bridge and two men threw the corpse to the Red River.
That night, a young man found Huyen's motorcycle, her bag with two cell phones and ID card inside. Seeing many missing calls on the phone, this man called back and met Huyen's husband – Mr. Nguyen Huu Huy, 40.
At the police station, Huy declared that his wife left the house at 8.45 am on October 19. After that, the family tried to find her. Detection of Cat Tuong beauty salon's receipt, Huy gave it to the police and investigation focused on this direction.
Currently, the police are searching for the body along the Red River.
According to a source from the Bach Mai Hospital, Dr. Tuong was considered a good one, with good record.
Deputy Director of the hospital Do Doan Loi said the suspension was an inevitable step after authorities launched a formal investigation into the case.
"Everyone at the hospital was in terrible shock after hearing the news about Tuong on Tuesday," Loi said.
The hospital board management had been unaware that Tuong ran the private cosmetic surgery centre outside of his hospital duties, he added.
According to Loi, Tuong had completed a training course in orthopaedics at hospital, but was not specialised in cosmetic surgery.
Deputy Minister of Health Nguyen Thi Xuyen sent her condolences to the patient's family yesterday afternoon and issued a public apology for such a serious incident in health service. The ministry and Bach Mai Hospital were ready to co-operate with agencies investigating the case.
Tuong, who graduated from Ha Noi Medical University in 1999, moved to Bach Mai Hospital in 2006. He had not previously violated any regulations during his seven-year tenure at the hospital.
In a related move, the Ministry of Health ordered People's Committees across the country to tighten inspections on cosmetic surgery centres.
Le Ha