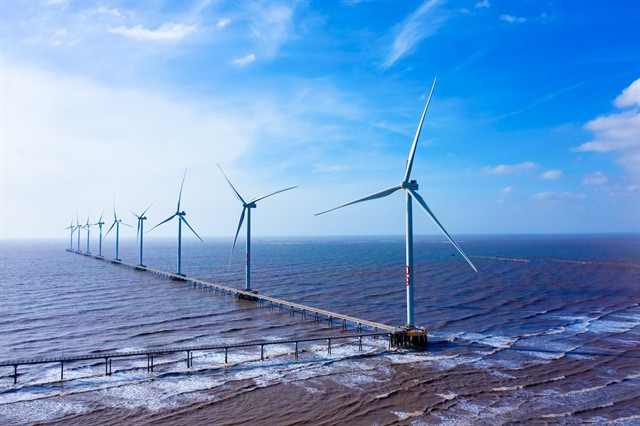 A wind farm in Trà Vinh Province. Under the plan, renewable energy would rise to prominence by 2050 with a total capacity of 400 GW. VNA/VNS Photo
Prime Minister Phạm Minh Chính has approved the National Power Development Plan VIII, which guides the development of power plants and power grids between 2021 and 2030.
The plan aims to maintain Việt Nam's energy security by ensuring a sufficient supply of electricity to fuel a projected annual GDP growth rate of 7.0 per cent during the period.
It also aims to get Việt Nam into the top four countries in ASEAN in terms of power reliability. Additionally, half of the office buildings and homes in the country would be powered by rooftop solar panels by 2030.
Regarding the just energy transition, the plan strives to increase the share of renewable energy in the country's power mix to between 67.5 and 71.5 per cent by 2050.
It also seeks to generate green energy for exports, with a target of between 5 to 10 GW by 2030. Energy-related greenhouse gas emissions would be cut to around 27 and 31 million tonnes.
The plan also highlights the retreat of unstainable power sources down the path. For instance, the share of coal-fired electricity in the power mix would drop to 5.3 per cent by 2050 as the country stops using coal for power generation by the year.
Meanwhile, gas-fired electricity is expected to reach 40.3 GW by 2035, and then no new electricity of the kind would be added to the system. Its share in the power mix would stand at 15.7 per cent in 2050.
Two trans-regional energy hubs would be established by the end of the period, around which cluster power plants, power grids, and facilities that manufacture energy-related equipment. The hubs would be located in certain well-positioned regions, including the South Central Region.
The plan needs US$134.7 billion of funding to develop new power plants and power grids between 2021 and 2030. The figures would soar to between $399.2 billion and $523.1 billion by 2050, with a large part of which being allocated for new power plants and less than $40 billion for power grids.
The Government has issued Decision No.500 to legislate the PM's approval of the plan. Under the Decision, the implementation of the plan would be put under the authority of the Ministry of Industry and Trade.
The Ministry is also tasked with preparing the draft versions of the Revised Law on Electricity and Law on Renewable Energy, which must be summited to the National Assembly for discussion in 2024.
The Decision also stipulates that the Ministry provide governmental policy advice on direct power purchases and accelerate those energy projects that have been hindered by complications.
It is worth noting that the State is advocating for a plural power sector based on fair competition and a market electricity price, which would ensure a level playing field for all investors. — VNS