Nguyen Tuan Anh, a standing member of the National Assembly Committee on Science, Technology and Environment, talks to Vietnam News Agency about how to make best use of e-government to speed up administrative reform.
E-Government is the right choice for Vietnam
Finance Ministry remains on top of E-Government Development Index 2018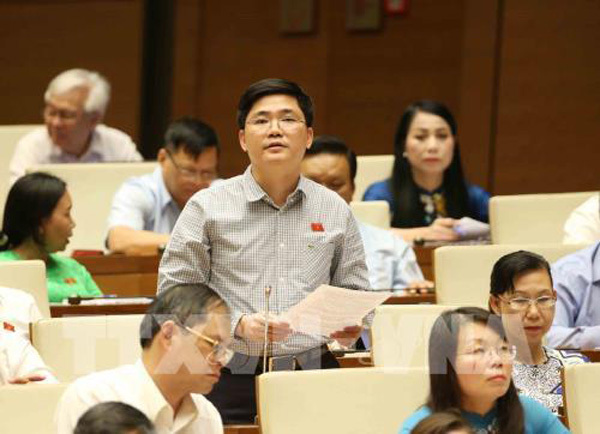 National Assembly deputy Nguyen Tuan Anh from the Long An Province's delegation, a standing member of the National Assembly on Science, Technology and Environment. — VNA/VNS Photo
What are the advantages of the National e-Document Exchange Platform?
The National e-Document Exchange Platform is a positive step towards a modern and new-look government.
All 31 ministries and ministerial level agencies, plus 63 provinces and centrally run cities and the Party Central Committee Office, have adopted the platform, with e-documents being sent and received quickly and safely.
The legal corridor for IT application and the development of e-government has already been established. A basic database that includes the registration of enterprises, insurance, population, land use and others is already in operation. Many essential public services, including business registration, tax payment, e-customs procedures and others can also be done online. Most government ministries and general departments have established their own e-offices. Vietnam ranked 88th among the 193 countries in the UN E-Government Survey in 2018 and 6th in ASEAN.
However, in many localities, national data and information technology development have not been paid due attention to, impacting the safety of information flow.
Though online public services are available in almost all 63 cities and provinces, the percentage of documents done online remains very modest. Many public employees still prefer perform paperwork manually.
E-government has been put on trial in many localities, to very positive reception from the general public. But why does the roll-out process seem to take too long?
There are many reasons. For example, many localities have yet to develop their own roadmaps, or even figured out the specific objectives for e-Government. There's also the lack of coordination between information technology application, administrative reforms and the "innovation" of the working styles at public agencies.
Regarding IT infrastructure for the launch of e-government, quite a few things are still missing. For example, information sharing between government agencies is the weakest link in the system, while firewalls to ensure data safety and security needs more attention.
Technically, one could look up their own social insurance information online when all personal information has been verified but this very verification process needs to be done in papers and submitted to the insurance agency to review. This is a clear example pointing to a lacklustre implementation of e-Government.
Last but not least, limited IT skills, ingrained habit and preference of paperwork from the general populations, and underwhelming involvement from private sector in the development of e-government are all problems that need to be addressed.
What measures are needed to make e-government work efficiently?
To utilise e-government efficiently and effectively, I think we need a thorough evaluation of what has been done and measures to improve the quality of e-transactions.
I hope with the Government's commitments to the formation of a facilitating Government of action and integrity, the push for e-Government would receive strong support from all government agencies, economic sectors and the general public, in order to make the e-Government system more friendly and comprehensive, meeting the demands of the public and businesses.
To effectively develop e-Government, we need to accelerate the building of legal regulations for this issue, as well as complete the national databases that are key components of e-Government, for example, national informational database on land or population, in addition to service systems aiming at facilitating administrative procedures for citizens and businesses.
At the same time, we will have to organise training courses for government officials and technicians on how to run the system correctly and efficiently.
The role of the heads of agencies will also play a vital role in the implementation of e-Government building process.
VNS