Prime Minister Nguyen Xuan Phuc held talks with Prime Minister Shinzo Abe on July 1 as part of his attendance at the G20 Summit and visit to Japan.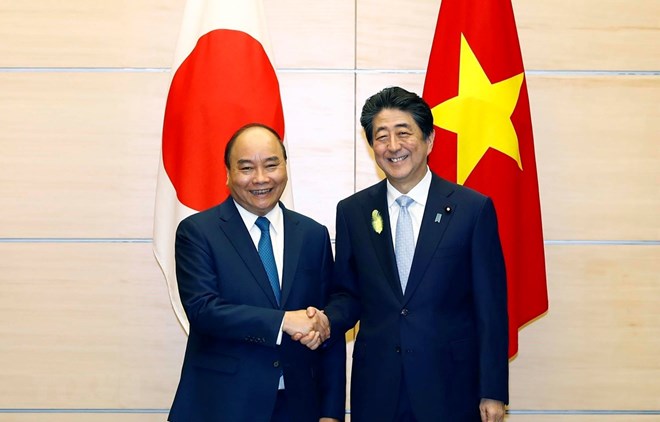 Prime Minister Nguyen Xuan Phuc (L) and Prime Minister Shinzo Abe 


PM Phuc congratulated Japanese people on the greatevent of Emperor Naruhito's ascension to the throne and the successfulorganisation of the 14th G20 Summit in Osaka.

He affirmed that Vietnam always considers Japanan important, long-term and reliable partner. 

For his part, PM Abe highly valued Vietnam'sposition, role and external achievements over the past time, as well as itsinitiatives and active contributions to the G20 Summit.

He described the over 330,000-strong overseas Vietnamesecommunity in Japan as an "invaluable mutual property" of the two countries'relations.

PM Phuc asked the Japanese Government to createmore favourable conditions for Vietnamese expatriates to live, study and workin the host society.

The two PMs expressed their pleasure at thegrowing ties between Vietnam and Japan, illustrated by the signing of a seriesof cooperation agreements in the fields of health care, education, humanresources development, and finance before their talks.

They agreed to reinforce the bilateral politicaltrust by maintaining high-level visits.

PM Phuc invited his Japanese counterpart tovisit Vietnam and attend the ASEAN Summit in 2020 when Vietnam will play therole of the ASEAN Chair. PM Abe accepted the invitationwith pleasure. 

The two leaders also agreed to strengthencooperation in defence, security and coordination within the ASEAN DefenceMinister's Meeting Plus (ADMM Plus).

Regarding trade, investment and economiccooperation, the PMs welcomed the two sides to agree on procedures allowing theimports of Vietnamese lychees and Japanese apples.

Vietnam proposed Japan consider the earlyimports of Vietnamese longans, star apples, and passion fruits while supportingVietnam to improve the quality of farm produce and develop high-techagriculture. The Japanese side askedVietnam to allow the imports of Japanese oranges.

The two nations agreed to continue workingtogether to implement effectively Japan's official development assistance (ODA)-fundedprojects in Vietnam and promote bilateral cooperation under thepublic-private-partnership (PPP) form.

PM Phuc affirmed that Vietnam will double itsefforts to create a more transparent, open and favourable investmentenvironment.

The two PMs also welcomed the signing of aMemorandum of Understanding (MoU) on cooperation in building a basic legal frameworkto implement the specific labour skills training programme.

They advocated the signing of an agreement onthe transfer of sentenced persons, and agreed to push negotiations for theagreement on mutual legal assistance on criminal matters and strengthen healthcooperation through the Asian Health Initiative.

PM Abe affirmed that Japan will actively supportVietnam in training officials and improving vocational training as well asincreasing competitiveness and labour productivity, reforming administrativeprocedures, building e-government to look towards digital government, economyand society, and coping with climate change.

He congratulated Vietnam on its non-permanentmembership on the UN Security Council for 2020-2021 with high votes.

The two sides agreed to enhance coordination atregional and international forums and promote relations between Japan and theAssociation of Southeast Asian Nations (ASEAN) and the Mekong River region.

They agreed to jointly implement effectively theComprehensive and Progressive Agreement for Trans-Pacific Partnership (CPTPP)and boost the conclusion of the Regional Comprehensive Economic Partnership(RCEP).

The two leaders also exchanged about regionaland international issues of mutual concerns, including the East Sea matter.

Before the talks, PM Phuc and PM Abe witnessedthe signing of six documents, including the agreement on the transfer of sentencedpersons; and the diplomatic note between the two governments on providingnon-refundable aid packages for the Japanese Grant Aid for Human ResourceDevelopment Scholarship (JDS).

Vietnam's Ministry of Health and Japan's Officeof Healthcare Policy under the Cabinet Secretariat, Ministry of Health, Labourand Welfare, Ministry of Economy, Trade and Industry also signed a MoU oncooperation.

Vietnam's Ministry of Labour, Invalids andSocial Affairs (MoLISA) and Japan's Ministry of Justice, Ministry of ForeignAffairs, Ministry of Health, Labour and Welfare, and National Police Agencysigned a Memorandum of Cooperation on the "specific skilledworkers" programme.

The MoLISA and the NationalInstitute of Technology KOSEN inked a MoU to continue with cooperationactivities to implement the KOSEN training models in Vietnam.

The two government leaders also witnessed theexchange of a contract for renewable energy projects between the Joint StockCommercial Bank for Foreign Trade of Vietnam (Vietcombank) and the Japan Bankfor International Cooperation (JBIC).
PM meets with leaders of Japanese conglomerates
Prime Minister Nguyen Xuan Phuc received leaders of Japanese groups investing in Vietnam in Tokyo on July 1 as part of his ongoing visit to Japan.
At the reception for Tatsuo Yasunaga, President and CEO of Mitsui & Co Ltd., the Government leader praised the company's business performance in Vietnam, particularly in processing and distributing of local aquatic products.
PM Phuc welcomed a joint project between Mitsui and Minh Phu Seafood Corporation which could push the shrimp export value of the major shrimp farming business in Vietnam to 1 billion USD.
Yasunaga informed his host of the success of the joint project, which has seen over 150 million USD invested in improving Minh Phu's processing, business management and export capacity, adding the sides plan to focus on upgrading refrigeration equipment and expanding export markets, particularly targeting Russia apart from the US.
In another meeting with Han Chang-woo, chairman and CEO of Maruhan Corporation, PM Phuc said Vietnam is pressing ahead with effective equitisation of Stated-owned enterprises (SOEs), particularly in transport, infrastructure, construction, telecom, agriculture, trade-services, and tourism.
The Vietnamese Government is willing to create favorable conditions for Japanese firms, including Maruhan, to set up strategic partnerships with the SOEs, he affirmed.
Encouraging the company to join banking restructuring process in Vietnam, Phuc wanted Maruhan to not only contribute capital but also provide support in terms of technology and financial skills needed to building a digital banking industry.
Han said his firm is looking for such support from the PM and the Vietnamese Government so that it could engage in the local banking restructuring.
The same day, the Vietnamese leader also received Mitsuo Ohya, Senior Vice President of Toray Industries, Inc., who said that his group is considering a large-scale investment plan in Vietnam that uses advanced and sustainable technologies, and is expecting the Government's attention.
The PM welcomed the company's investment in fabric weaving, an area of high demand in Vietnam. He noted that with its joining of the Comprehensive and Progressive Agreement for Trans-Pacific Partnership and signing of the EU-Vietnam Free Trade Agreement, Vietnam is a potential market for the company.
He suggested Toray Industries, when investing in Vietnam, study the building of modern industrial complexes, cooperate with domestic firms in supplying electronic components, and work with public agencies in training highly competent managers and engineers for the garment-textile industry.
Receiving Masayuki Hyodo, President and CEO of Sumitomo Corporation, PM Phuc lauded the company's investment-business collaboration projects with leading Japanese and Vietnamese firms, particularly those on fintech and smart city development.
Hyodo stressed his commitment to make Sumitomo's investment in Vietnam a success, contributing to the nation's growth.
Also on July 1, the PM attended the celebration of the 25th anniversary of the Vietnam Airlines' Vietnam – Japan route. VNA