The Ministry of Justice will work with relevant agencies to review problems in the implementation of the 2014 Law on Marriage and Family.
Premature and inter-family marriages hold Thanh Hoa's ethnic minorities back
National action programme for women and children launched
11% of Vietnamese women get married before legal age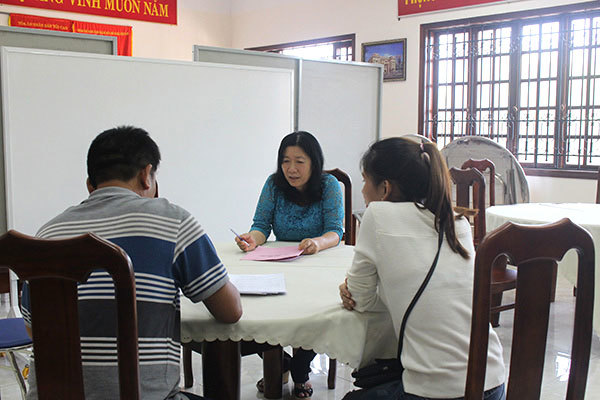 A counselor in the southern city of Bien Hoa provides advice to a young couple in an effort to help them reconcile their marriage. Divorce cases in recent years tend to occur in young couples aging between 28-35, a representative from the Supreme People's Court has said. Photo baodongnai.com.vn
Speaking at a teleconference in Hanoi on Tuesday Phan Chi Hieu, deputy Minister of Justice, said solutions would be offered to any issues they find.
Hieu said the law, which came into effect in 2015, had improved legal standards towards humanity and behaviour as well as raising awareness on the protection of human and civil rights.
Nguyen Hong Hai, deputy head of the Department of Economic – Civil Legislation under the Ministry of Justice said major policies of the Law on personal rights and property in marriage and family relations had been relatively institutionalised.
The implementation of tasks to protect the rights of the people had been more effective and consistent.
However, Hai said, the law failed to ensure transparency in the ownership of common and private properties and other relating transactions.
Some regulations were progressive and suitable to the socio-economic development but they were still influenced by traditional customs and culture, so there were differences in the perception regarding the implementation of the law.
Participants at the conference said the legal framework relating to marriage and family needed to be amended regularly. They also pointed out that some problems arising in practice had not been included in the Law, resulting in certain legal gaps.
A representative from the Supreme People's Court said cases relating to marriage and family were increasing in number as well as their complexities. The number of divorce cases tended to occur in young couples ageing between 28-35.
These cases involved such disputes as real estate, shares in companies, children or the level of support mainly caused by disagreements about views, lifestyles, economic difficulties or not caring for other party [husband or wife] or their children.
The regulations of Law on Marriage and Family were unclear on the division of property in accordance with the contribution, leading to difficulties in settlement, the representative said.
The law stipulated that shared property should be divided into two but taken into account such factors as "each party's fault within the rights and obligations of husband and wife".
However, this provision was difficult to apply in reality because determining faults of husband or wife was an abstract issue.
He said most of them only had their own testimonies and didn't have enough evidence.
Bui Thi Hoa, Vice Chairman of the Viet Nam Women's Union, said women faced many difficulties in the divorce process, especially in cases where they were victims of domestic violence.
Specifically, the Law stipulated that "domestic violence" or "serious violation of the rights and obligations of spouses" was the basis for resolving divorce if it turned marriage into "serious situation and the purpose of marriage is not achieved". These rules were too general and it was very difficult to apply without any guidance documents, she said.
Hoa proposed the Supreme People's Court Judge Council issue a resolution guiding the application of a number of provisions of the 2014 Marriage and Family Law. It should clearly define domestic violence and which acts are considered as "serious violations of the rights and obligations of husband and wife". The principles of calculating faults when dividing common assets and victims of domestic violence should be prioritised to look after their children should be mentioned, she said.
Participants at the conference also called on ministries, agencies and localities to strengthen institutions to detail provisions of the Marriage and Family Law. Dissemination and legal education should be enhanced to raise awareness of knowledge on marriage and family regulations.
VNS