VIETNAM NEWS HEADLINES DECEMBER 4
President arrives in Seoul, beginning state visit to RoK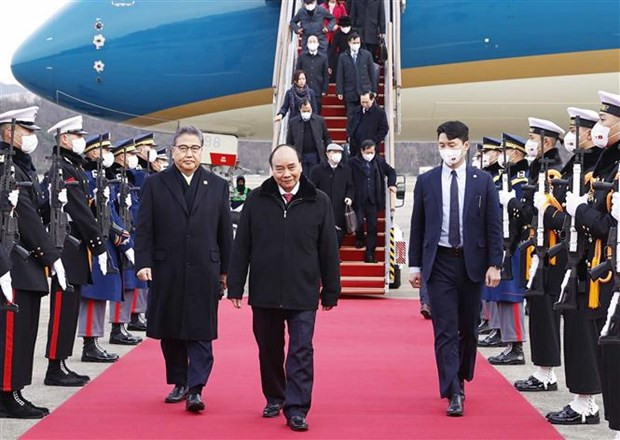 President arrives in Seoul, beginning state visit to RoK. (Photo: VNA)
President Nguyen Xuan Phuc and a high-ranking delegation of Vietnam arrived in Seoul on December 4 afternoon (local time), beginning a state visit to the Republic of Korea (RoK).
The visit, from December 4-6, is made at the invitation of RoK President Yoon Suk Yeol.

President Phuc and his entourage were welcomed at Seoul military airport by RoK Foreign Minister Park Jin, RoK Ambassador to Vietnam Oh Young-ju and other officials of the RoK, along with Ambassador Nguyen Vu Tung and the staff of the Vietnamese Embassy in the RoK, and representatives of the Vietnamese community in the country.

During his stay in the RoK, the President is scheduled to hold talks with his RoK counterpart, and witness the signing/exchange of a number of cooperation documents.

He will also meet the Prime Minister and the Speaker of the National Assembly of the RoK, attend a business forum, and have working sessions with leaders of Korean firms.

President Phuc is the first foreign senior leader to pay a state visit to the RoK since President Yoon took office.

The visit takes place at a time when the two countries are celebrating the 30th anniversary of diplomatic ties, are entering a pivotal period to carry out their own development strategies, especially following the COVID-19 pandemic. It is expected to usher in new chapter in bilateral ties.
President meets RoK-Vietnam friendship, cooperation organisations
Right upon his arrival in Seoul on December 4, President Nguyen Xuan Phuc had a series of meetings with organisations which have made significant contributions to the Vietnam-Republic of Korea (RoK) friendship, economic-cultural cooperation, and people-to-people exchanges.
Hosting a representative of the Ly family in the RoK, the President affirmed that the Vietnamese State and people are happy about and proud of the family's success as well as contributions to both nations and their relations.
The State leader recommended they continue organising delegations to visit Vietnam on holidays, introduce Vietnam's market and investment conditions, encourage Korean businesses to invest in the country, and promote Vietnamese culture among Korean people, making an important contribution to the bonding between the nations.
The representative said with the support of the Vietnamese embassy, the family's activities for exchange and cooperation promotion have been launched smoothly and effectively.
Expressing his delight at the strong development of the nations' ties, he wishes to receive further attention from the President and relevant Vietnamese agencies, especially regarding projects to promote Vietnam-RoK economic and people-to-people exchanges that are being implemented by his family.
Receiving the RoK-Vietnam Friendship Association (KOVIFA), Phuc wished and believed that the association will continue taking the lead and promoting its role in people-to-people exchange works and boosting the nations' multifaceted collaboration.
It is also necessary to encourage Korean firms to step up investment and trade cooperation with Vietnam; and to support the 200,000-member Vietnamese community in the RoK, especially families of Vietnamese brides married to Korean citizens, the President noted.
KOVIFA's representative hoped more assistance from Vietnam's competent agencies, sectors and social organisations will come in aid of its friendship exchange activities.
At the meeting with the Korea and Vietnam Economic and Cultural Association (KOVECA), the President suggested it further promote the two countries' cooperation plans and projects, especially in the fields of high technology, renewable energy, new environmentally friendly industries, technology transfer, and medicine in the face of epidemics.
KOVECA's representative stressed a belief that Phuc's visits will open up key collaboration opportunities for the sides across spheres.
President Phuc also received the Korea Eminent Person Group (EPG), which former ambassadors and leading experts of the two countries in diplomacy, economy, culture and society.
He acknowledging their active works in running many research and quality exchange activities, and making of many correct assessments and substantive and meaningful proposals for strengthening the two countries' cooperative relations.
He said he believes that a report, which is currently being jointly developed by the group to be submitted to the two governments, will be of good quality and have practical value.
The EPG's reprentative hoped the report will make a positive contribution to the governments' policies planning to promote bilateral engagements, deepening the countries' relations toward effectiveness for the mutual benefits and for cooperation and development in the region and the world.
Also on the day, President Phuc had meeting with staff of the Vietnamese Embassy and representatives of the Vietnamese community in the RoK.
Several injured as stage collapses at Vietnam water music festival
At least six people were injured after a stage of a music festival collapsed in Binh Duong province, southern Vietnam, on December 3 evening.
The incident occurred at The Sun Casa park in Thu Dau Mot city which is the largest economic hub in Binh Duong.
Witnesses said when the iron-framed structure suddenly collapsed, many people were standing underneath watching the show.
Video clips recorded by local people show some people were injured. Some of the victims were covered in blood and they lost consciousness. They were immediately taken to hospital by local authorities.
The water music stage was inaugurated on December 2. It's said it was windy when the incident took place.
Relevant agencies launched investigations into the cause of the incident.
Top legislator receives New Zealand business leaders
National Assembly (NA) Chairman Vuong Dinh Hue received leaders of New Zealand companies in Auckland on December 4 as part of his ongoing official visit to the country.
Hosting Mike Cronin, Managing Director of Co-operative Affairs at Fonterra, Hue lauded the group's joint works with Vietnamese firms such as Vinamilk and Nutifood in the supply and distribution of milk in Vietnam's market.
Fonterra has been operating in Vietnam since 1980, specialising in supplying and distributing dairy and food products for restaurant and hotel chains.
The NA leader suggested the group study to expand cooperation and investment in Vietnam. Fonterra can consider invest in dairy farms, milk processing plants to provide quality materials; as well as cooperate in management training, technology transfer, and investment in seed, products and equipment for Vietnamese farms and partners, Hue said.
He informed Cronin that Vietnam is continuing to improve the legal system, creating best conditions possible for investors and ensuring fair competition.
In response, Cronin appreciated Vietnam's increasingly substantive and effective investment attraction policies over the past time.
He said he would work with the group's leaders to study Hue's suggestions on expanding cooperation and investment, especially regarding the opening of a network of distributors.
At his meeting with Fiso Investment Group CEO John Fiso and Director of Viet River Holdings Limited Nguyen Truong Khoa, the top legislator welcomed businesses that have joined many networking activities between Vietnamese and New Zealand firms and directly invested in Vietnam.
He said two key forums on education and trade-economy-investment collaboration scheduled as part of his visit are an opportunity for entrepreneurs and investors of the nations to beef up their ties in the time to come.
Fiso said currently his group is boosting investment again after the COVID-19 pandemic, focusing on the fields of healthcare, education and importing Vietnamese products. Fiso Investment is also promoting investment activities to build high schools and vocational facilities in Vietnam, form labour cooperation, and support Vietnamese businesses to invest in New Zealand.
Khoa said that Viet River Holdings is promoting the import of Vietnamese pepper and coffee products to New Zealand, and wishes to bring Vietnamese workers to work in the market.
Hue recommended the businesses to propose to the New Zealand Government, so that the two governments will soon sign an agreement on labour cooperation, creating a solid legal framework for this field.
On the day, NA Chairman Hue also hosted Don Ha, CEO of RE/MAX, which is one of the major US real estate companies operating through the franchise system and is currently present in more than 110 countries and territories. The RE/MAX New Zealand was established in 1996.
At the meeting, Hue expressed his support for the company's plan to import products of Vietnamese origin serving the opening of a sales centre and supermarket of household appliances in New Zealand.
Meanwhile, received by the NA leader on December 4, VietTechNZ's representative made proposals on connecting Vietnamese and New Zealand companies and their IT personnel. VietTechNZ works to link Vietnamese knowledge networks operating in the field of technology in New Zealand.
Heavy rains leave three dead, two missing in central and southern VN
Heavy rains have left three people dead and two more missing in central and southern regions, the Central Steering Committee for Natural Disaster Prevention and Control has announced.
The victims include one dead and two missing in central Thừa Thiên-Huế Province, and two dead and one injured in southern Sóc Trăng Province.
Heavy rains also caused one house in central Quảng Nam Province to collapse, 2,860 others in Thừa Thiên-Huế Province to be inundated and damaged 28ha crops. Seven locations in the central provinces of Quảng Trị, Thừa Thiên-Huế and Quảng Nam reported landslides.
Some sections of national roads were also affected by landslides or were inundated.
Heavy rains will continue until December 6 from Thừa Thiên-Huế down to Khánh Hòa, with 70mm-200mm of rain forecast. The heavy rain may last until December 9, causing floods.
In response, the committee recommended provinces and cities closely monitor warning and forecast bulletins to issue guidance to local authorities and people, as well as take measures to prevent floods, especially flash floods and landslides, while deploying staff to inspect and review low-lying residential areas.
The provinces and cities should also inspect, review and ensure the safety of reservoirs, especially small hydroelectric reservoirs, irrigation reservoirs and reservoirs full of water.
They must arrange for staff to be regularly on duty, guide and separate traffic flows in deeply flooded areas, and stand ready to clear the aftermath.
Localities are also recommended to closely monitor warning bulletins and forecasts about the developments of strong winds at sea and inform the situation to fishing vessels and other vehicles at sea.
HCM City enhances cooperation with localities of Laos, Cambodia, RoK
Vice Chairman of the Ho Chi Minh City People's Committee Ngo Minh Chau on December 3 met leaders of localities of Laos, Cambodia and the Republic of Korea (RoK) who were in the city for a friendship dialogue.
Meeting Vientiane's Vice Mayor Phoukhong Bannavong and Savannakhet province's Deputy Governor Lingthong Sengtavanh of Laos, Chau noted with pleasure the Vietnam-Laos friendship.
Recalling a meeting between HCM City leaders and Lao Deputy Prime Minister Sonexay Siphandone last September, Chau said the two sides agreed to organise a Vietnam-Laos trade and investment promotion forum in HCM City on December 13.
Deputy PM Sonexay Siphandone is scheduled to lead a delegation to the event, he said, inviting representatives from Vientiane and Savannakhet to the forum.
Phoukhong Bannavong, for his part, suggested departments, agencies and investors in Vientiane and HCM City enhance cooperation in economy, culture, education, and science in a pragmatic manner and with breakthroughs.
Lingthong Sengtavanh also noted her hope that HCM City and Savannakhet will step up exchanges in various spheres, facilitate the operations of their investors and promote tourism links.
At a reception for Phnom Penh's Vice Mayor Huot Hay, Chau thanked the Cambodian capital city for its support to HCM City during the COVID-19 pandemic, and suggested the two cities forge cooperation in tourism and trade, and expand collaboration in road and waterway transport, health care and education.
In reply, Huot Hay agreed with Chau's proposals, and noted his belief that his visit to HCM City will contribute to fostering the relations between Vietnam and Cambodia.
Receiving Deputy Governor of the RoK's Gangwon province, Jeong Kwang-Yeol, and deputy head of the Planning and Coordination Bureau of the RoK's Gyeongsangbuk province, Whang Myeong Seok, the host official held that there remains hug potential for cooperation between HCM City and the Korean localities.
Vietnamese culture fair held in Mexico
A Vietnamese cultural fair took place at Lincoln Park in Mexico City on December 3-4 to introduce the history, cultural traditions and many beautiful images and of land and people of Vietnam.
The event, which saw the participation of representatives of diplomatic missions, municipal authorities, friends and local people, was part of a series of cultural exchange activities jointly organised by local authorities and the diplomatic corps.
Addressing the opening ceremony, Vietnamese Ambassador to Mexico Nguyen Hoanh Nam highligthed the cohesion of Vietnam-Mexico relations in various fields from politics, economy, culture to people-to-people diplomacy.
He expressed his hope that through cultural exchange activities, Mexicans will understand more about a peace-loving, dynamic and hospitable Vietnam, thus helping to strengthen the fine relations between the two countries.
Vietnamese circus acts shine in international arena
Vietnamese circus performers have left an impression on audiences worldwide, bringing hope of a bright future for the genre.
Vietnamese pair Pham Thi Huong and Truong Hong Thuy recently won gold for their performance "Du Son" (Red Swing) at the 2022 International Circus Festival which wrapped up on October 26 in Russia.
According to Deputy Director of the Vietnam Circus Federation (VCF) Tong Toan Thang, the performance of the two female artists was highly evaluated by the event's judges for the harmony between music, costumes, accessories as well as skillful techniques.
The award helped affirm the talent and position of Vietnam's circus art in the international arena, he said, adding that it is also motivation for domestic circus artists to continue to work for the development of their art.
In December 2021, Vietnamese acrobats Giang Quoc Co and Giang Quoc Nghiep broke their own world record by doing a head-to-head balancing act and climbing 100 stairs of the Girona Cathedral in Catalonia, Spain.
The duo originally set a world record in 2016 when they climbed 90 stairs of the cathedral in 52 seconds.
Guinness World Records proposed adding 10 more steps and the Vietnamese duo agreed to take on the new challenge.
Both artists left Vietnam for Spain on December 17 and spent several days training before the attempt.
Strict COVID-19 prevention measures adopted by the Spanish Government, including the closure of fitness clubs, affected their training. The two artists had to train and perform in freezing temperatures.
But their efforts paid off when they finished in 53 seconds.
Vietnamese artists also won silver and gold medals at international circus festivals in 2017.
Northerners feel chill as cold wave intensifies
The cold wave conditions intensified on December 4 morning, sending temperatures further dropping across the northern region.
The intensified cold front will first hit the northern mountainous region, then spread out across other places in the north, north-central and central regions during the day, according to weather experts at the National Centre for Hydro-Meteorological Forecasting.
Intensified winds will cause temperatures to fall sharply to below 5 degrees Celsius in the uplands, to 10-13 degrees Celsius in the midlands and to 13-15 degrees Celsius in the northern delta and the north-central region.
The capital city of Hanoi remains cold, with temperatures ranging from 14 to 16 degrees Celsius.
More cold air waves are expected to strike the north of Vietnam in the next few days, and local people will continue to feel the chill in the coming winter days.
Meanwhile, the intensified cold wave combined with turbulence in the high altitude East wind zone will bring rain to some localities in the central region from Ha Tinh to Quang Ngai from December 4 to 6. Some localities are expected to receive rainfall of between 100 -200 mm, or even more than 200 mm.
Weather forecasters warned about risks of flash floods and landslides in mountainous areas and flooding in low-lying areas, river estuaries and urban areas from Thua Thien Hue to Khanh Hoa provinces.
Collectives, individuals honoured at national volunteer awards 2022
A total of 19 collectives and individuals were honoured for their outstanding contributions to volunteer work this year, at an awards ceremony held in Hanoi on December 3.
The organisers presented awards to nine collectives and 10 individuals selected from 258 nominations across the country.
As many as 200 collectives nationwide were also presented with certificates of merit for their contributions to the community through voluntary work done in various fields this year.
The awards ceremony is part of the national Youth Volunteer Day festival held on December 3 - 4, providing chances for participants to meet and share experiences in volunteering. The festival also marks UN International Volunteer Day which falls on December 5 annually.
As scheduled, a blood donation festival will be held ahead of the Lunar New Year holiday, with more than 3,000 volunteers expected to take part in.
Dengue outbreak in HCM City on downward trend
The Dengue outbreak is showing signs of waning in Ho Chi Minh City, with only 1,169 infections recorded in the past week, down 24% compared to the weekly figure in the previous four weeks.
The city did not record a single death caused by the virus in the past week, said the Ho Chi Minh City Centre for Diseases Control (HCDC).
According to the HCDC, the city has so far this year recorded as many as 76,239 infections, an increase of nearly 7 times over the same period last year. Of the total, 1,838 cases are severe infections. The ratio of severe cases to the total number of cases in the past week was 2.41%, an increase of 3.2% year on year.
Meanwhile, the past seven days saw an additional 265 people infected with hand, foot and mouth disease, a decrease of 279% compared to the average of the previous four weeks.
Since the beginning of the year, the city has diagnosed 18,353 cases of hand, foot and mouth disease.
The HCDC reported although the dengue outbreak is on the downward trend, people remain highly vigilant given the erratic rainy weather. It encouraged people to eliminate mosquito breeding sites weekly at workplace and at home.
Dialogue helps connect Ho Chi Minh City to the world
The 2022 Ho Chi Minh City friendship dialogue, the first of its kind which is getting underway on December 3-4 is expected to foster cooperation between the Vietnamese city and other localities across the globe in the following years.
Mayor Phan Van Mai was speaking at the opening ceremony of the dialogue themed "Resilient adaptation for recovery and development".
Addressing the event, Foreign Minister Bui Thanh Son spoke highly of HCM City's initiative to host the first such dialogue that demonstrates the city's creativity in promoting international cooperation.
The Minister expressed hope that international localities and HCM City would continue to strongly strengthen cooperation in all fields, making positive contributions to the development and prosperity of each country.
Vietnam is willing to strengthen economic-trade-investment ties with partners, especially after three years of the COVID-19 pandemic, and the global economic recovery is opening new cooperation opportunities for all, including HCM City and localities globally, said the diplomat.
John Martin Cruz Nieto, vice mayor of Manila in the Philippines, said there remains a lot of potential for cooperation among localities and it would help to improve people's daily lives.
Takebe Tsutomu, special advisor to the Japan - Vietnam Friendship Parliamentary Alliance (JVFPA), expressed hope that the dialogue would be upgraded to an international friendship forum that creates a driving force for further development whilst boosting regional peace and friendship.
Delegates also agreed to hold further exchange activities in the near future to boost mutual understanding and seek greater cooperation opportunities.
The friendship dialogue attracted representatives of 24 localities from 12 countries and territories throughout the globe.
At least three people died, went missing due to floods in Thua Thien – Hue
On the morning of December 3, Mr. Nguyen Ngoc Sinh, Chairman of the People's Committee of Xuan Loc Commune, Phu Loc District, Thua Thien - Hue Province, confirmed that the person swept away by flood water was Mr. Phan Minh Tam, Secretary of the Party Committee of Xuan Loc Commune. The authorities and local people found his body in the early morning of December 3 and handed it over to his family for a funeral.
Earlier, at about 1:40 p.m. on December 2, Phu Loc District police received information that a motorbike driver was swept away by flood water in the area of residential quarter 8 in Phu Loc Town, near Khe Thi Bridge, bordering Loc Tri Commune. The victim was identified as Mr. Phan Minh Tam.
On the morning of December 3, Mr. Phan Cong Man, Chairman of the People's Committee of Phu Loc District in Thua Thien - Hue Province, said that forces, including the army, the police, and local authorities, carried out the search immediately in the adjacent area between Loc Tri Commune and Phu Loc Town after receiving information that two people in Phu Loc Town in Phu Loc District were missing on the morning of the same day.
The two victims were initially determined as uncle and nephew who went missing from the afternoon of December 2, but not until the morning of December 3 did the family members report the authorities.
Year of Cat stamp collection released ahead of Lunar New Year
A collection of stamps featuring numerous images of Vietnamese cats were released on December 1 by the Ministry of Information and Communications in celebration of the upcoming Tet festival, known locally as the Lunar New Year.
With the upcoming Lunar New Year set to mark the start of the Year of the Cat, which begins on January 22, 2023, the design of the collection aims to convey a message of good health, happiness, and luck for all people and their families.
The first stamp design depicts a mother cat playing with two kittens, with the group surrounded by peach flowers and a red envelope, thereby sending a message of reunions for all families during the festive season.
The second design showcases a cat holding an ochna blossom in its paws, showing the joyfulness for Tet celebration.
The two 37mm x 37mm stamps have been designed by local artist Nguyen Quang Vinh and cost between VND4,000 and VND15,000 each. In addition, the block sized 80mm x 80mm is worth VND15,000.
The collection is set to be made available on the public postal network nationwide from December 1 to June 30, 2024.
Indian classical dance introduced to Vietnamese people
The Embassy of India in Hanoi in collaboration with the Ministry of Culture, Sports and Tourism of Vietnam will organize an evening of Indian classical dance by visiting artists of highly acclaimed Centre for Indian Classical Dances on December 1.
This event to be staged at Hong Ha Central Traditional Opera Theatre in Hanoi coincides with the 50th anniversary of the establishment of the diplomatic relations between India and Vietnam.
The presentation is choreographed by Dr. Sonal Mansingh, Padma Vibhushan & Member of Parliament of the Upper House of Indian Parliament (Rajya Sabha). Dr. Sonal Mansingh has been unique among dancers by mastering multiple Indian classical dance forms from different parts of India such as Bharatanatyam, Odissi and Chhau. She is a great scholar and seasoned art administrator who has performed, lectured and conducted workshops in 90 countries around the world.
The group will also tour Binh Dinh province and Ho Chi Minh City from December 4 - 9 to present their special performances.
Hoi An offers free entrance tickets to Old Quarter on December 4
Hoi An Ancient Town in the central province of Quang Nam offered free entrance tickets to guests visiting the Old Quarter and traditional craft villages on December 4, according to details given by the Center for Culture - Sports and Radio - Television of Hoi An City.
The move aims to celebrate the 23rd anniversary of Hoi An's recognition by UNESCO as a world cultural heritage, as well as five years of recognising Bai Choi, a folk music genre practiced in central Vietnam, as a part of Representative Intangible Cultural Heritage of Humanity.
The free programme to visit Hoi An Ancient Town on December 4 has been implemented by the Hoi An authorities for many years.
The purpose of the scheme is to create conditions for visitors seeking to gain more insights into the unique values ​​of the central city's history and culture, thereby further attracting tourists to the locality.
Local martial artist claims gold at World Senior Kurash Championship 2022
Nguyen Thi Bich Ngoc successfully won a gold medal in the women's 57kg category at the World Senior Kurash Championship 2022 which recently concluded in Pune, India.
The final round of the tournament saw the Vietnamese athlete defeat Lee Ye-joo of the Republic of Korea to take top position.
Elsewhere, her teammate Nguyen Thi Ngoc Nhung bagged a bronze medal in the women's 63kg category.
The 13th World Senior Kurash Championship was jointly organised by the International Kurash Association and the Indian Olympic Association which was held from November 23 to November 29 at Balewadi Sports Complex Pune in India.
The tournament witnessed the participation of over 300 contestants from 60 countries and territories worldwide. In total, Vietnam sent six martial artists to compete at the international sporting event.
Bich Hanh crowned Mrs World Vietnam 2022
Nguyen Thi Bich Hanh of Phan Rang city in the south-central coast province of Ninh Thuan won the Mrs World Vietnam 2022 title on November 30 at C30 Hoa Binh Stage in Ho Chi Minh City.
The 36-year-old beauty, who is a business woman based in the south of the country, successfully surpassed 30 strong rivals to ultimately win the title.
The first and second runners-up spots went to Nguyen Thi Duc Hanh and Vu Phuong Dung, respectively.
Bich Hanh stands at 1.70 metres tall and measures 90-68-102. She will go on to represent the country to compete at the Mrs World beauty pageant which is expected to take place in the United States in December.
The main purpose of Mrs World Vietnam 2022 is to honour the beauty and talent of Vietnamese women aged 26 to 50 who are currently living and working in the country.
'Bike to school' campaign launched in Pleiku for a greener and healthier future
As part of our school safety zone model programme "Slow Zones, Safe Zones", AIP Foundation along with the authorities of Gia Lai Province and Pleiku City on Friday launched the 'Bike to school' campaign providing 85 new bicycles for low-income students to be able to bike to and from school.
This year, the programme is increasingly encouraging students and their families to use sustainable means of transport, paving the way for healthier and greener cities as well as promoting safe and sustainable mobility. This also aligns with Việt Nam's National Green Growth Strategy 2021-2030.
The objective of the "Bike to School" campaign is to engage students in healthy mobility across 19 secondary schools, aiming to reach a total of 18,135 students.
Following the students' performance and remarks by the donors and the Traffic Safety Committee representatives, AIP Foundation presented 85 low-income students with a new bicycle. The foundation's network of individual supporters and corporate donors have donated the bicycles.
Afterwards, the students engaged in road safety games to learn practical and life-saving skills on how to be safe on the road.
In addition to today kick-off ceremony, the 'Bike to school' campaign included also a safety bike training tour, a featured 'biking to school' month, a biking virtual marathon, and a closing event that includes tactical urbanism to demonstrate safe bicycle facilities.
Investigation launched into the death of a boy at a kindergarten in Bình Định
A five-year-old boy has died on Tuesday from a cause not yet identified at a kindergarten in the south-central province of Bình Định, according to local authorities.
The victim is T.H.A. (residing at Du Tự street, Tăng Bạt Hổ Town, Hoài Ân District). On Tuesday morning, T.H.A. was taken to the school by his family.
He had lunch at 11am and took a nap along with other classmates. About 30 minutes later, while other children were already asleep, T.H.A. was still awake and showed unusual signs. Teachers immediately took him to Hoài Ân Medical Centre for emergency treatment. However, he died at the hospital.
T.H.A.'s body has been handed over to the family.
Mai Văn Lên, Chairman of Tăng Bạt Hổ People's Committee, said the relevant authorities are investigating and clarifying the cause of the death.
Initial autopsy reports have excluded food poisoning, choking, or external forces as probable causes of death.
1982 UNCLOS most important legal tool to preserve regional peace: workshop
Implementing the 1982 United Nations Convention on the Law of the Sea (1982 UNCLOS) and other international instruments to address emerging maritime issues has been the focus of a workshop in Hà Nội which concluded on Thursday.
The two-day hybrid ASEAN Regional Forum (ARF) workshop, co-organised by the Vietnamese Ministry of Foreign Affairs, the EU, Australia and New Zealand, brought together about 200 representatives from 27 ARF member countries, regional and international organisations, diplomatic offices, research institutes, ministries and agencies.
In his opening remarks, Assistant to the Minister of Foreign Affairs Nguyễn Minh Vũ reiterated the significance of the 1982 UNCLOS, especially in the context of emerging challenges to the settlement of maritime issues, requiring intensive and extensive international cooperation.
The 1982 UNCLOS is an important basis for countries in the region to enhance trust and cooperation, for peace, security and prosperity, he stressed, adding that all disputes and maritime issues should be addressed by peaceful measures in line with international law, including the Convention.
Vũ viewed the workshop as a demonstration of regional commitment to international cooperation to cope with the challenges.
Thomas Wiersing, deputy head of the EU Delegation to Việt Nam, emphasised the leading role of ASEAN in promoting peace and stability in the region, affirming the EU's support for the early completion of a substantive and legally-binding Code of Conduct (COC) in the East Sea.
Chargé d'affaires of the Australian Embassy in Hà Nội Mark Tattersall spoke highly of the ARF's role in security and cooperation dialogues in Indo-Pacific.
Delegates shared the view that the 1982 UNCLOS is the most crucial legal tool to maintain peace and stability in the region, creating a framework to push ahead with the settlement of both traditional and emerging maritime issues in the region.
More trains for Hanoi-Lao Cai route during Tet Holiday
Hanoi Railway Transport Joint Stock Company has announced plans to operate more trains on the Hanoi-Lao Cai route for the coming Lunar New Year (Tet) Holiday.
Besides trains SP3/SP4, the firm will also operate the SP1/SP2 service. Train SP1 will leave Hanoi Station on January 22 and 23 at 9:35 pm and arrive at Lao Cai Station at 5:15 am the next day. Train SP2 will depart Lao Cai Station on January 24 and 25 at 1:20 pm and arrive at Hanoi Station at 8:20 pm.

Passengers on this route will be offered discounts. For instance, buying three tickets in a group for a sleeper carriage will get a free extra ticket or when buying six an additional two more.
The Ministry of Transport has submitted a plan to the prime minister to raise international freight transport by rail by 2030, with a target of shipping between 4 and 5 million tonnes.
The volume of goods imported and exported by rail stood at 1.1 million tonnes in 2021.
The railway has announced plans to offer 3,000 more train tickets to meet strong demand during the 2023 Lunar New Year holiday. The tickets will be for the routes from Saigon, Di An and Bien Hoa train stations to those in central provinces such as Tuy Hoa, Dieu Tri, Quang Ngai and Danang from January 9 to January 20, 2023.
Source: VNA/SGT/VNS/VOV/Dtinews/SGGP/VGP/Hanoitimes