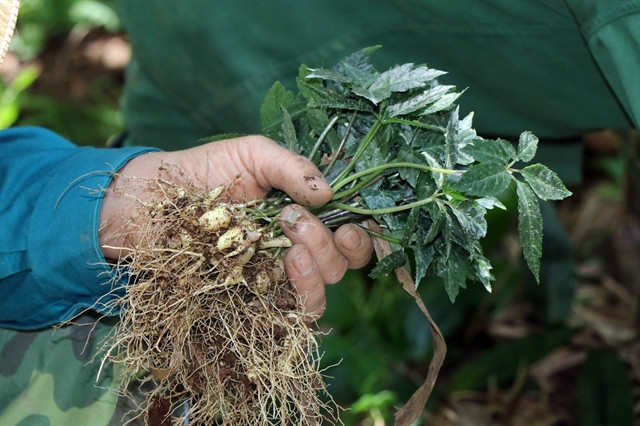 Ginseng seedlings in Kon Tum Province. — VNA/VNS Photo
Ginseng management, experts and farmers discussed solutions to prevent and tackle smuggled ginseng, and protect Vietnamese ginseng growers at a seminar held by Nông Nghiệp Việt Nam (Việt Nam Agriculture) Newspaper on Friday in Hà Nội.
Recently, there have been traders on the market selling Vietnamese Ngọc Linh and Lai Châu ginseng at prices several dozen times cheaper than the original ginseng.
In fact, original Ngọc Linh ginseng's price is more than VNĐ300 million (US$12,500) per kilo, and Lai Châu ginseng is also priced at over VNĐ120 million ($5,000) per kilo. Meanwhile, on the floating market, "fake" Ngọc Linh and Lai Châu ginseng is priced at only a few million đồng per kilo.
Authorities have repeatedly discovered ginseng of unknown origin masquerading as Ngọc Linh and Lai Châu ginseng imported from China.
Notably, the smuggled ginseng was also detected with pesticide residues far exceeding the allowed levels.
Many ginseng samples also contained plant protection active ingredients that are banned in Việt Nam.
The illegally imported ginseng is not only harmful to people's health but also impacts the Vietnamese ginseng brands, and growers and businesses.
This situation requires effective solutions to prevent and tackle illegally imported ginseng from China.
Nguyễn Trọng Lịch, vice director of Agriculture and Rural Development of Lai Châu Province, said Lai Châu is a province with favourable conditions for growing ginseng.
The Prime Minister issued a decision on the development of Vietnamese ginseng, including Lai Châu ginseng. Currently, the province has a total of 35ha of ginseng with the participation of 22 businesses, co-operatives and over 200 households, Lịch said.
"Currently, Lai Châu Province's ginseng growing area is still small. The province is focussing on ginseng propagation," Lịch told the seminar.
"There have not been many branded ginseng products but some simple products such as ginseng soaked in wine and honey," he said.
​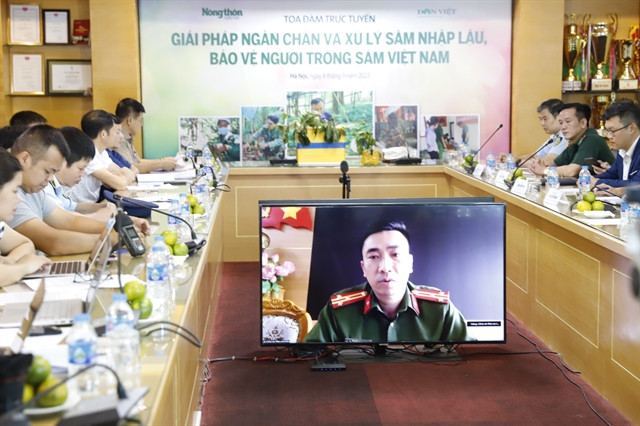 The seminar on Solutions to Prevent and Handle Smuggled Ginseng, and Protect Vietnamese Ginseng Growers held on Friday in Hà Nội. — VNS Photo Tố Như
​
Talking about the prevention of counterfeit ginseng, Lieutenant Colonel Phùng Ngọc Trường, head of the Department for Investigation of Crimes of Corruption and Smuggling of the Lai Châu Police, said that in recent years, the department had discovered and handled 18 cases of fake ginseng trading.
When the authorities took drastic actions, traders switched to importing smuggled goods in small quantities and transported them at night on mountain roads to cause difficulties for the authorities, Trường said.
According to Colonel Đỗ Đình Cường, head of the Drug and Crime Prevention Department of the Lai Châu Border Guard, the province has a 30km border of rivers and streams with China that is used by smugglers to illegally transport ginseng from China to Việt Nam.
Smugglers dropped wooden boxes containing ginseng into rivers and streams from China to Việt Nam, said Cường.
The smuggling of ginseng had been ongoing since 2021. The border force had increased patrols, uncovered and seized 172.9kg of ginseng valued at VNĐ246 million ($11,000). Two individuals were prosecuted for smuggling charges, he said.
Meanwhile, Nguyễn Đức Lê, from the General Department of Market Management of the Ministry of Industry and Trade, said that more than 4,400 cases related to counterfeit Vietnamese ginseng products were handled in the first eight months of this year.
"We have discovered many stores selling fake Ngọc Linh and Lai Châu ginsengs and products such as gingseng cakes, cosmetics and pharmaceutical products," Lê said.
It was necessary to have drastic solutions to prevent ginseng smuggling and protect Vietnamese ginseng.
According to Nguyễn Trung Mạnh, People's Committee's chairman of Tu Mơ Rông District in Kon Tum Province, it is vital to enhance information dissemination so that people can easily identify Vietnamese Ngọc Linh and Lai Châu ginseng.
In addition, authorities must implement stricter measures against ginseng smuggling activity.
Previously, Deputy Prime Minister Trần Lưu Quang signed Decision 611/QĐ-TTg approving the Programme on Developing Vietnamese Ginseng until 2030, with orientation to 2045.
The overall aim of the programme is to develop Vietnamese ginseng into a product of high economic value and a key commodity in the medicine-pharmacy and healthcare fields, thereby creating a national product brand. This initiative will contribute to job creation, income for people, socio-economic development in ethnic minority areas, and ensuring national defence and security.
Currently, there are two major ginseng growing regions in Việt Nam: Ngọc Linh ginseng in Quảng Nam and Kon Tum provinces, and Lai Châu ginseng in Lai Châu Province.
Ngọc Linh ginseng boasts a saponin content that surpasses other renowned ginseng varieties globally.
Kon Tum Province has 1,165 households, 30 household groups, and five businesses engaged in Ngọc Linh ginseng production with a total cultivation area of 1,749.3ha, hosting 29.9 plants per hectare.
Meanwhile, in Quảng Nam Province, the designated area for conservation and development of Ngọc Linh ginseng spans 15,568ha, and the total forested area planted with the ginseng covers 456ha.
The province's yield is estimated at 547kg per hectare for 5-year-old ginseng. VNS