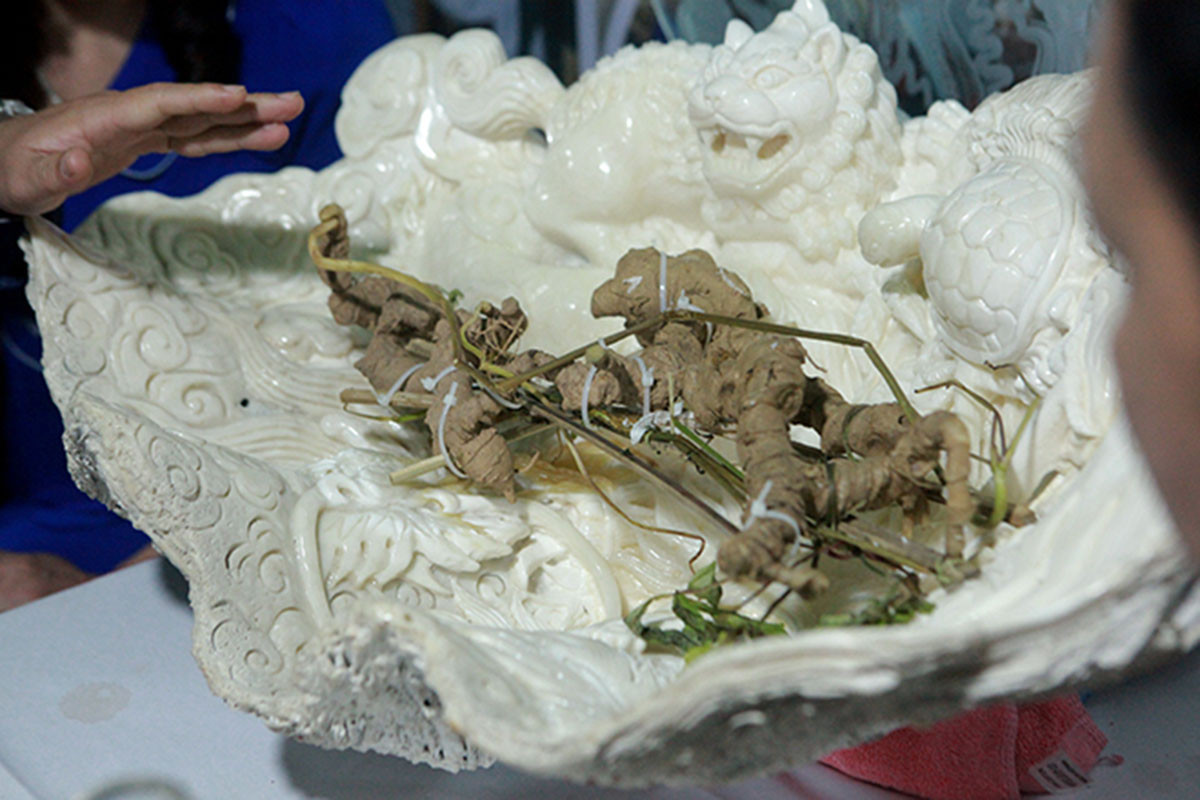 On August 2, at the Ngoc Linh ginseng festival in Nam Tra My district in Quang Nam province, Dinh Hong Thang in Tra Linh commune sold a ginseng plant for VND886 million to a buyer from Hanoi.
Thang said the plant is 20 years old and has good feng shui. In general, a ginseng plant only has one branch, but his plant has nine branches and weighs 0.9 kilograms. Of these, six branches have 350 green fruits. If cutting branches and roots, the ginseng bulb would be 700 grams.
Experts say that this is a strong ginseng plant, beautiful, rare and precious. In general, only ginseng plants that have been grown for 1-10 years are available at the festival and trade fairs.
VND500 million wild 100 year-old Ngoc Linh ginseng bulb
At the food festival held on Trinh Cong Son walking street in Tay Ho district in Hanoi three years ago, visitors were surprised when seeing a big bulb of wild Ngoc Linh ginseng, naturally grown in Ngoc Linh Mountain.
The owner of the Ngoc Linh ginseng bulb said the bulb has 95 joints and each joint corresponds to one age, which means that the plant is nearly 100 years old. Its market price was VND500 million.
VND2 billion bulb
A man who owns a big collection of Ngoc Linh ginseng in Hanoi said in 2018, he spent VND2 billion to buy a natural Ngoc Linh ginseng bulb, weighing 2.7 kilograms, with length of 1.2 meters. This was the biggest wild Ngoc Linh ginseng bulb at that time. The bulb was soaked in a glass vase specifically designed for the bulb of ginseng, together with 40 liters of liquor.
The man also owns tens of bottles of Ngoc Linh ginseng, including wild and planted ginseng. He said some of the bottles have value equal to a luxury car.
100-year old ginseng bulb, worth VND1 billion
In 2019, a bulb of Ngoc Linh ginseng, more than 100 years old, and 70 centimeters long and 920 grams in weight, together with the tree trunk, was sold to a man from Kon Tum for nearly VND1 billion.
The buyer, who had deep understanding about ginseng, said that the ginseng was rare and precious because it grew wild. He also said that the plant was about 100 years old based on the number of knots on the tree trunk.
Hanh Nguyen