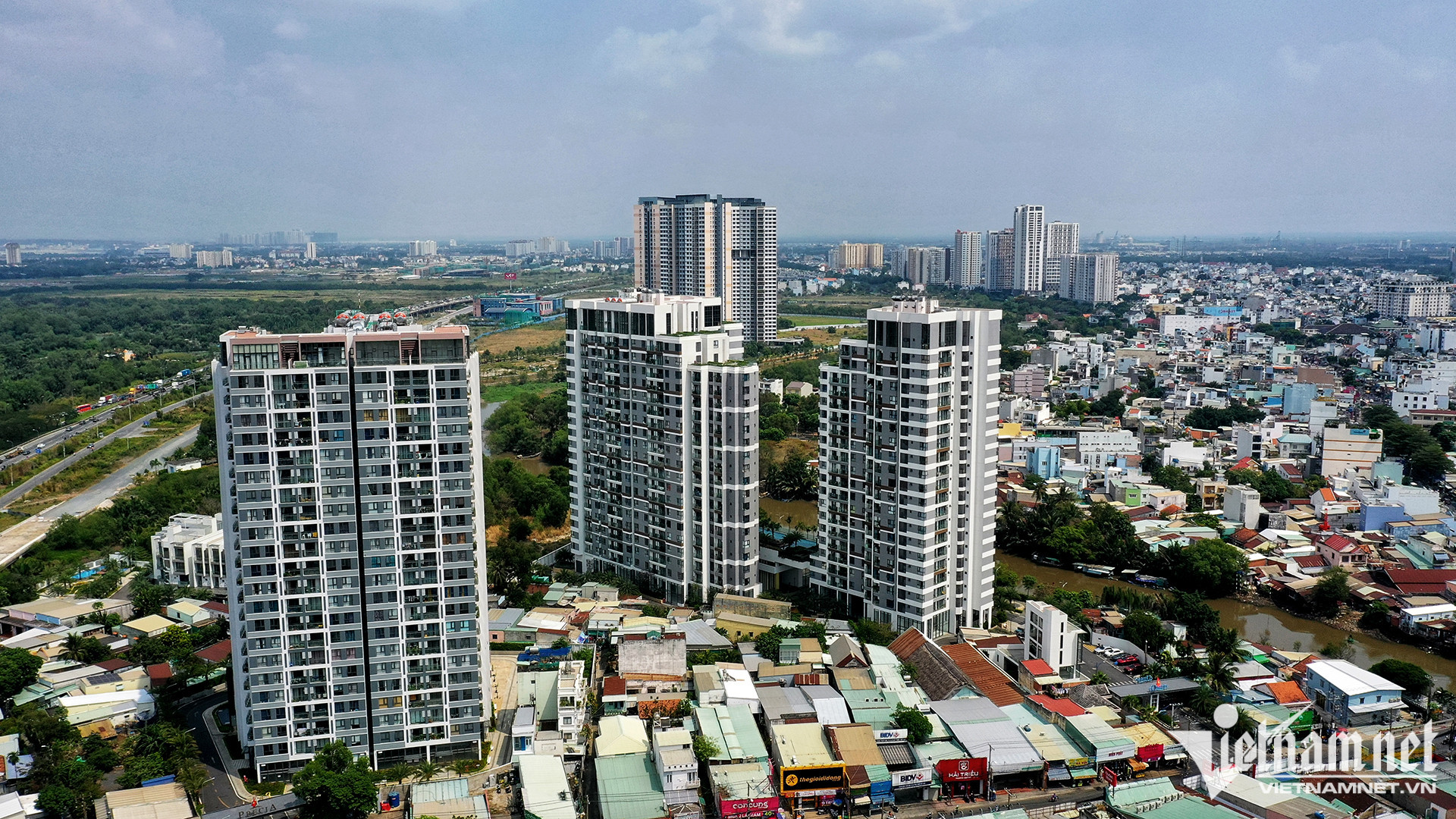 Real estate firms have reported high inventory, mostly in the high-end market, where a square meter is priced at hundreds of millions of VND, and the mid-end market with each square meter valued at VND50-70 million.
Meanwhile, there are no affordable products for low-income earners.
The Ministry of Construction (MOC)'s 2022 real estate report said the total number of transactions was 14,600 apartments, the lowest level in the last five years.
While the number of transactions saw an unprecedented decrease, selling prices saw a record increase of 43 percent.
The ministry reported that real estate in 2022 saw a big gap between high-end and social housing.
There were 126 commercial housing projects with 55,700 apartments licensed, 466 projects with 228,000 apartments under execution, and 91 projects with 18,000 apartments completed.
Meanwhile, there were only nine social housing projects with 5,520 apartments licensed and only 6,190 apartments completed.
HCM City has had few affordable projects on sale in the last three years. The city has 13 million people and the figure has been increasing by about 200,000 each year.
However, the national housing development plan in the 2021-2030 period set a modest goal of developing 1 million apartments, including 93,000 social apartments and apartments for factory workers.
Under the plan, Vietnam would build 107.5 million sq m more housing to have 26.5 sqm of living space per person.
This means that it would need 5,239 hectares of land and capital of VND567 trillion by 2025, and VND956.9 trillion by 2030. Of this, capital for social housing would be VND12.41 trillion.
As such, the number of social housing products and construction costs will account for 10 percent of the total cost of the housing development program in the 2021-2030 period.
Of the 93,000 social housing products, up to 70,000 depend on 33-34 commercial projects with a total area of over 10 hectares.
But to date, only 13 projects have seen site clearance completed. It will take time for the projects to be completed and by the time of completion, the selling prices may be higher than usual because in large-scale real estate projects, land use fees account for 20-40 percent of total investment costs.
Housing prices too high
The Prime Minister, at a meeting with real estate firms on February 17 stressed that housing prices are unreasonable as one-year income per capita (nearly VND100 million) is enough to buy two sqm of house.
While real estate firms report high inventories, those with real demand for accommodations cannot buy houses. Real estate firms have consistently asked for help to clear stocks, but keep selling prices sky high.
Analysts said that housing prices have far exceeded actual values. Apartment prices increase by 20-50 percent/year.
Average construction cost is VND10-15 million per sqm, the cost for buying land shifting land use purpose is VND15-30 million per sqm, the ad and sale cost VND4-5 million per sq m, loan interest and profitability rate are 30 percent. Besides, project developers have to pay the 'under-the-table' cost, VND15-30 percent. All these costs will be taken into accounts when calculating the project development investments.
In order to buy a house, one needs to earn at least VND50-90 million a month. The prices will become much higher after they change hands many times through speculation. For an apartment priced at VND3.5 billion, not including tax and registration fee, brokerage fee (commission) accounts for 2-4 percent (VND60-120 million).
Real estate is the most profitable goods in Vietnam and it is the business field that is easiest to attract capital. Enterprises that develop projects can 'sell houses on paper', contribute capital, issue bonds and borrow money from banks. Banks are also willing to provide loans to real estate developers when considering the price increases of houses and apartments.
Prime Minister Pham Minh Chinh requested real estate firms to restructure themselves and adjust product structure to suit people's demand, so as to regain transactions, liquidity and cash flow.

Tran Van Tuong