Retirement age increase inevitable, but more should be done

The 14th National Assembly's 7th meeting session ended last month with the last day reserved for discussing the draft amended Labour Code, which included a proposal to increase the retirement age that received a lot of public attention.
Why we have to increase the retirement age?
Vietnam plans to increase retirement age amid rapid aging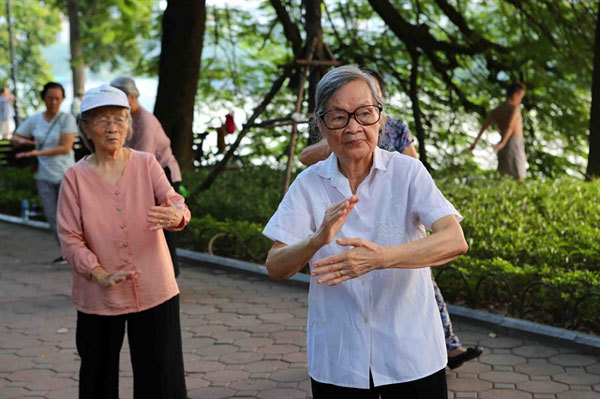 The elderly do exercise near Hoan Kiem Lake in Hanoi. The Ministry of Labours, Invalids and Social Affairs has proposed raising the retirement age to 62 for men and 60 for women. VNA/VNS Photo Thanh Dat
In draft amendments, the Ministry of Labour, Invalids and Social Affairs (MoLISA) proposed raising the retirement age to 62 for men and 60 for women with two scenarios.
In the first scenario, starting from January 1, 2021, the retirement age will be 60 and three months for men, and 55 and four months for women. An incremental three-month and four-month rise will be added to the retirement age for men and women, respectively, each successive year.
In the second scenario, starting from January 1, 2021, the retirement age will be 60 and four months for men, and 55 and six months for women. A four-month and six-month increment will be added to the retirement age each successive year.
The reasons for the increase, according to the ministry, include the rapidly ageing population in Vietnam, the unbalanced social security fund, high working capacities of Vietnamese elderly and the necessity to ensure gender equality in career development.
Notably, the average life expectancy of Vietnamese people has increased from 59 in 1960 to 73 in 2014.
In a report on the country's economy released in July 2016, the World Bank warned: "The speed of aging in Vietnam is among the fastest seen globally to date."
The report showed that the elderly dependency ratio in Vietnam – the percentage of people aged over 65 relative to the working age population – is expected to almost triple from about 10 per cent in 2016 to 26 per cent by 2040.
Due to the ageing population, increasing longevity and declining fertility rate, human resources are forecast to be in short supply.
A low retirement age leads to a short period of participation in social insurance. Meanwhile, our current pension scheme allows male and female retirees to receive a payment of a maximum 75 per cent of the basic salary if they have contributed enough to the fund (30 working years for men and 25 years for women).
With a "generous" pension scheme in Vietnam, as calculated by the Viet Nam Social Insurance, on average, a person's social insurance premium for 28 years is only enough to pay for that person for 10 years of retirement, so the rest of their benefits will have to be paid by young taxpayers.
According to a 2012 International Labor Organization (ILO) study, if reforms are not implemented soon, Vietnam's pension fund will be in exhausted by 2034.
For these reasons, the ministry warned that "increasing retirement age is something that cannot be delayed".
Objections
Despite the ministry's thorough explanation, its proposal was not welcomed by most of workers and businesses operating in the private sector. The ministry acknowledged that the retirement age regulation has been unchanged since its promulgation in 1961, so it is hard for people to accept this change, except for only a small number of those working in State agencies, who are willing to stay and continue to work.
In many industries, especially those using many unskilled workers, both employees and employers do not want to increase the retirement age. For employers, the elderly are less productive and need higher salaries.
There are fears the retirement age increase would make unemployment problems worse. At present, some 1.1 million people at working age are unemployed, not to mention that amidst the Fourth Industrial Revolution, low-skilled workers are already on the verge of losing their jobs.
There are also concerns that the elderly might not catch up with the development of science and technology like AI, blockchain or big data, which are becoming dominant in most economic sectors.
Recommendations
Facing an ageing population, most countries consider raising the retirement age.
In 2013, the Japanese government raised the retirement age from 60 to 61 and plans to increase it incrementally to 65 by 2025.
In Britain, the pension age will be increased to 66 for both men and women from 2019 to 2020, and to 67 in 2026.
However, it should be noted that retirement age increase is not the only solution. Despite facing the same challenge, different countries often combine this solution with other policies to address the issue.
Vietnam should do the same. Policy makers should take into account people's rights to work and retire, and they have to ensure retirees get what they deserve.
Every occupational sector has its own characteristics and people working in that sector, whether State-owned or private, have their own reasons for wanting an increase or decrease to the retirement age. Thus, policymakers cannot make an "one-size-fit-all" law.
It is important to increase flexibility in retirement schemes. They should be designed to match employees' individual needs and balance the benefits of stakeholders in industrial relations.
Along with flexible retirement schemes, in the "gig" economy where temporary, flexible jobs are commonplace and companies tend toward hiring independent contractors and freelancers instead of full-time employees, policy makers should think of an establishment of a private social security fund for the freelancers to contribute to, so as to help ease the pressure put on the State's fund.
If we want to address the future shortage of labour, we cannot count only on increasing retirement age, we need to make the best use of the young and old workforce and train human resources to prepare them for the future.
People should change the mindset that retaining older workers means excluding the young. With the wisdom and experience that mature workers have accumulated over the years, employers should create purposeful roles for them in their businesses and implement policies that facilitate inter-generational collaboration for the benefit of organisations and employees.
Actions and solutions need to come from both State agencies and employers working together.
To address the deficit of social security fund, we also cannot count only on the retirement age increase, we should improve the fund management and turn informal employment into formal so that there will be more people contributing to the fund. Businesses that avoid or delay paying social insurance for their workers must be strictly punished.
Vo Tri Thanh*

* Vo Tri Thanh is a senior economist at the Central Institute for Economic Management (CIEM) and a member of the National Financial and Monetary Policy Advisory Council. A doctorate in economics from the Australian National University, Thanh mainly undertakes research and provides consultation on issues related to macroeconomic policies, trade liberalisation and international economic integration. Other areas of interest include institutional reforms and financial systems.
VNS