Runner to take on the world after 'Six Star' finish
Nguyen Tieu Phuong has become the first Vietnamese marathoner living in Vietnam to complete all six largest marathons in the world.
Marathon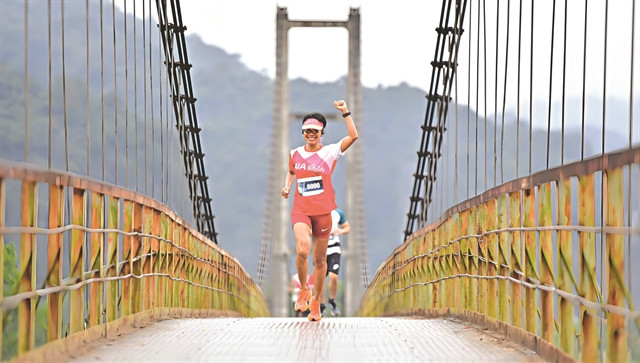 Nguyễn Tiểu Phương has competed in many local marathons before becoming the first Vietnamese living in Việt Nam complete the world's six major marathon. Photos courtesy of Nguyễn Tiểu Phương
Nguyễn Tiểu Phương celebrated her 50th birthday in Japan where she took part in the 2023 Tokyo Marathon in early March.
Two days later, she received a great birthday present, a Six Star Medal, which honours the runners who have completed all six World Marathon Majors.
To qualify for these competitions, runners must run in the 42km category in a regulated time on an accredited marathon course by the Association of International Marathons and Distance Races.
Being a Six Star Finisher is a target and a dream of many marathoners worldwide. Phương has now been recognised as the only Vietnamese living in Việt Nam to complete all the six most prestigious marathons: Berlin, Boston, New York, Chicago, London, and Tokyo.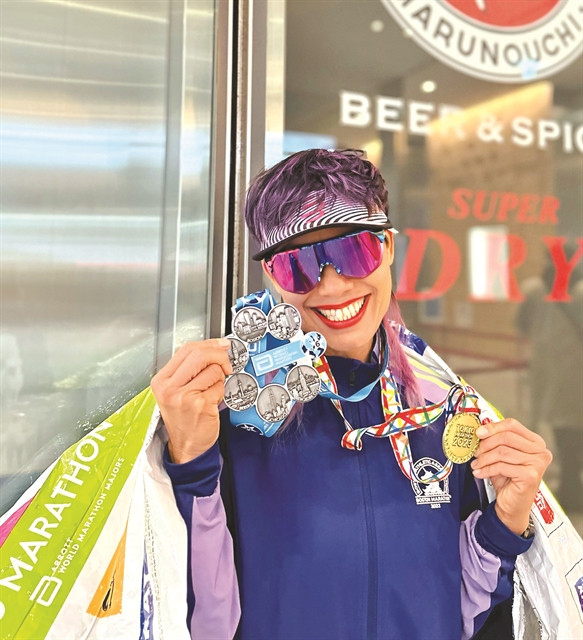 Nguyễn Tiểu Phương poses with her 2023 Tokyo Marathon and the Six Star Medal awarded to marathoners who complete all six World Marathon Majors. — Photo courtesy of Nguyễn Tiểu Phương
"I was moved and proud after completing the Tokyo Marathon because it meant I had fulfilled my dream and made a first step in my self-given mission," said Phương.
Running and achieving these certificates are missions that Phương set for herself to overcome her limits and prove that women can live independently and happily.
Six majors targeted
Working as a senior fitness coach in HCM City, Phương was busy with her work all day. But her life changed in 2013 when she treated herself a tour to New York where she witnessed thousands of marathoners racing in the city, full of joy and fun.
Phương was excited, but when she told the story to her coach, he said the runners were supermen and women, and 'normal' people like him and Phương could never make it.
She took this as a personal challenge.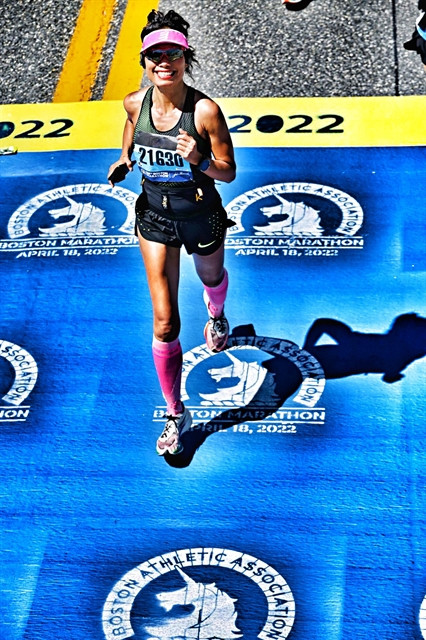 Nguyễn Tiểu Phương runs at the 2022 Boston Marathon. — Photo of Nguyễn Tiểu Phương
The comment was a push for Phương, a gym lover, to research and discover a new world.
The same year, she officially became a runner at the HCM Marathon. Phương set up her own plan for running and a nutrition regime, which helped her to make the top podiums in all distances, from a minimum of 5km to a maximum 42km. She also tested her ability in ironman competitions, and had no worthy rivals in the age group of 40-49.
"Everyone has their own dream, but not try to make their dream come true. I am different. I always try hard to do my best and will do everything to reach my dream," said Phương.
"Also, I think that we must know what we should do in our life, prioritise and try to achieve it. When opportunities knock at our door, we must seize them immediately. Or we might not get a second chance."
After 10 years running, Phương has become one of the leading athletes in the community, inspiring many other women to take up running. She was also one of the first amateur marathoners to run internationally.
Enchanted by the beautiful Six Star Medal, Phương and some friends set up their plan to take part in all six of the world's largest marathons in 2017.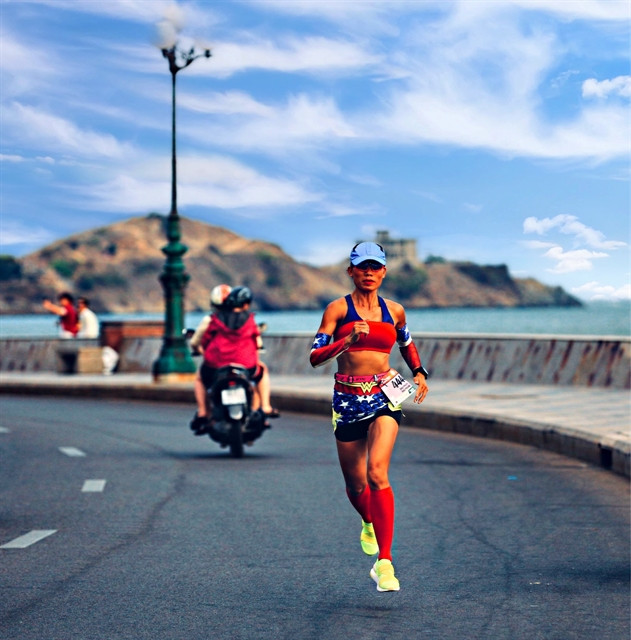 Nguyễn Tiểu Phương runs at the Tiền Phong Marathon in 2022. — Photo of Nguyễn Tiểu Phương
It took her two years of practising hard and running harder to reach the required time standards and prepare the finance.
Phương participated in the first major in Berlin Marathon in September, 2019. In the next two months, she conquered the Chicago Marathon and New York Marathon.
The pandemic prevented her from completing her plan as all sports events including the remaining three majors were cancelled in 2020 and 2021.
When it was under control in 2022, Phương took part in the Boston Marathon last April, and the London Marathon in October.
On March 4, Phương completed her dream when crossing the finish line of the Tokyo Marathon, received the Six Star Medal and was included in the Hall of Fame.
"I am still over the moon thinking about that moment," said Phương.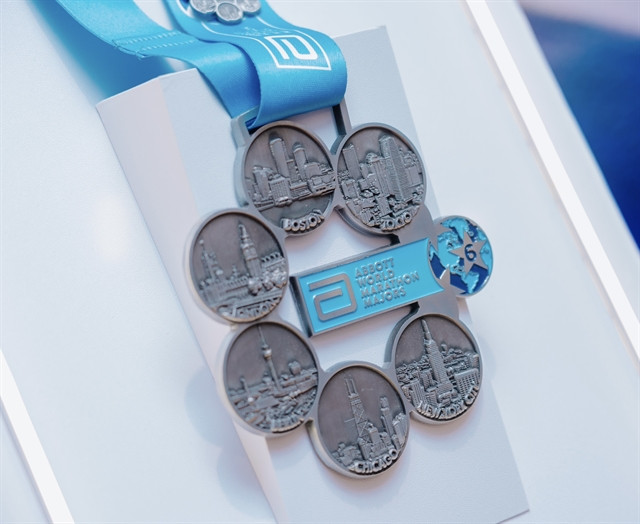 The Six Star Medal, a dream of millions of marathoners in the world. — Photo of Nguyễn Tiểu Phương
"The last marathon was the most difficult. It is tough travelling from Việt Nam to Japan and the cold weather in Tokyo."
But Phương said it was worth it.
"Receiving the Six Star Medal, I received more love and respect from people. I believe that my opinion has left a better impact and my voice has more influence because I have proved I can do what I say," she said. "I had a dream and made it come true. I am happy my son is proud of his mother."
5km race plan
Back in Việt Nam, Phương hopes to see a world-class marathon held in her home country. It will be a race in which the runner feels full of pride when standing at the starting line.
But she also has another initiative, part of her self-given mission, focusing on helping 100,000 women to complete a first 5km race and make a positive change towards a more confident and active lifestyle for Vietnamese women.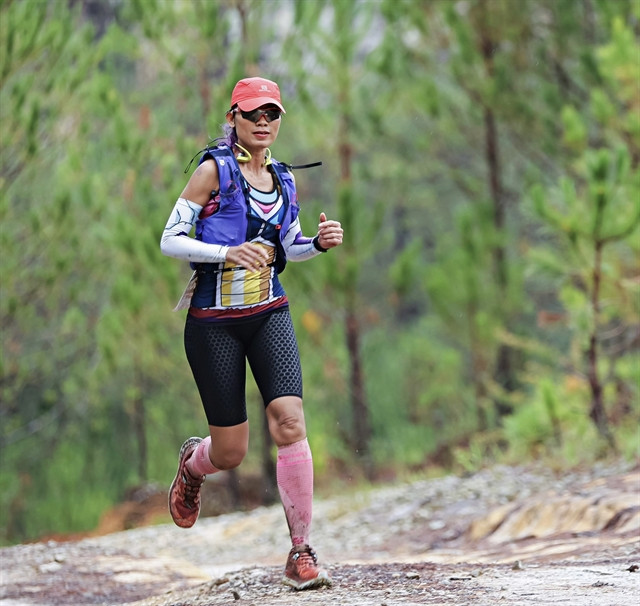 Nguyễn Tiểu Phương is also a familiar runner in trail events. — Photo courtesy of Nguyễn Tiểu Phương
Together with her friends and partners, Phương established a Việt Nam women's running community project, which will run over three years from 2023, with a range of activities.
"In sports, especially running, the key is the starting point. In this project, I hope to help women to run properly. We will ensure their training schedule and nutrition diet, and teach them how to protect bones and joints, and improve their fitness. Through the project, we will encourage women to go beyond themselves so that they can run well and enjoy their own free time," she said.
"Why 5km? We believe that it is a suitable distance for a beginner. It takes them about 40 minutes to finish, and it is a non-injury distance and not too long for them to lose heart and give up."
The project has received strong support from Thanh Vũ (See page 5), the first Vietnamese to win a world deca ultra triathlon at the 2022 Swissultra in Switzerland; Nguyễn Thị Thanh Nhã, the first Vietnamese woman to conquer Mount Everest; and Chi Nguyễn who will complete her last world marathon major next month to take the Six Star Medal, along with many other individuals and organisations.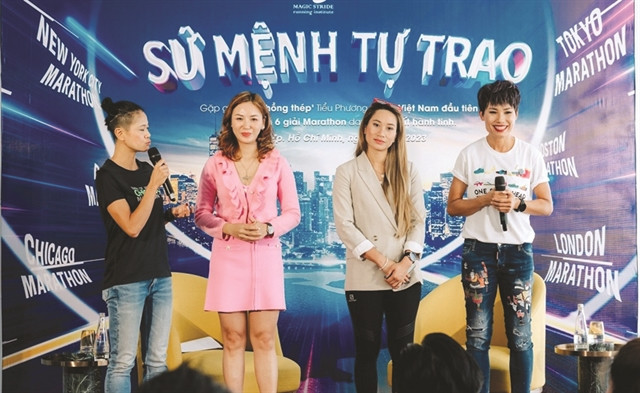 Việt Nam's super women (from right to left) Nguyễn Tiểu Phương, Thanh Vũ, Nguyễn Thị Thanh Nhã and Chi Nguyễn will join hands in the Vietnam Female Running project to help 100,000 women to run their first 5km race in three years. — Photo of Nguyễn Tiểu Phương
"Gradually, they will love the environment and feel happy while running, then, they will run better and longer. It is never too late to start dreaming. For women, it is never too late to start running a marathon. I will run marathons until I can't run any more," said Phương, who plans to take on every marathon named after every big city in the world.
Source: VNS