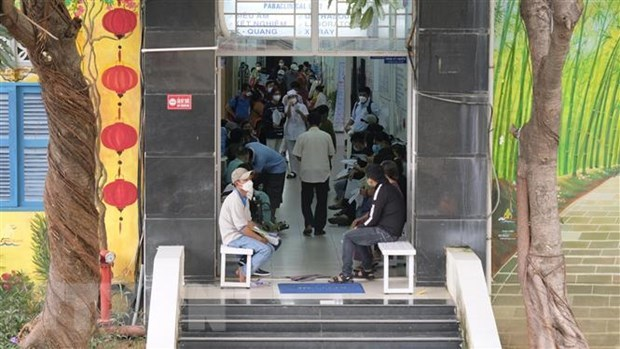 44 students are currently hospitalised in Khánh Hoà General Hospital for food poisoning related to the case in iSchool Nha Trang. — VNA/VNS Photo Đặng Tuấn
The bacteria is resistant to some antibiotics, such as Gentamicin, Amikacin and Tobramicin, said a representative of the Khánh Hoà Department of Health.
On November 17, over 800 students had lunch at the campus of iSchool Nha Trang.
The lunch consisted of rice, boiled chicken, vegetables and a sauce made from eggs and cooking oil. After eating it, many iSchool Nha Trang students began displaying food poisoning symptoms, including fever, vomiting, and diarrhea.
From November 17 to 22, hospitals in Khánh Hoà registered 648 cases relating to the food poisoning incident at iSchool Nha Trang. 211 cases are currently hospitalised, and one student died on the way to the hospital.
Twenty-one students previously in critical condition have now stabilised and are able to eat.
A task force of the Ministry of Health went to Nha Trang to meet with the Khánh Hoà Department of Health and visit hospitals where patients are being treated.
This kind of mass poisoning is common in the world, according to Nguyễn Trung Nguyên, Director of the Anti-poisoning Centre at Bạch Mai Hospital.
Patients after being discharged from the hospital can still have persisting symptoms. They are advised to return to the hospital immediately should abdominal pain return.
"We highly appreciate the timely intervention of the Khánh Hoà Department of Health in treating the patients and investigating the cause of the poisoning," said Vương Ánh Dương, Deputy Director of the Department of Medical Service Administration.
"We have concluded that this was a mass poisoning case, with over 600 people poisoned," said Dương. "For this case, we identified the cause was Salmonella. The patients basically share the same symptoms and epidemiology."
The task force ordered hospitals to continue providing treatment for patients. Discharged patients are to be monitored, and parents must be fully aware of how to take care of patients.
The investigation is still ongoing to find the direct cause of the poisoning, according to the Khánh Hoà Department of Health. — VNS