Selecting a waste treatment model suitable for Viet Nam's development conditions remains a challenge for local authorities, a government official said on June 12 at a seminar in HCM City.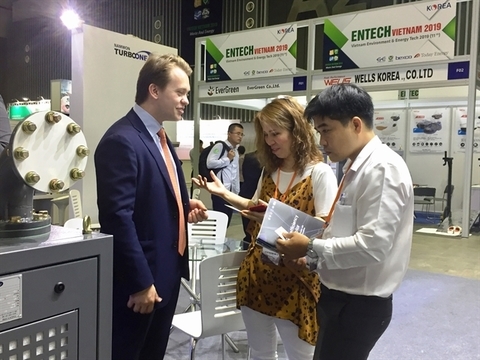 Customers visit booths at the 11th International Exhibition on Environmental Technology, Energy and Environmentally-friendly Products (ENTECH Vietnam 2019) in HCM City's District 7 from June 12-14. 
Nguyen Hung Thinh, deputy general director of the Ministry of Natural Resources and Environment's Viet Nam Environment Administration (VEA), said the fast-growing economy and population growth pose significant challenges in waste management and treatment.
Thinh spoke at the seminar which addressed the use of advanced technology in waste and energy treatment.
Park Jung Jun, deputy director of South Korea's Ministry of Environment's Environmental Industry and Economy Division, noted that South Korea has overcome various environmental issues despite rapid economic growth.
As of 2017, South Korea had 377 environmental cooperation projects in 82 countries.
"Solving global cooperation problems serves as a driver of environmental technology development," he said.
The environmental industry is growing along with IT, robotics and other digital advancements.
This year, South Korea plans to support projects using environmental technologies that are customised to the local market.
It will also expand cooperation in the environmental sectors through networking and policy training from invited experts, as well as new education curricula.
Nguyen Thanh Yen, vice director of the VEA's Waste Management Department, said that burning of waste was gradually replacing the current landfill method.
Generating electricity from waste brings higher economic efficiency than other treatment methods such as plasma gasification, garbage fermentation or burial. It enables fast processing without the need for garbage sorting at source.
About 1,000 waste-burning power plants operate in the world, including 38 per cent in Europe, 24 per cent in Japan, 19 per cent in US and 15 per cent in East Asia.
"However, the high operating costs and obstacles in current investment policies are challenges to attract investment in waste-burning power projects in Viet Nam," Yen said.
Lee Sang Min, manager of Waste Charge Team at the Korea Environment Corporation, said: "The government, businesses and the cycling market must complete the development of a systematic cooperation system."
Korea's recycling policies have played an important role in reducing waste production at source and promoting the circulation of recyclable resources, he said.
Its policy holds manufacturers and importers responsible for the cost of waste management for products, materials and containers filled with certain hazardous chemical substances or materials difficult to recycle.
"The manufacturers and importers of plastic products and packing materials must pay a waste charge or choose a more favorable condition to be exempted from the fee," he said.
The collected charges are transferred to a "Special Account System for Environmental Improvement (SASEI)."
The seminar was held on the sidelines of the 11th International Exhibition on Environmental Technology, Energy and Environmentally-friendly Products (ENTECH Vietnam 2019) at the Saigon Exhibition and Convention Centre (SECC) in HCM City's District 7, which takes place from June 12-14.
With the theme "Waste and Energy", the exhibition was organised by the Centre for Environmental Consultancy and Technology (CECT) under the Environment General Department, with collaboration from the Global Expo and Event JSC (Global Expo) and South Korea's Busan Exhibition and Convention Centre (BEXCO).
The three-day event offers opportunities for local and foreign manufacturers to showcase their environmental and energy technologies, and environmentally-friendly products and services.
Participants from industry, academia, government and other fields at the event can also identify needs for green and sustainable development in Viet Nam and the region.
As many as 140 enterprises from South Korea, China, Japan, Germany and Viet Nam with 175 booths are exhibiting hundreds of products as well as technology solutions and services. — VNS

A national campaign to prevent excessive plastic waste was launched in Hanoi on June 9 with Prime Minister Nguyen Xuan Phuc in attendance.

Collective action from the Vietnamese government, the private sector and consumers is essential to combat one of the great environmental challenges facing the world, 
HCM City administration is planning to reduce the number of waste transfer stations in the city and strengthening measures to treat solid waste to protect the environment.