Local police have arrested a couple on suspicion of transporting 30 live pangolins in a coach in the central province of Ha Tinh.
Customs seize 1.4 tonnes of pangolin scales, 100kg of tusks
Illegal pangolin keepers caught in Quang Ninh
Nearly 340kg of pangolins seized in Thanh Hoa
Illegal transport of 114 pangolins found in Ca Mau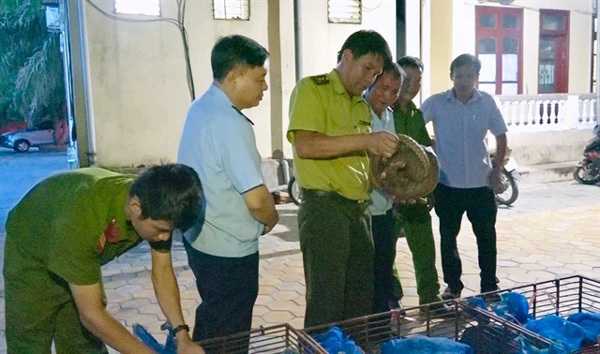 Authorised agencies' staff check and count the pangolins. — VNA/VNS Photo
Phan Van Dung and Dang Thi Lai were arrested when they were on a coach that the husband was driving, travelling from Cau Treo International Border Gate to Tay Son Town at noon on Monday.
Dung reportedly admitted to police that a person from Laos hired them to illegally transport the pangolins, weighing about 150 kilos, from Laos to Vietnam via the border gate. Local police are investigating the case.
Pangolins are believed to be the most trafficked animal in the world.
In Vietnam, illegal hunting, trading, poaching and transportation of even one pangolin can be punished with one to five years imprisonment and a fine of between VND500 million (US$21,700) and VND2 billion ($86,000).
VNS