UK and Vietnamese researchers from different universities are assessing the benefits of blue and green infrastructure (BGI) for flood resilience and urban development in Vietnam.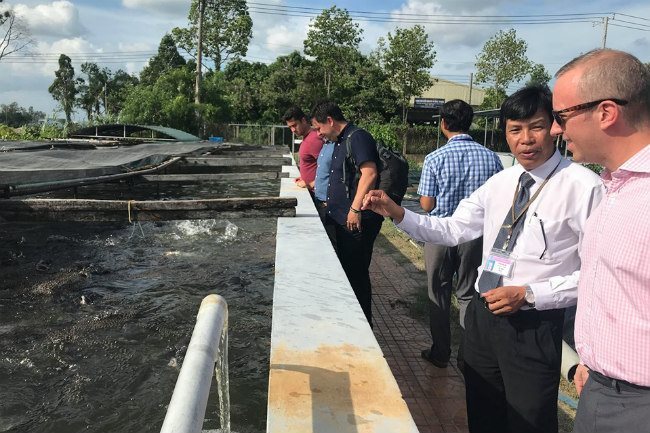 British Ambassador to Vietnam Gareth Ward (R) and UK researchers visit Can Tho University. A project of assessing BGI's benefits for flood resilience and urban development is being implemented by UK and Vietnamese researchers in Can Tho - PHOTO: COURTESY OF THE BRITISH EMBASSY
The project is led by Dr Tobias Borger of the University of Stirling and implemented by academics from Hue University, Can Tho University, and University of Loughborough, according to the British Embassy in Hanoi.
Based in Can Tho City in the Mekong Delta, the project is funded by the Vietnam National Foundation for Science and Technology Development and the Newton Fund through the UK Natural Environment Research Council.
The researchers are studying the effectiveness of BGI, which includes wetlands, urban parks and vegetated riverbanks, at protecting communities from surface-water flooding and rising water levels.
They also assess economic and environmental benefits brought by these schemes, such as improved air quality, new recreational opportunities, controlling water pollutants and increasing resilience to heat waves and noise pollution.
Vietnam was selected as the location to carry out the project because its low-lying coastal cities are particularly vulnerable to increased flood risk due to rapid urbanization and climate change.
Data of University of Loughborough shows floods caused US$3.85billion worth of damage between 1999 and 2009, equivalent to 1.3% of the country's GDP (gross domestic product) and accounted for 67% of deaths among all disaster types between 1989 and 2010.
The research, which is set to be complete in June 2021, will examine the role of BGI in short and long-term urban development in Can Tho and will involve advanced, high-resolution modeling tools and scenario development, stakeholder workshops, biodiversity surveys and the creation of a framework to measure natural capital.
Dr Bosher said: "The project teams in the UK have excellent local collaborative support from the Universities of Can Tho and Hue and it is exciting to be involved in a research project that can influence the local development culture and plans for the future." SGT