Residents in the central city of Da Nang have strongly continued fighting against the operation of a local dumping site which has caused severe pollution for years.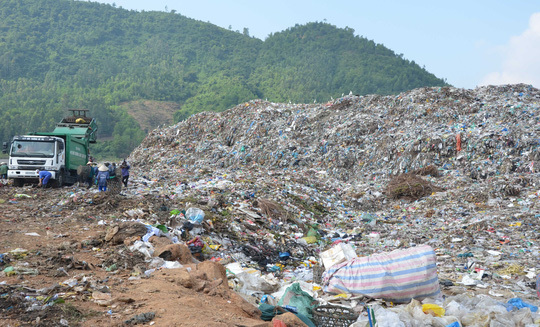 Khanh Son landfill (photo by NLD)
For the last 29 years, nearly 2,000 families in Khanh Son ward in Danang have lived with obnoxious smell, dirt and wastewater leaking from Khanh Son landfill. 
Anger rose further after the city's Department of Natural Resources and Environment in July 2018 announced that the Khanh Son dump would not be closed this year as previously planned.
At a meeting with the locals on Sunday, To Van Hung, director of the municipal Department of Natural Resources and Environment said that the city would upgrade the site into a solid waste treatment complex to mitigate its environmental pollution.
However, locals disagreed with the plan. Instead, they urged relocation of the dumping ground.
Huynh Thi Nam, a local resident, said that "The site should be moved to another place. We've been suffering from its pollution for many years. My son died at 40 due to cancer."
Since 2004, more than 20 people living near the site have died of cancer, said Huynh Chuc, another local.
Around 100 people gathered in front of Khanh Son dumping ground on Monday evening blocking trucks from transporting rubbish. 1,200 tonnes of litters have piled up in residential areas following this.
City People's Committee Chairman Huynh Duc Tho asked municipal management agencies to work with the people to advise them not to block the rubbish vehicles.
Khanh Son landfill receives over 900 tonnes of waste daily plus about 500-600 cu.m of wastewater leaking from the garbage.
Dtinews/TTXVN

Educating kids on environmental protection is very important, as it will shape their perspective and attitude when they grow up. An environment club for kids in Da Nang City is doing this job just right.

An exhibition on air pollution titled "Feel The Air" unfolded in Saigon recently.