Associate Professor Nguyen Phuong Dai Nguyen, a biology expert, spends most of his time studying new types of mushrooms to distinguish between poisonous and non-poisonous species to avoid public food poisoning.
The scientists who grow special varieties of oyster, lingzhi mushrooms
The 'Tibet room' full of cordyceps mushrooms in Hanoi
More VN youth tripping on magic mushrooms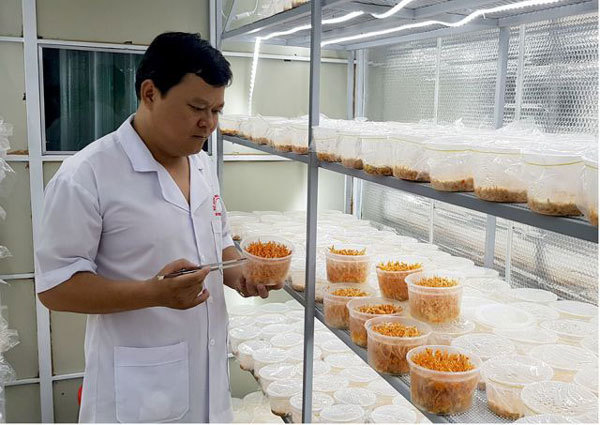 Associate Professor Nguyen Phuong Dai Nguyen conducts research on mushrooms. Photo baodaklak.vn
Besides time spent at Tay Nguyen (Central Highlands) University in Buon Ma Thuot City as a lecturer, Nguyen has a mushroom research lab at the university and grows mushrooms in a cool room at home.
Everything in his life is related to mushrooms, even his family. His wife is also a doctor and his son, an eighth grader, has nurtured a passion for mushrooms and won a science creativity contest for a project on Lingzhi mushrooms.
Majoring in biology, Nguyen loves studying plants. His first job after graduation was at a mushroom farm where witnessed too many deaths due to poisonous mushrooms. He decided he must do something to help others identify poisonous mushrooms.
"In the Central Highlands, mushrooms grow abundantly and there are many species, much more than other plants. Poisonous and non-poisonous species are mixed together so it's difficult to distinguish them," he told Tiền Phong (Vanguard) newspaper. "To warn the public about poisonous mushrooms, the first thing is to understand them."
Whenever he has free time, Nguyen embarks on adventures deep into the forests with a camera and binoculars to explore mushrooms.
He has set covered almost every forest, national park and nature reserve in the Central Highlands, even visiting the same place two or three times.
Travelling a lot does not tire him. Instead, it makes him feel more passionate because "each journey is an interesting experience".
Nguyen often consults elderly villagers and local doctors from ethnic minority groups who use traditional herbal treatments in order to expand his knowledge about local mushrooms.
After 20 years of studying, Nguyen has identified roughly 300 types of mushrooms including ten new species. Among them are nearly 70 poisonous kinds and more than 20 non-poisonous ones, but the others remain a mystery to him as "a lot needs to be done on the study of mushrooms, and even a whole life's effort may not be enough".
He has conducted extensive research on the Lingzhi mushroom and found that not all kinds of this species have magical medical values as rumoured.
"Among the hundreds of types of Lingzhi mushroom found around the world, less than 10 have medicinal values," he said.
Among the edible mushrooms he has eaten, the most delicious are the yellow and purple khaki mushrooms which are crunchy, sweet and fresh. The most expensive is the ô linh mushroom, scientifically known as Xylaria nigripes which used to only be found in Yunnan, China, but is now found in Yang Sin National Park in Dak Lak Province and Bidoup Nui Ba National Park in Lam Dong Province.
Ô linh mushrooms grow in ants' nests. When they were discovered by local people living in northern mountainous areas, Chinese traders were ready to buy high prices of VND80-100 million (US$3,400-4,200) per kg to make medicine.
His research team is studying the scientific value and growing process of the ô linh and designing a process to cultivate these mushrooms.
Besides having been published in more than 60 scientific journals locally and globally, he has also authored two books and won awards and patents. Nguyen was the first Vietnamese lecturer to develop his own cultivation process to bring mushrooms to the market.
The mushroom named after him, Dai Nguyen, is famous in the Central Highlands for its high nutritional value. They are a species of Lingzhi grown by his family in a cool room at home.
"I hope that even people who are not rich can afford to buy these types of valuable mushrooms," he said. VNS
Hoang Thien Nga