HCM City authorities are going to tighten regulations about exhaust fumes from motorbikes which they deemed as one of the main causes of pollution.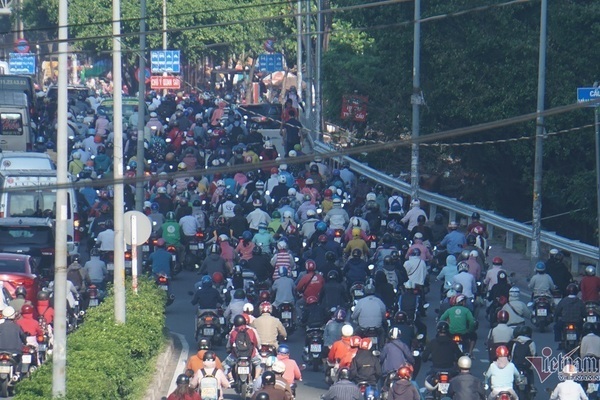 Congestion in HCM City
The Department of Transport has asked for the co-operation from Vietnam Association of Motorcycle Manufacturers and Honda Vietnam in order to build a pilot motorbike emission control programme.
The Vietnam Association of Motorcycle Manufacturers and Honda Vietnam were asked to help with the plan to review and inspect the emission from motorbikes at their service agents in the city centre and suburbs.
The details about time, model and method will be discussed and a consensus must be reached before final proposals are made.
HCM City's action program on reducing environmental pollution has set the goal to reduce 70% of the air pollution during 2016-2020 period.
Cao Tung Son from the Department of Natural Resources and Environment said they monitored the air at 30 locations for 10 days every month from 7.30 am to 8.30 am and 3 pm to 4 pm. The results show that the air worsened on September 18 to 20.
The amount of pollutant increased sharply. The amount of total suspended particles increased by 2.19 times, NO2 increased by 1.41 times and CO increased by 1.4 times. The amount of fine dust also increased by 1.9 to 2.2 times.
According to Son, there are three causes of pollution including traffic, industrial and construction activities. Of which Son blamed traffic the most.
HCM City has about 10 million vehicles including 7.6 million registered motorbikes and 700,000 cars. There are 37 spots that were prone to congestions.
Vietnamnet/Dtinews

Factories which omit too much carbon dioxide waste will have to pay fees under a new pilot scheme in four provinces.  

The Ministry of Natural Resources and Environment has approved a joint project with the Japan International Cooperation Agency to create a roadmap on greenhouse gas emission reduction in Vietnam.