New technology and skilled human resources were the decisive factors to drive Viet Nam's long-term growth, especially in the face of Industry 4.0-induced changes.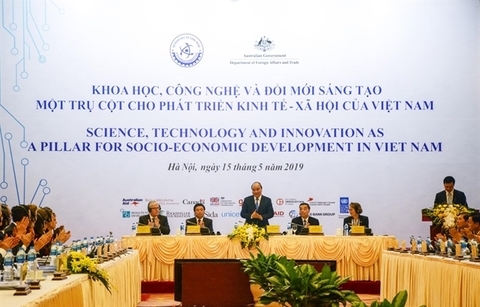 Prime Minister Nguyen Xuan Phuc (middle) makes speech at the conference "Science, Technology and Innovation - a pillar of Socio-Economic Development in Viet Nam" on Wednesday.
This message was delivered by Prime Minister Nguyen Xuan Phuc at a conference themed "Science, Technology and Innovation - a pillar of Socio-Economic Development in Viet Nam" held by the Ministry of Science and Technology (MoST) in Ha Noi on Wednesday.
The conference was co-organised by the Ministry of Foreign Affairs, the Australian Embassy in Viet Nam and the International Development Innovation Alliance (IDIA).
Natural resources are becoming scarce across the world and in Viet Nam. Experts have agreed that the resouce-intensive growth model is no longer applicable in this stage of development when Industry 4.0 has induced changes in all aspects of life and business.
Prime Minister Nguyen Xuan Phuc emphasised human creativity was an endless resource which was the most precious asset among all countries and businesses.
"The Vietnamese have innate qualities for creativity. I believe if there are enough good nutrients, we can cultivate excellent and devoted people who will contribute greatly to the prosperity of the country," Phuc said.
However, the Prime Minister also pointed out that with science and technology development, innovation nourishment in Viet Nam was inadequate and limited.
In addition to insufficient awareness among localities and sectors about the role of science, technology and innovation, an incomplete legal framework and policy mechanism was holding back technological development and failing to inspire innovation, he said.
Just a few businesses had invested in innovation and research and development (R&D), while research conducted by universities was largely inapplicable and did not match business demands, Phuc said.
Viet Nam's spending on science and technology development, including both the State and private sectors, was very modest, accounting for just 0.44 per cent of gross domestic product (GDP), much lower than the world's average of 2.23 per cent.
The PM said: "If we do not make bold investments in science, technology and innovation, we would become stuck in a low-productivity, low added value and middle-income trap."
Speaking at the conference, Caitlin Wiesen, the UNDP's resident representative, said Viet Nam's growth to date had been inclusive which would enable the country to seize the opportunity of transitioning to an inclusive Industrial Revolution 4.0.
As humans would become the centre of development, Wiesen suggested the Vietnamese Government should create new growth drivers that helped create new job streams for all people, as well as strengthen capabilities across the population to create and seize new job opportunities.
Ousmane Dione, the World Bank's country director for Viet Nam, also said the population of internet users in Viet Nam was on par with most countries which had enabled it to develop a digital infrastructure.
However, he said Viet Nam needed to streamline research institutes, reducing quantity and raising quality.
At the conference, the PM asked the MoST to advise the Government on policies to encourage and promote innovation in the business sector, while requesting the statistics office to standardise data collection on technological and innovative activities in accordance with global standards and to establish a national data bank for science and technology and innovation.
He also emphasised the need to promote the role of universities and research institutes in training human resources to meet the demands of the economy and businesses.
Digital economy report
Also at the event, the MoST and Commonwealth Scientific and Industrial Research Organisation (CSIRO) launched Viet Nam's Future Digital Economy Report which examines mega-trends affecting the development of the country's digital economy until 2045, which include the impact of emerging digital technologies, new export markets for Viet Nam, the development of modern digital infrastructure, the push for smart cities, the rise of digital skills and services, and changing consumer behaviour.
"How the future plays out will depend on Viet Nam's position in the regional digital economy, and the level of adaptation to digital products and services across the Government, community and industry," Lucy Cameron, senior research consultant at CSIRO, said.
According to Cameron, digital transition would bring about 1.1 per cent of GDP growth each year for Viet Nam by 2045. She said Viet Nam's growth was fast and inclusive which was suitable for digital transition.
"The next wave of digital technologies - Artificial Intelligence, blockchain, the Internet of Things, and platforms and cloud-based services - have the potential to transform Viet Nam into Asia's next high-performing economy. Viet Nam will need to seize these substantial opportunities while carefully navigating a number of risks," she said.
The report is part of the Australian Government's Aus4Innovation programme, an AU$10 million strategic initiative designed to strengthen links between the Australian and Vietnamese innovation systems. — VNS