International collaboration is essential to protect the environment, particularly when economic development, changes in structure of the society, air and plastic waste pollution are exerting pressure on Vietnam.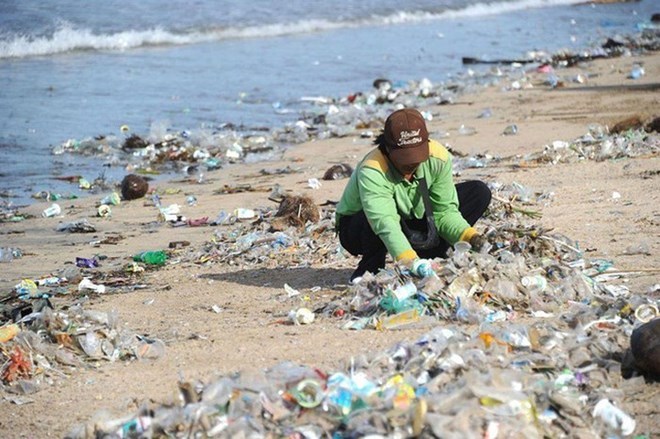 Plastic waste pollution is exerting pressure on Vietnam.(Photo: thuongtruong.com.vn)
Deputy Director General of the Vietnam Environment Administration (VEA) Hoang Van Thuc said that the VEA will promote cooperation with the Society of Environmental Toxicology and Chemistry Asia-Pacific to develop environmental management policies, and enhance capacity building in setting up a network of experts and scientists in environmental monitoring.
Also, they will work to improve management capacity in responding and recovering environmental incidents from bauxite mining.
Vietnam will join hands with Japan in the field through concretising cooperative programmes and projects to boost green growth and technologies to control waste.
Both sides have already set up a joint committee on waste management to share information, support policy building, and develop effective and sustainable solid waste treatment in Vietnam.
Environment is among four priorities of cooperation between Vietnam and the Republic of Korea in 2019. The East Asian country will help Vietnam to complete the Law on Environmental Protection released in 2014, and documents regulating Vietnam's environmental standards.
Due attention will be paid to human resources training, as well as projects on climate change and biodiversity conservation, he added.
According to the UN Environment Programme, more than 8.3 billion tonnes of plastic has been produced worldwide since the early 1950s. About 60 percent of that plastic has ended up in either a landfill or the natural environment.
To date, more than 99 percent of plastics are produced from chemicals derived from oil, natural gas and coal — all of which are dirty, non-renewable resources. If current trends continue, by 2050 the plastic industry could account for 20% of the world's total oil consumption.
Meanwhile, air pollution is the single biggest environmental health risk, causing roughly 7 million deaths annually.
Short-lived pollutants – which include black carbon, methane, ozone, and airborne particles produced by industrial operations and the burning of diesel, coal, kerosene or biomass – are responsible for about one third of deaths from stroke, chronic respiratory disease and lung cancer and one quarter of deaths from heart attack.
These pollutants are also contributing to global warming, lowering labour productivity, and increasing food insecurity around the world.-VNA