Since it appears to be impossible for Vietnam to persuade Laos to stop building hydropower plants, Vietnam needs to minimize the negative impact.
The Vietnam River Network (VRN) has cited information from the Mekong River Commission (MRC) as saying that on July 31, the Government of Laos submitted a detailed description of Luang Prabang hydropower project, preparing for consultation.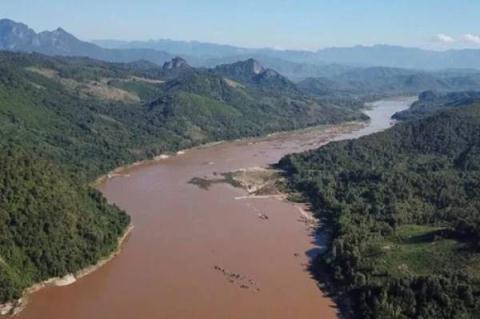 On Mekong mainstream in Laos, two hydropower dams are under construction – Xayaburi and Don Sahong. Luang Prabang hydropower, with the capacity of 1,410 MW, is 30 kilometers from Luang Prabang Town.

Vu Trong Hong, former Deputy Minister of Agriculture and Rural Development, said it is nearly impossible to ask Laos to stop developing hydropower on Mekong.

However, the problem is that Vietnam has not prepared well on what strategy to propose.

Since it appears to be impossible for Vietnam to persuade Laos to stop building hydropower plants, Vietnam needs to minimize the negative impact.
Acknowledging that he is not an expert on Mekong Delta, Hong said he has understanding about the region. The problems that new hydropower dams on Mekong are clear, especially related to floods and alluvium.

Regarding floods, according to the expert, when all hydropower plants discharge water, this will be dangerous for Mekong Delta. Vietnam needs to ask Laos about water discharge in advance, so that Vietnam can prepare for floods.

Alluvium not only contains phytoplankton, but also sand, gravel and stone. Phytoplankton floats and flows with water current, so Mekong Delta still can get it to cultivate rice, grow fruit trees, and develop fisheries. However, because of hydropower dams on the upstream, sand, gravel and stone cannot reach to Mekong Delta. They are very important for the delta.

"We need sand and gravel to 'feed' Mekong river bed in Vietnam," he explained, adding that Dutch scientists have stated that Mekong Delta has suffered from serious subsidence and is now just 0.8 meters higher than the sea water level.

There are two areas for Mekong Delta to 'store' floods – Dong Thap Muoi and Long Xuyen Quadrilateral. However, because of the appearance of concrete houses and roads, they can no longer store floods.

Therefore, Vietnam needs to ask Laos to apply the water discharge mechanism to allow sand, gravel and phytoplankton to reach the Mekong Delta.

Reaffirming that countries in Mekong region will not stop developing hydropower, Hong said that Vietnam should change the strategy for agriculture production and pay attention to storing water for the dry season.

The Irrigation Law which took effect on July 1, 2018 mentions water storage as the No 1 task, while No 2 and No 3 are water supply and drainage.
Linh Ha

Natural disasters caused 16 people dead and missing, injured 54, damaged and inundated 17,713 houses, with the total damage of VND315 billion (US$13.55 million) in the Southern region during the first nine months of 2019.

While some experts have issued a warning against high salinity in the dry season in the 2019-2020 period, a representative of the agriculture sector has remained optimistic.