Science, technology and innovation should be defined as a foundation for Vietnam to push forward rapid and sustainable development, said Prime Minister Nguyen Xuan Phuc.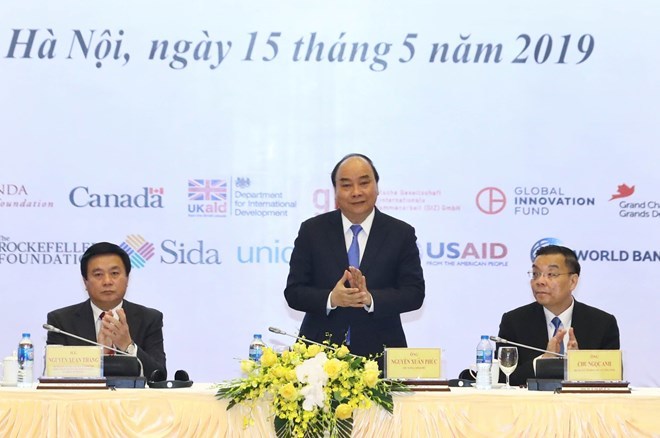 Prime Minister Nguyen Xuan Phuc (C) speaks at the conference
PM Phuc made the suggestion while delivering a speech at an international conference themed "Science, technology and innovation as a pillar for socio-economic development in Vietnam" held in Hanoi on May 15.
He recognised the outcomes of cooperation between the Vietnamese Ministry of Science and Technology, the Australian Department of Foreign Affairs and Trade, and the World Bank in building reports on the future of Vietnam's digital economy as well as science, technology and innovation reports through 2035, providing specific and useful evaluations, recommendations, solutions and policies for Vietnam in the process of making socio-economic development strategies for the next 10 years and beyond.
The PM noted that Vietnam's Global Innovation Index (GII) has been improved continuously in recent years, helping it to lead lower-middle-income countries.
However, there remained shortcomings and weaknesses such as poor awareness of the role of science, technology and innovation among sectors and localities; asynchronous legal corridors and policy mechanisms; and restricted science, technology and innovation capacity, he said.
There is a lack of connections between universities, research institutes and businesses, PM Phuc said, adding that enterprises should understand that investing in research and development is the "shortest way" to improve efficiency, competitiveness, and sustainable development.
Vietnam needs to have a strategic change to boost research and development of innovative start-ups and technological application in new industries of the country's strengths, he said.
Minister of Science and Technology Chu Ngoc Anh said Vietnam leaped two places to rank 45th out of 126 economies in the GII 2018 report conducted by the World Intellectual Property Organisation (WIPO).
However, to make science become a driving force for the socio-economic development, it is necessary to increase investment not only from the State but also society, especially businesses, he said.
Meanwhile, Australian Ambassador to Vietnam Craig Chittick said Vietnam and Australia have the same ambition of developing the economy through the application of science, technology and innovation. This is a firm foundation for the two nations to step up bilateral innovation partnership, he said.
Australia pledged to work closely with Vietnam to share knowledge, experience and successful models in the field besides helping the Southeast Asian country improve its science, technology and innovation system, the ambassador affirmed.
The conference, co-organised by the Ministry of Science and Technology, the Australian Embassy in Vietnam and the International Development Innovation Alliance (IDIA), was the highlight of the ongoing national sci-tech and innovation week from May 13-17.-VNA