Telecommunications companies are improving their services to meet the demand for livestreaming, watching online television shows and playing online games.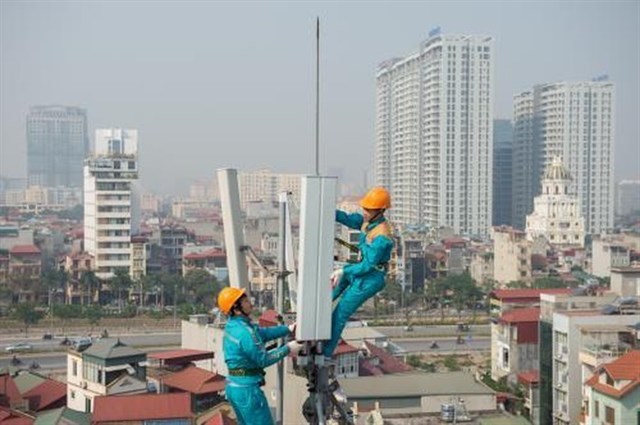 Telecommunication network companies have added more 4G transceiver stations to meet rising customer demand
The country has 64 million subscribers using the internet, including 99 percent watching livestreaming, 55 percent watching online TV shows, and 53 percent playing online games, according to a report from 
the group We Are Social Organizations.
YouTube, Facebook, Facebook Messenger, Zalo and Instagram are the most used platforms.
They all provide livestreaming and sharing of photo and videos, which all use up a great deal of data.
According to the Ministry of Information and Communication, the number of subscribers using 2G and 3G will decrease, while number of 4G subscribers will increase from 2019 to 2024.
Experts predict that the number of 4G subscribers will increase by nine times by 2023, and will reach a peak in 2024.
According to the ministry's report, 57.6 million subscribers accessed online date in the first quarter of this year, an increase of 11.7 million compared to the same period last year.
In addition, the quality of network data connections has improved significantly.
The connection has increased from 3.4Mbps to 21.5Mbps since 2017.
Dao Xuan Vu, general director of Viettel Network, said the company must improve services since data demand would increase in the future.
According to the company's report, during the Reunification Day and Labour Day holiday, the company added 60 transceiver stations and 200 antennas, and installed 50 sets of wifi transmitters in crowded
areas, especially in places where festivals and big events took place.
In addition, Viettel plans to improve quality of 4G services in the second quarter of the year by adding another 10,000 transceiver stations with a capacity of 2,100Mhz in provinces and cities that have high
demand such as Hanoi, HCM City, Da Nang, Hai Phong, and Quang Ninh.
The Vietnam Posts and Telecommunications Group (VNPT) has also added more mobile transceiver stations to ensure network connection quality.
According to a representative from VNPT, by the end of this year the company expects to provide 4G services to 95 percent of the country's population and have than 30,000 4G transceiver stations. –
VNS