More than 2,600 tonnes of toxic waste have been removed from the scene of a fire at the Rang Dong light bulb factory during a 20-day operation.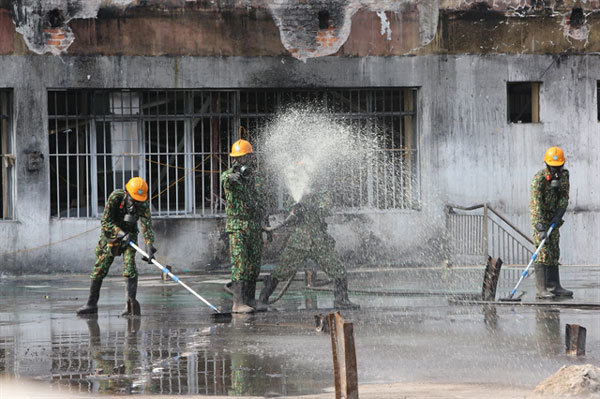 Workers from the High Command of Chemicals under the Ministry of Defence spray chemicals to decontaminate the Rang Dong light bulb factory in Hanoi. — VNA/VNS Photo Duong Giang
The information was released on Sunday by the Hanoi Sewerage and Drainage Company, which was assigned to clean up the site.
A company spokesperson said all the waste had been correctly stored in line with regulations. After receiving a report from relevant organisations about toxicity levels, the company decide how best to treat it.
To collect the waste, the company assigned more than 1,600 workers and 30 lorries.
The High Command of Chemicals under the Ministry of National Defence used four tonnes of chemicals to decontaminate the scene.
On August 28, the fire destroyed a third of the 6,000-square-metre warehouse in Thanh Xuan District's Ha Dinh Ward. More than four million light bulbs melted in the fire and authorities said an area within a 500-metre radius of the warehouse had been contaminated with mercury.
According to the Vietnam Environment Administration, an estimated 15.2-27.2 kilogrammes of mercury were released into the environment during the fire. The company said it caused losses of around VND150 billion (US$6.4 million).
Head of Hanoi-based Rang Dong Light Source and Vacuum Flask JSC has admitted that 480,000 fluorescent light bulbs that were burnt in the fire on August 28 contained liquid mercury.

The recently burnt-down Rang Dong Light Source & Vacuum Flask JSC in Hanoi will be relocated to the northern province of Bac Ninh.  
VNS