Tây Ninh's famous shrimp chilli salt, known locally as 'muối ớt tôm', is a delectable mixture of salt, chilli, garlic, sugar, and dried shrimp that creates a unique flavour profile that is both spicy and salty.
This speciality enhances the taste of fruits and boiled or steamed vegetables and roots when used as a dip. It is essential in grilled squid, grilled bread, boiled pork, Vietnamese rice paper salad, and fruits such as apples, guava, and toad fruit.
Tây Ninh's shrimp chilli salt was even designated a National Intangible Heritage last month, highlighting the cultural significance and heritage, and the region's culinary traditions.
This honour promotes and preserves the unique flavours and tastes of Tây Ninh for generations to come.
Chef Phạm Tuấn Hải, a jury of Việt Nam's Master Chef Programme, said it is a happy and spicy dish that attracts many people.
Nguyễn Văn Mừng, an elderly resident, said people believed that the dish came into being nearly 80 years ago when French troops occupied the country.
During these times, army men had brought along with a bottle of chilli salt as their main food to be eaten with rice, said Mừng, adding that it was also convenient for their relatives to bring it to other guerrillas who often had to work in an underground hideout.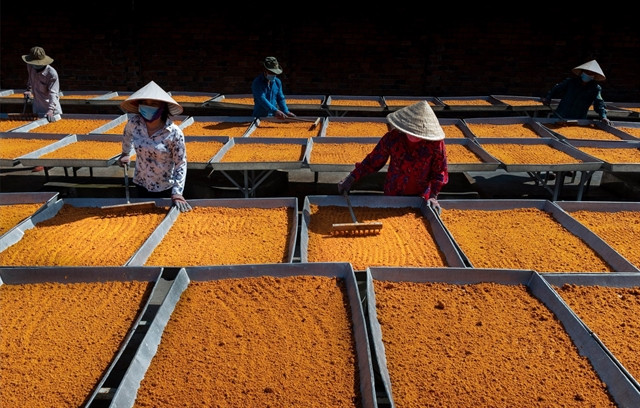 Drying muối ớt tôm. —Photo danviet.vn
Local Hoàng Mỹ Vân, 72, a famous producer of muối ớt tôm, recalled during the war against the US, her father and his comrades had to escape into the forests to hide from the enemy.
"My aunt asked me to ground dried shrimp and mix it with salt and chilli for my father and his fellows, so I started the job since that time to supply for many other resistant army troops and then for sale," Vân recalled.
Making the spicy needs meticulous work.
"I must carefully choose ripe fresh red chilli, clean and dry it. These ingredients are well kneaded, then mixed with minced garlic, lemongrass, and sugar before roasting it."
The roasting process is the most important to decide the spicy quality.
"In the past, we had to roast it by hand, but now we dry it with a modern drier, but it still needs the care to ensure muối ớt tôm has a natural colour with characteristics flavour," she said.
At that time, locals' meal tray was only salt and boiled vegetables because Việt Nam was very poor, and no meat and shrimp were available compared with now.
In the past, Tây Ninh Province was considered the birthplace of Caodaism, the third largest religion in Việt Nam after Buddhism and Roman Catholicism, so almost all of these Caodaism followers were vegetarians.
Makers first produced salt mixed with chilli without shrimp for Caodaism vegetarians and their guests, said Mừng, noting that years later, many producers mixed shrimp powder with salt and chilli to supply travellers and visitors from other regions.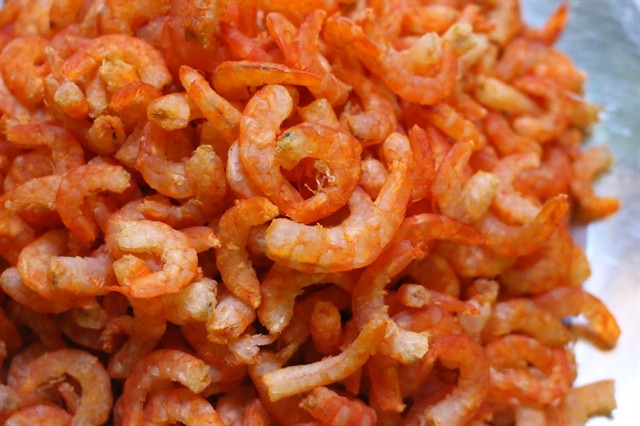 Dried shrimps help to make muối ớt tôm more attractive and tasty. — Photo haisanphucgia.com
There have three kinds of muối ớt tôm: grain salt, powder salt and well-kneaded salt. They also have different flavours.
"It becomes an indispensable spicy for rice paper salad (locally known as bánh tráng trộn), a beloved dish of many eaters, particularly youngsters," said Mừng, adding that muối ớt tôm is available in restaurants, homes, supermarkets and street hawkers.
Every year, Tây Ninh producers sell hundreds of tonnes of muối ớt tôm. They also export the spice around the world, said Nguyễn Đình Xuân, director of Tây Ninh Department of Agriculture and Rural Development. — VNS