Smaller, tastier, healthier: the Van Dinh duck

The name of Van Dinh village in Hanoi's Ung Hoa district will ring a bell in the minds of traditional food aficionados all over the country.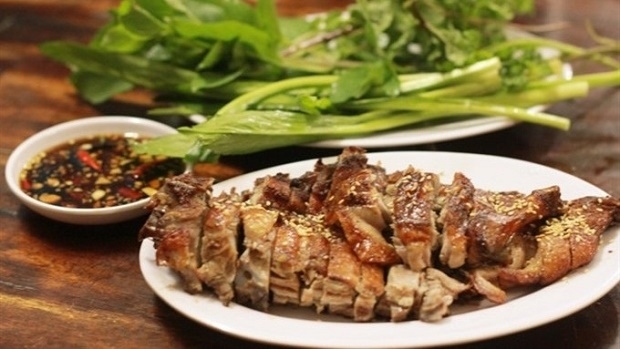 A plate of roasted duck. (Photo: vaobepnauan.com) 
For hundreds of years, the 'Vit co Van Dinh' (small-sized duck of Van Dinh) has been well known for its special taste and featured on the menu of many restaurants.
One of the popular recipes with the 'vit co Van Dinh' is roast duck.
Before the duck is roasted, it should be marinated with galangal, lemongrass, spicy and mac mat (a kind of wild leaf found in northern provinces like Cao Bang).
The leaves create a special aromatic flavour while the meat is roasted on wood charcoal.
The dipping sauce for the dish includes garlic, ginger, pepper, chili, vinegar and sugar, which gives off an appetising smell.
The dish is typically served with several herbs including pieces of banana flowers, green bean sprouts, basil, and eryngium (cilantro or long coriander). VNS

Goat is an extremely popular dish elsewhere in the world, but in Vietnam it is extra special. And if you want the best goat meat, then Ninh Bình is the place to visit.

These sugar-coated lotus seeds are a popular gift for newlyweds, but the sweets are also bought for friends and family during Tet.