As a factory worker in Dong Anh district in Hanoi, Nguyen Thi Thuy, 40, has gained public esteem after she got a 27 score on the social science exam on the 2021 national high school final exams.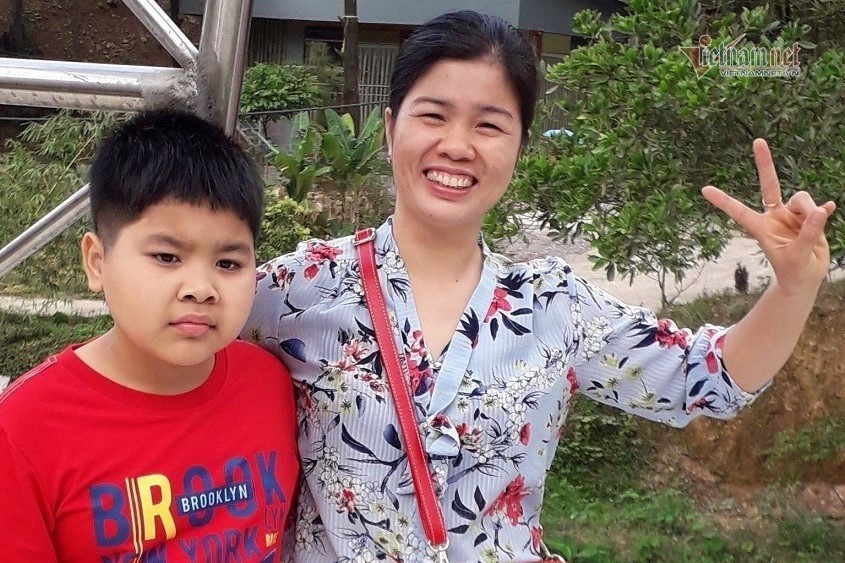 Nguyen Thi Thuy and her son
While other women at the age of 40 are content with their lot and somewhat forget their dreams and aspirations in youth, Thuy, born in 1981, made a surprising decision – registering to attend the 2021 high school finals.
She got a very high score of 27 for social science exam subjects – 7.25 for literature, 8.5 for history, 9 for geography and 9.5 for citizenship education. As such, the total C-group (literature, history and geography) exam score was 24.75.
The mother of the two children said she attended the exam to follow tertiary education, a dream of her youth.
Twenty years ago, Thuy attended her first university entrance exam. She lacked only 0.5 exam score to enter the Academy of Public Administration. Because of the exam failure, her life went another way.
"Studying at a university was my dream 20 years ago. But at that moment, my parents were old, over 70. Even if I had passed the entrance exam, they would not have been able to fund my study," she recalled.
However, Thuy never gave up her dream. Twenty years later, she decided to try once more.
"Because of Covid-19, the company had less work, so I had more time to review for exam. In previous years, I spent 12 hours a day at work, I needed rest when I got home," she said.
Since Thuy was always busy, she did not have much time to review for the exam and only began doing this in May, after registering for the exam.
"I revised for the exam on Sundays. I also did this on ordinary days, taking full advantage of every free moment," she said.
Only when the exam neared, she applied for unpaid leave and had 21 days to concentrate on the revision. However, Thuy said she felt tired after every two hours of concentrating on lessons. She learnef 6-7 hours a day at maximum.
During the 21 days, she spent most of time on literature. She only had one week for history and one week for geography. As for citizenship education, she had two days.
With a 24.75 score, Thuy plans to apply for Vietnamese studies major at the Hanoi University of Education.
"After I related my story, a lot of young people sent messages and thanked me because my story inspired them," she said. 
Thanh Hung

Regardless of the weather, twice a day, Mrs. Hai Tri stands by the signboard in the middle of the crowded lane to help students get home safely from school.

For many years, a 77-year-old woman has been going to every small alley and street corner in her neighborhood to collect scraps and sell banh my to get money for her 'piggy banks', which are kept to help the poor.