Urbanisation in rural areas has caused many traditional craft villages to shrink over the years.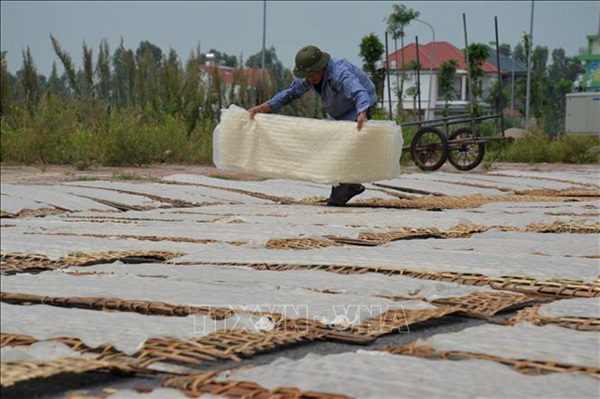 A worker dries rice noodles in Lo Cuong Village. VNA/VNS Photo
But the process does not seem to have affected villages around Hai Duong City in the northern province of the same name.
Many traditional craft villages had survived and even flourished, bringing a prosperous life to local people, said online newspaper vietnamplus.vn.
Lo Cuong Village making dried rice noodle in Tu Minh Ward is an example.
Production in the village started in the 1960s, and in recent years, along with the strong development of the province, Lo Cuong Village has adapted to preserve and expand the noodle profession.
At present, the village has about 140 households engaged in dried rice noodle production.
In the past, all the milling, steaming, drying and cutting were done manually.
The old-style production method is still used by some families, but more and more households are investing in modern machinery to reduce production costs and increase productivity.
According to the villagers, the machines had increased productivity by up to 10 times.
"In the past, we could only process 200-300kg of rice per day, depending on the weather," Lien, the owner of a noodle workshop, was quote as saying.
"Now with the machines we can go through 2-3 tonnes of rice per day whatever the weather," Lien said.
A tonne of rice produced 900kg of dried rice noodles, she said.
During busy periods, her workshop operate day and night producing nearly 3 tonnes of noodles a day.
This production had given villagers stable incomes.
"My family earn VND60-70 million (US$2,600-3,000) per month," said the workshop owner.
She also employs 12 labourers who are paid monthly salaries of VND8-10 million (US$340-430).
Last year, Lo Cuong dried rice noodles were recognised as a provincial brand.
Similarly, Duc Minh carpentry village in Thanh Binh Ward has developed rapidly in recent years.
The 100-year-old village now has 140 household-scale and 80 large-scale carpentry workshops.
The village produced mainly household furniture which was sold in many northern provinces, said Nguyen Van Tinh, vice chairman of Thanh Binh Ward.
The workshops have also invested in modern equipment for production.
Nguyen Xuan Cach, a workshop owner who has 50 years of experience in the carpentry profession, said: "My workshop has all kinds of modern machinery imported from Japan, such as milling machines, pulleys, planers, grinders and rollers."
"I have contracts around the year which bring in VND70 million (US$3,000) per month," Cach said.
Environmental improvements
The operation of the craft villages in Hai Duong had caused environmental issues which have affected local people's lives and health, the e-newspaper reported.
"The carpentry workshops obviously discharge sawdust, noise and fumes," said Tinh.
"Local authorities want to preserve the traditional professions but also to encourage people to care for the environment," he said.
In fact, the ward wanted to move the workshops out of residential areas, but it was impossible due to a lack of land, he said.
Instead they have asked workshop owners to apply measures to reduce the amount of dust and noise pollution.
Now many workshops have extractors and have built walls to reduce the noise.
Reducing the number of small household-scale workshops has also helped minimise the risks of environmental pollution.
"In the past, my family produced wooden furniture at home," said Nguyen Duc Vang, a carpenter in Duc Minh Village.
"But my house was not large enough to ensure production and meet environmental protection standards set by local authorities, so I started working at a bigger facility," Vang said.
The treatment of waste water and gas has also been a problem for the dried rice noodle village.
Tran Ho Dang, vice chairman of Hai Duong City's People's Committee, said: "The city has decided to move workshops with high risks of environmental pollution out of the inner city."
"But the traditional craft villages will remain in the same places. The households have been encouraged to use advanced and environmentally-friendly technology," he said.
Next year, the city plans to carry out a waste water treatment project and a drainage system for the city's western region, where Lo Cuong and Duc Minh are located.
The projects will help manage environmental issues in the villages.
However, to develop sustainably, local authorities should provide training programmes to help villagers improve production while protecting the environment. VNS