With just a few weeks to go for the start of the new school year, there is a worrying shortage of pre-school teachers in many localities nationwide.
Vietnam lacks 76,000 teachers for new academic year
Teacher shortage affects pre-schools in Ba Ria-Vung Tau Province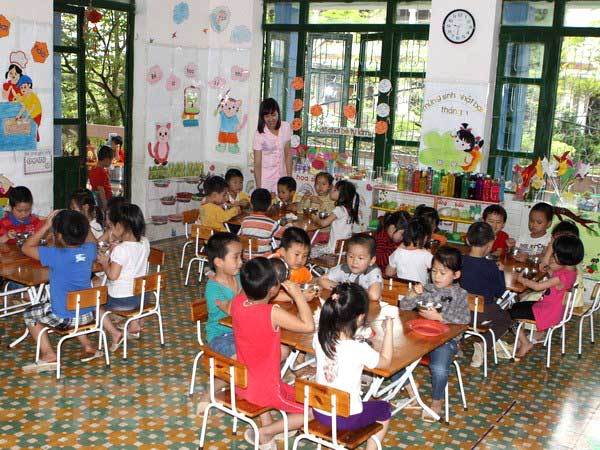 Though more than 20,000 pre-school teachers were hired around the country last year, there is still a shortfall of 49,000.—VNA/VNS Photo Minh Quyet
At a conference held by the Ministry of Education and Training in central Khanh Hoa Province's Nha Trang City last week to review the last school year, Nguyen Ba Minh, head of the national pre-school education department, said the country faces a shortfall of 47,177 teachers.
This has created pressure on existing teachers, he said.
The ratio of teachers per class is still very low in some provinces, and many teachers would have to work overtime without being paid for it, causing more to quit, he warned.
Though the ministry is building more kindergartens, the shortage of pre-schools in urban areas, export processing zones and industrial parks remains a pressing problem, he said.
Deputy Minister of Education and Training Nguyen Thi Nghia said local education departments need to come up with appropriate policies to support pre-school teachers.
They need to ensure a good working environment and improve teachers' salaries, she added.
Minister of Education and Training Phung Xuan Nha said the Education Law has many provisions to improve the quality of teaching and create good conditions for pre-school teachers, but they are not enough.
He directed related authorities to come up with more preferential policies to support teachers.
In the upcoming school year the ministry expects to resolve the shortage of pre-school teachers, he promised.
It would strengthen oversight and penalise unlicensed private pre-schools and child abuse at schools.
Last year the country added 107 pre-schools, taking their number to 15,501, including 3,036 private ones.
Besides, the ministry recruited more than 20,000 pre-school teachers in 17 provinces and five Central Highlands provinces that had an increasing number of students.
VNS