The Ha Noi Electricity Corporation (EVN HANOI) has announced it will not cut or reduce the power supply in the city during the national high school examinations from June 22 to June 27.
More than 886,000 to take high school exams
Vietnam prepares for competitive electricity market by 2021
Vietnam will import LNG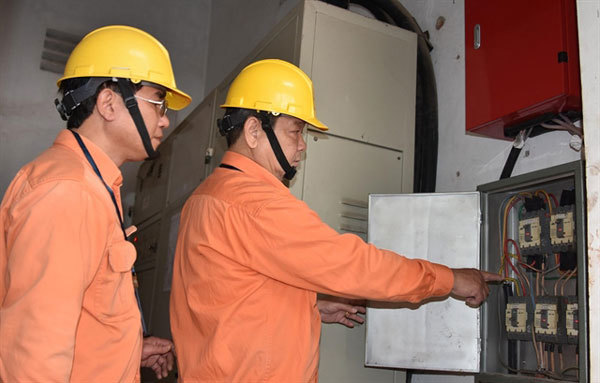 Workers for Ba Dinh District Electricity Company check the power grid to ensure a steady supply of power during the upcoming high school exam. — VNA/VNS Photo
Hanoi has not had any unfortunate power cuts during the exams in recent years, but they are common during the summer when demand spikes.
The city will have the most test-takers of any locality nationwide, with nearly 75,000 candidates set to take the exams at 125 locations. Any disruption to the power supply during the testing period could have serious consequences.
EVN HANOI has made plans to provide stable and continuous power supply at all testing locations and sites to support the exam. These include test scoring facilities, printing houses producing testing papers and temporary university admission offices set up at high schools and colleges.
EVN HANOI also asked district-level power companies to create plans to supply enough power during the testing period.
In important locations, there will be generators or a backup power supply. Electricity companies must inspect transmission lines and transformer stations and promptly solve any problems.
According to Tran Xuan Hung, head of the Planning Department of EVN HANOI, summer is still the most challenging period for the electricity industry.
The city's electricity industry has seen its development slowed by difficulties including the slow approval process for projects funded through Official Development Assistance and delayed compensation for site clearance.
VNS