The northern mountainous province of Lai Chau is still searching for three people who were swept away during flash floods that hit earlier this week.
Flash floods swept through northern mountainous region
Lai Chau: Four people swept away by flash floods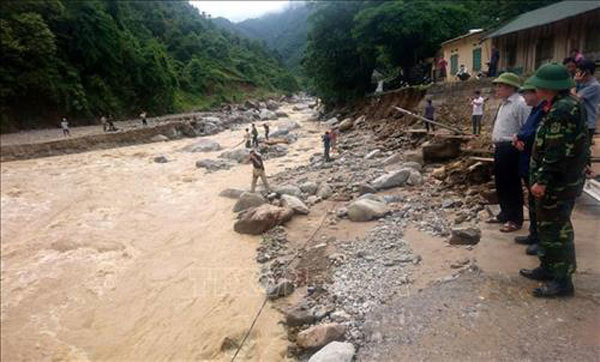 Leaders of Lai Chau Province visit a flood-hit area. — VNA/VNS Photo Viet Hoang
The floods occurred at around midnight on Sunday and early Monday morning along Hua Bum Stream in Nam Nhun District and Nam Si Luong Stream in Muong Te District, leaving one person dead.
The floods also destroyed several houses and caused damage worth VND30 billion (US$1.3 million).
Muong Te District was worst hit with 45ha of crops destroyed and seven houses swept away. 27 households in Bum Nua and Pa Ve Su communes also had to be evacuated.
The floods were accompanied by landslides that damaged major roads and left 1,500 people in Pa Ve Su Commune isolated.
The people there have been facing shortages of food and necessities.
The chairman of Pa Ve Su Commune said they had only enough food for another ten days so local authorities would be shipping necessities in as soon as possible.
Lai Chau's People's Committee Vice Chairman Tong Thanh Hai asked Muong Te authorities to continue the search for the missing persons and send staff to evacuate flood-prone areas.
Diverting traffic and setting up warning signs in areas at high risk of landslides must be done immediately, said Hai.
"Muong Te authorities must immediately provide assistance to families who suffered losses so they can stabilise their lives and production," said Hai.
Mai Van Thach, chairman of Muong Te District's People's Committee, said authorities had mobilised more than 100 people from the police, military and militia forces to help local people move their belongings to safe places.
"The forces have been searching for the missing persons as well as helping to clear roads to ensure traffic flow," said Mai.
Further north, authorities and residents of Lao Cai Province have been trying to clear up the wreckage left by heavy rain and flash floods that also hit earlier this week.
A flash flood on Monday morning caused a suspended bridge to collapse and flooded 20 houses and several hectares of maize crops in Ban Ho Commune, Sa Pa District.
Three cars were swept away by the strong current.
Dao A Khoi, chairman of Ban Ho Commune, said local militia and soldiers in Sa Pa District had been sent to help local people to repair their houses and other public works.
At present, the risk of landslides in the commune had subsided, Khoi said.
However, people living along the stream where the suspended bridge collapsed had been asked to move to safer areas to avoid sudden flash floods from upstream, he said.
VNS