Ho Thi Phuong has a lot more responsibilities on her small shoulders than any 15-year-old should. The ninth grader raises her three siblings alone, without help from her mother or father.
Dak Lak border guards teach reading
Maintaining peace on the northern border
Unique 'international' market at Na Meo border gate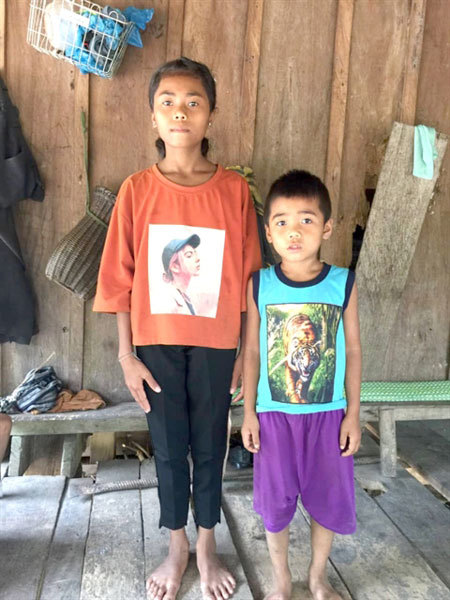 Ho Thi Phuong (left) is one of girls receiving help from the Cha Lo International Border Post. — Photo bienphong.com.vn
Phuong's father died in 2012, and then, her mother and four children lived in a very old house in Ka Dinh Village, Dan Hoa Commune, Minh Hoa District in the central province of Quang Binh.
By the end of 2016, Phuong's mother married another man and abandoned her children.
Phuong often thought of dropping out of school to take better care of her family, but luckily, soldiers from the Cha Lo International Border Post decided to give her VND500,000 (US$21) per month until she finishes 12th grade to keep her in school, with the money provided by sponsors.
Ho Thi Thuy, an ethnic Khua minority, has also received help from the Cha Lo International Border Post.
Thuy is the daughter of Ho Non, a former soldier of the post, who lost a leg in a fight while on duty on Phu Ac Mountain.
Thuy, who lives in Y Leng Village, is tall and beautiful and when she was a teenager, many men wanted to marry her.
But Thuy was determined to enter the boarding high school for ethnic students in Dong Hoi City.
The Cha Lo Border Post offered her the same support as Phuong out of respect for their former comrade Ho Non, and to encourage her to chase her dream of studying.
Thuy hopes to enter a vocational school and have a stable job so that she can support herself and not depend on others.
The story about Ho Thi Thay's filial devotion to her mother Ho Thi Coong is also moving.
In June last year, the Cha Lo Post worked with the Dong Hoi City Women's Association to give presents to poor women in Dan Hoa Commune.
Ho Thi Coong's husband died a long time ago, and she raises four children alone, despite being bedridden due to bone tuberculosis.
At the age of 14, Coong's daughter Ho Thi Thay became the breadwinner of the family.
After school, Thay worked in the fields to earn money for the family at home and for her elder brother who is studying in Dong Hoi.
By the end of 2016, Thay had to leave school to take care of her mother at hospital.
After visiting Thay's house, lieutenant colonel Duong Dinh Hoan, commissar of the Cha Lo Post, convinced her family to let her come back to school.
Hoan made sure that Thay could keep studying, providing her the same support as the other two girls.
More opportunities for girls
Lieutenant Duong Dinh Hoan has lived closely to ethnic Rục, Khùa, Chứt, Sách and Mày minorities.
He said many families in Minh Hoa District are raised mostly by women and the post and local authorities have tried to improve family life in the area, but changes were very slow.
Hoan said when helping students go to school, the post prioritised girls in the hope that they would have more opportunities for upper-level education.
"We hope education will help girls to overcome bad preconceptions to be themselves. When they understand their value, they will know what to do to change their lives," said Hoan.
VNS