Some Vietnamese netizens have said that H&M (in China) has posted a "problematic" map that violates Vietnam's maritime sovereignty and called for boycott of this Swedish fashion brand.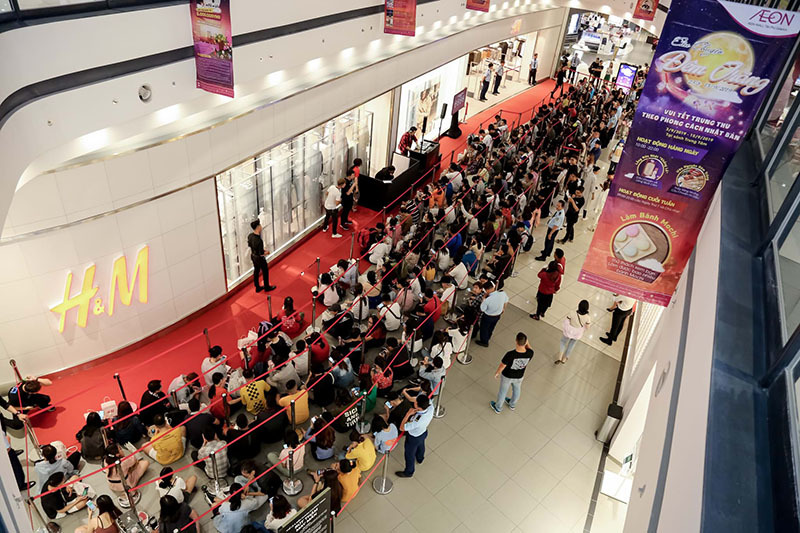 A store of H&M in Vietnam.
Recently, famous fashion brands such as H&M (Sweden), Burberry (UK), Nike, New Balance (USA) and Adidas (Germany) announced that they would stop using cotton from Xinjiang because of concerns about forced labor and discrimination against the Uighurs in Xinjiang, a cotton-producing region in northwestern China.
This had led to a boycott against international fashion brands in China. H&M and some major brands had to close a series of their stores in China. They also faced criticism from the Chinese government, and were accused of infringing on the rights and legitimate interests of consumers.
China has imposed sanctions on four organizations and nine individuals from Britain, and has confirmed sanctions against 10 individuals in Europe because of the Xinjiang issue.
The apps of H&M, Nike, Adidas and others were also removed from Chinese app stores.
Recently, the international media reported that Chinese authorities said the Swedish fashion brand H&M had agreed to change the "problematic map" on the internet after being criticized by Beijing.
According to the AP, the Shanghai government said internet users had reported "problematic maps" on the H&M website. The Shanghai Department of Planning and Resources asked the Swedish company to quickly fix the map. H&M then "agreed to the request of the Chinese authorities".
H&M is working to defuse Chinese anger and assert that its commitments to the country seem to have failed. H&M has issued a conciliatory statement in response to the company's controversies about discontinuing Xinjiang cotton. In particular, H&M said China is a very important market.
H&M said it wanted to be a responsible purchaser in China in the latest announcement. In addition, the Swedish brand is also willing to work with stakeholders to build a more sustainable fashion industry.
Some users and groups on social networks said that H&M (in China) had recently changed the image of the map containing Chinese Illegal "cow's tongue line". This was said to be a move to calm Chinese public opinion. However, this violates Vietnam's territorial sovereignty and the provisions of international maritime law.
On social networks, many Vietnamese users have called on others to share protest articles and use the hashtags #hmgetoutofvietnam, #taychayHM, #HoangSaTruongSabelongtoVietNam on Facebook, Twitter and Instagram.
On Facebook, a group calling for a boycott against H&M was formed. A man named Viet Tu, a customer of H&M in Hanoi, wrote on his Facebook: "As a longtime customer of H&M, I boycott its products and ask the company to take appropriate action."
"I heard that H&M officially changed the map after receiving one-way feedback. If it is true, then I will boycott this brand immediately. I support local Vietnamese brands that are both cheap and nicer than a Western brand that defends this problematic map," wrote a Facebooker named Le Tu Quynh.
A Facebook user named An An wrote: "We still have many other options for our children and families, so there is no need to support a brand that disregards Vietnamese consumers and violates Vietnam's independence and territorial integrity rights."
However, consumers cannot find the "problematic" map on H&M's website. Information about the map from foreign news agencies is not clear.
The maps shared online do not indicate the original "problematic" content that China "warned" H&M about. H&M has not had a specific response.
In Vietnam, H&M opened its first store in Ho Chi Minh City in September 2017. Just two months later, H&M launched a store in Hanoi. So far, H&M has 12 stores in Vietnam, including five stores in Hanoi, four stores in Ho Chi Minh City and three stores in Can Tho, Da Nang and Ha Long. 
The "U-shaped line" or "nine-dash line" is the concept China uses to claim historic rights over nearly the entire East Sea (internationally known as the South China Sea), which is in contrast to international law. In 2016, the Permanent Court of Arbitration (PCA) issued a ruling affirming that China's claim has no legal basis.
Vietnam has repeatedly declared that it does not accept China's illegal cow's tongue line. Even the US State Department has also stated that China's "U-shaped line" in the East Sea is "ridiculous and illegal".
Bao Anh/Phong Vu

Enterprises that import automobiles equipped with navigation apps featuring maps that violate Vietnam's sovereignty will have their import licenses suspended.  
In early March this year, the East Sea saw the presence of warships from many countries.