The police of Ho Chi Minh City on April 19 brought to light a ring transporting over 1.1 tonnes of meth and started legal proceedings against two suspects, including two Taiwanese and a Vietnamese for their involvement.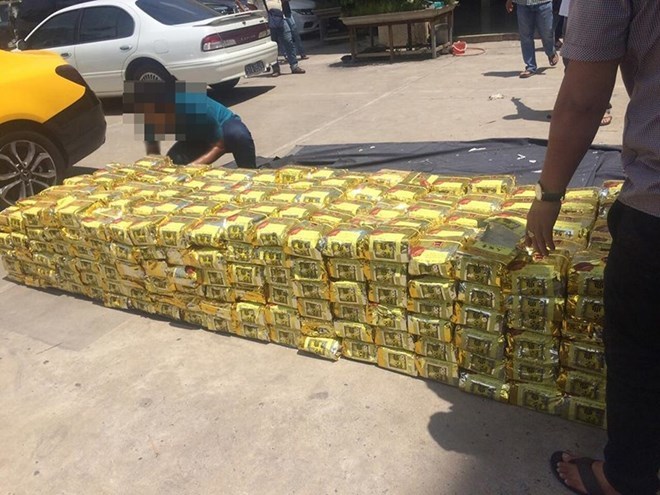 The police of Ho Chi Minh City seized 1,110.26kg of meth in total (Photo: Plo)
These suspects were detained.
Earlier on April 12, through the traffic cameras, traffic police of Ward 5 detected three vehicles, including one seven-seat car driven by Yeh Ching Wei, a Taiwanese born in 1986, and Chiang Wei Chih, another Taiwanese born in 1988, as passenger, as well as two vans violated parking regulations.
The vehicles were towed to the police station where the police found that one of the vans carried a large number of abnormally heavy mobile cabinet loudspeakers packed in carton packages without invoices.
Inside the loudspeakers were 590 tea packages, which contain meth weighing 606.02 kilograms.
Chiang later confessed that he and Yeh came to Vietnam through Tan Son Nhat International Airport. He said they got the direction from a Chinese to drive a van transporting electronics and handicraft products.
The police discovered that the consignment from Thailand was received by Ngoc Van Transport company, which was ordered to deliver the goods to customers in an unknown hotel and to Bui Nguyen Huy Vu, born in 1981 and residing in District 2 of HCM City, in Truong Sa street in District 3.
With the clue, the police caught Vu keeping 49.32kg of meth hidden in five cabinet loudspeakers; 2.94kg of meth; 998.69 grams of Ketamine; one gun and four bullets.
On April 13, the police searched the storehouse of Ngoc Van company where they found 38 loudspeakers containing 10 tea packages each, seizing 451.98kg of meth.
In total, the city police seized 1,110.26kg of meth and 998.68 grams of Ketamine.
They are working with the police in Ha Tinh and Nghe An provinces to clarify the links between the newly-seized meth and the 700kg of meth seized earlier in Nghe An, as the drug came from the same place and were packed in the same way.-VNA